Matteo Trentin (UAE-Team Emirates) wins Giro del Veneto
Remy Rochas (Cofidis) was second, with stagiaire Matteo Vercher (Total Energies) third after joining the early breakaway
Matteo Trentin (UAE-Team Emirates) won the 85th Giro del Veneto today after 160 km between Padua and Vicenza. Remy Rochas (Cofidis) was second, and Matteo Vercher (Total Energies) third.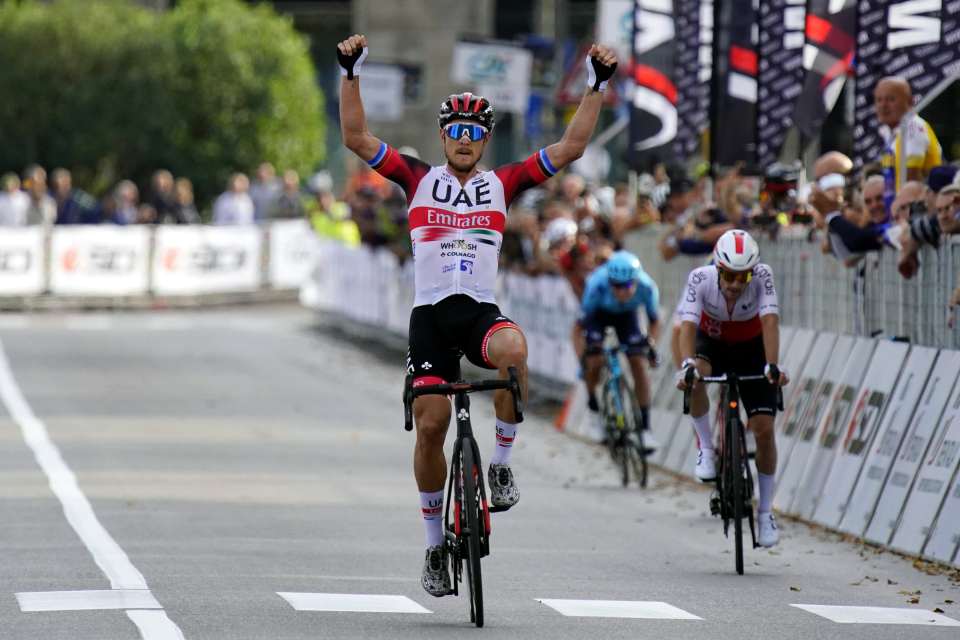 At km 12 Ludovic Robeet (Bingoal), Andrea Pietrobon (Eolo Kometa), Matteo Vercher (Total Energies) and Matteo Zurlo (Zalf Euromobil Fior) attacked. At km 40 they had a lead of 4'20'' over the peloton. At km 44 Pietrobon crashed on a bend, leaving Robeet, Vercher and Zurlo at the front.
After 100km, as the peloton closed on the trio, Zurlo attacked and gained a half-minute lead. Moments before the start of the first circuit, with 59 km to go, fifteen men escaped with 1'25'' on the peloton: Matteo Zurlo (Zalf Euromobil Fior), Davide Bais (Eolo Kometa), Alexandre Balmer (Bike Exchange), Alessandro De Marchi (Israel Premier Tech), Andreas Kron (Lotto Soudal), Miguel Angel Lopez (Astana), Remy Rochas (Cofidis), Natnael Tesfatsion (Drone Hopper Androni), Alessandro Tonelli (Bardiani Csf Faizanè), Ludovic Robeet (Bingoal), Matteo Vercher (Total Energies), Jay Vine and Nicola Conci (Alpecin), Diego Ulissi and Matteo Trentin (UAE).

With 13km to go, Matteo Zurlo made yet another attack, only to be caught two minutes later. At the top of the last climb, Trentin, Lopez, De Marchi, Rochas and Vercher had a lead of 15'' on the other ten and a minute on the peloton. With 11km to go, Miguel Angel López attacked. Remy Rochas countered, taking Trentin, Lopez, De Marchi and Vercher with him.
With 800m to go, Rochas darted away with Trentin on his wheel. Trentin precedes Remy Rochas to the finish line with Matteo Vercher third, ahead of Miguel Angel López and Alessandro De Marchi.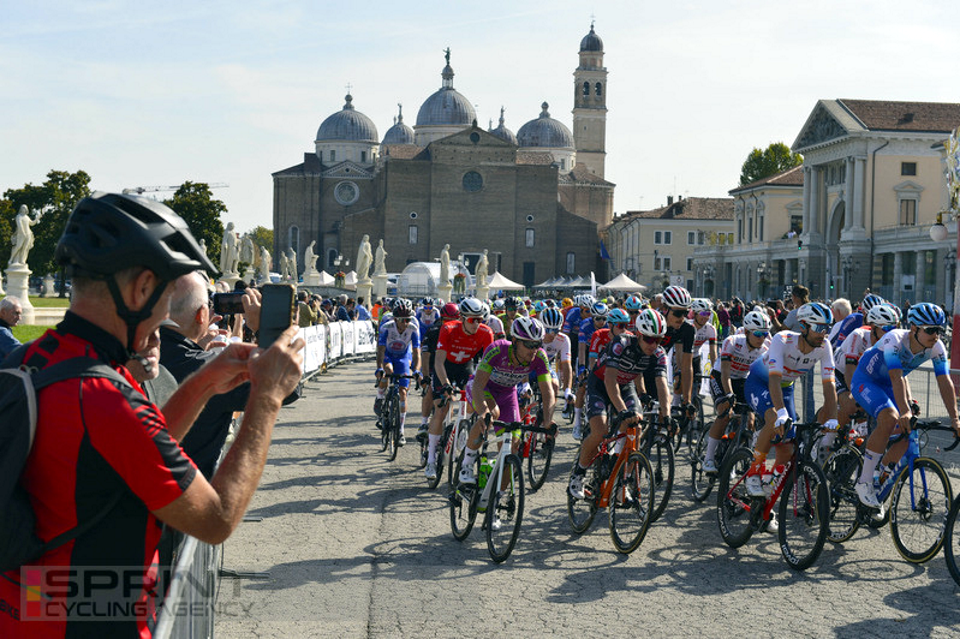 Matteo Trentin (UAE-Team Emirates) said afterwards "This year, every time my condition was very good, I had problems. At Paris-Nice I fell and suffered cranial trauma. I returned to training, then at the Tour de France I had Covid and went home without racing. So this was my third start."
"Finally, I had three months with no illness or injury, and my form came. I was 4th last week at Bernocchi, I had asthma at Gran Piemonte, I punctured in a bad moment at Paris Tours. My form was good, but I brought nothing home."
"My directors Marco Marcato and Fabio Baldato. Bladato live on the race route, so they knew every metre. And, with the riders we have, it is better to attack than to wait. We had a good pre-race meeting, and, at km 85, in a section of narrow, twisting roads, the whole team went at 100% and split the peloton into groups. I went with every attack, and made the final fifteen. It was normal that everyone was racing against me. De Marchi was the rider I most feared. When he attacked, I knew I had to follow. When Rochas went, I followed, and came out the winner."
Rémy Rochas (Cofidis), 2nd said, "On paper it was a race for sprinters who could get over the little climbs. Mid-race, UAE decided to take the race in hand. I covered the moves, and until the final circuit, I tried to use as little energy as possible. Not he final climb. Miguel Angel Lopez attacked, then Trentin. The move lost momentum. The group was down to five riders. In the final, De Marchi attacked. With 500m to go, I knew I had lost, but I kept going and kept my third place."

Matteo Vercher (Total Energies), 3rd aid, "It was hard. I got into the breakaway early on. We were caught from behind, but I stayed in the group. In the final, I messed it up a bit, but third place isn't bad for a stagiaire. It was fun to be at the front, and it's good result for me and the team. It shows that I managed my energies well. I have good form, even if it's the end of the season."
2022 Giro del Veneto Top 10
1 TRENTIN Matteo (ITA) 03:37:54
2 ROCHAS Rémy (FRA) +00:01
3 VERCHER Matteo (FRA) +00:02
4 LOPEZ MORENO Miguel Angel 03:37:56
5 DE MARCHI Alessandro (ITA) + 00:04
6 ULISSI Diego (ITA)
7 CONCI Nicola (ITA)
8 BAIS Davide (ITA)
9 BALMER Alexandre (SUI)
10 KRON Andreas (DEN)
Ride the Dreamland 2022
Ride The Dreamland 2022 continues on Friday 14 October with Serenissima Gravel, on Saturday 15 October with the VENEtoGO social ride, with Sonny Colbrelli, Fabian Cancellara and Fabio Aru, and on Sunday 16 October with the second Veneto Classic.