GFNY Global Endurance Sports Series announces 32 races for 2023
World's largest cycling marathon brand, GFNY, announces its biggest event calendar ever for 2023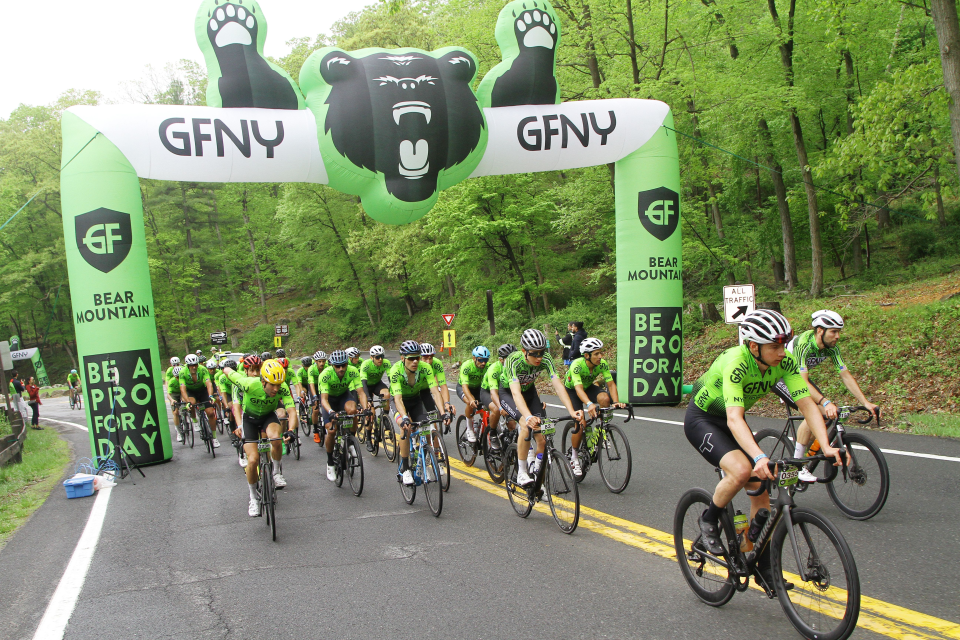 GFNY, the Global Endurance Sports Series, announces 32 races for 2023, more than ever held by GFNY in a single year.
Races include the 11th annual edition of the GFNY World Championship in NYC on May 21, six races in France, three in Mexico, a second race in Colombia, GFNY's first races in Malaysia's capital, Kuala Lumpur, Sweden, Thailand, near Chicago, near Washington DC, and many more.
What is GFNY?
GFNY is a personal endurance challenge where athletes compete against others, the clock, and themselves. Some athletes will compete for the podium, some to earn their GFNY Elite Qualification, others to finish in their goal time, and others to beat the cut-off. GFNY is about doing one's best.
GFNY events provide athletes this personal challenge in exciting tourism destinations around the world. All GFNY events provide athletes the opportunity to BE A PRO FOR A DAY® :
- Mass start.
- Individual chip timing from start to finish with awards for all categories.
- Closed roads or police moderated traffic that ensures athletes don't have to stop during the race.
GFNY: physical and mental health
Hosting a GFNY is not merely about getting the "right" tourists. It's about physical and mental well being which makes GFNY attractive for the immediate constituents of governments. Post pandemic, governments like the City of Quito, Ecuador's capital, double down on healthy outdoor sports activity by supporting not just a GFNY Quito Cycling but also the GFNY Quito Running Marathon & Half Marathon.
"What GFNY is today is the result of the work we put in during the pandemic," says GFNY President Lidia Fluhme. "We connected with over 200 government agencies to bring GFNY and GFNY riders to their region. As a result we have 15 new races within two years to show for – and more in the pipeline."
A GFNY near every rider in the world
GFNY's goal has always been to bring a GFNY race near every rider in the world. Before GFNY's founding in 2010, very few riders had close-by access to a mass participation cycling race where every rider can get the chance to BE A PRO FOR A DAY ®.
In less than five years, GFNY created a landscape of mass participation races for riders across the Americas, spearheading the growth across the two continents.
"With our new races in Kuala Lumpur, Malaysia and Krabi, Thailand, we're finally expanding GFNY's footprint in Asia. There are more GFNY races to come in Asia in 2023, which add to GFNY's success story in Indonesia with Bali, Lombok and Sumatra," says GFNY CEO Uli Fluhme. "It's our goal to mirror in Asia what we have been able to do in the Americas."
GFNY World Championship New York City
NYC is the world's capital city and provides a world-class backdrop and puts the sport of cycling and its athletes on the world stage. GFNY NYC is the Mecca of GFNY and the pillar of the series. This globally-renowned event has a fanatical participant base that travels to NYC from over 90 countries each year, making it the most international cycling event in the world.
GFNY NYC provides a once-in-a-lifetime experience to line up on the world's busiest bridge, the George Washington Bridge, which is closed to cars, creating cycling's most exciting cycling race start line in the world. With views of midtown Manhattan skyscrapers and the serene nature to the north, the start corrals on the George Washington Bridge are comprised of professional cyclists, Olympians, a variety of special guests like actors, musicians, sports stars and other celebrities, and 5000 athletes from all walks of life who are taking on the 100-mile (160km) challenging course from New York City, through Bergen County, NJ and Rockland County, NY and finishing in Fort Lee, NJ.
The race starts on the George Washington Bridge, but each athlete's journey begins long before that. GFNY NYC's 10-hour long live broadcast is cycling's boldest live broadcast and captures the race, but also many athletes' stories, and continues until every rider crosses the finish line. The 2022 live broadcast was available in English and Spanish, and in 2023, the broadcast will be also in French and Portuguese. Besides the live broadcast, GFNY NYC receives worldwide media attention from a wide variety of outlets: local tv and newspapers, to international cycling media and international newspapers and TV.
2023 GFNY Series Calendar
GFNY Puerto Rico – February 5
GFNY Kuala Lumpur – February 12
GFNY Monterrey – March 5
GFNY Punta del Este – March 12
GNY República Dominicana – March 19
GFNY Cannes – March 26
GFNY Bogota – March 26
GFNY Quito – May 7
GFNY World Championship NYC – May 21
GFNY Villard de Lans – May 28
GFNY Lourdes Tourmalet – June 11
GFNY La Vaujany Alpe d'Huez – July 2
GFNY Costa Rica – July 9
GFNY Grand Ballon – July 9
GFNY Illinois Rockford – August 6
GFNY Uppsala – August 27
GFNY Alpes Vaujany Croix de Fer – August 27
GFNY Tunja – August 27
GFNY Cusco – September 3
GFNY Manta – September 17
GFNY Bali – September 17
GFNY Chile – September 24
GFNY Maryland Cambridge – October 1
GFNY Zapopan – October 1
GFNY Bento Gonçalves – October 15
GFNY Marathon Florida Sebring – October 21
GFNY Florida Sebring – October 22
GFNY Colonia – October 29
GFNY Cozumel – November 12
GFNY Portugal -TBC
GFNY Panama City – TBC
GFNY Marathon Quito – TBC