Campagnolo Gran Fondo New York 2014 Cycling Competition a Great Success as Thousands of Riders Experience the Challenges and Thrills of the Country's Premier Cycling Event
Athletes from 48 US States and more than 70 countries took on the 100-mile cycling marathon on Sunday, May 18
Link to results - http://results.chronotrack.com/event/results/event/event-8538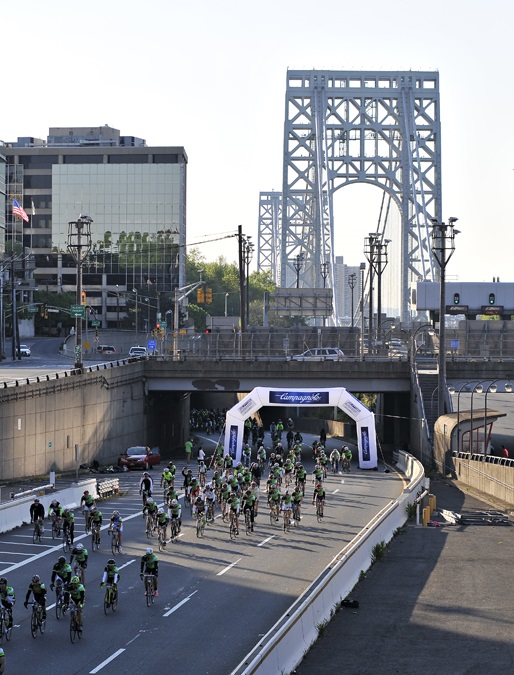 (New York, NY – May 18, 2014) On Sunday, May 18, almost 5,000 professional and amateur cyclists from 70 countries and 48 states participated in one of the world's most exciting cycling events, the fourth annual Campagnolo Gran Fondo New York (GFNY). Dedicated cyclists from all walks of life gathered on the iconic George Washington Bridge at 6am for the 100-mile course that took them through New York State and New Jersey up to Bear Mountain State Park and back down to the finish line at Ross Dock Picnic Area, the riverfront area in Palisades Interstate Park in Fort Lee, NJ.
Race day conditions were ideal for the cyclists – sunny with temperatures in the 60s. Riders were welcomed across the finish line by GFNY Master of Ceremonies Whit Raymond. And the glorious weather set the stage for the festivities at the finish line at Ross Dock in Fort Lee, NJ. Participants and spectators enjoyed food, drink, raffles and an exciting awards ceremony.
Gabriel Corredor from Colombia was the top men's finisher for the second year in a row with a time of 4:21. His country mate, Amparo del Pilar Gonzalez finished first among the women in 5:02.
The race's title sponsor Campagnolo, the world famous bicycle parts manufacturer, was represented by the president of the company Valentino Campagnolo. He said, "My complements to these very hard working racers. Thank you for sharing this beautiful day with us."
"New York and New Jersey have a thriving cycling culture, and beautiful vistas for riding, and we've really been able to capitalize on that with Campagnolo Gran Fondo New York," said event organizer, Lidia Fluhme. "We are very excited about the overwhelming response we've received to today's race, our fourth annual event, from participants and spectators. We look forward to seeing the race continue growing in future years."
Notable riders that participated in today's GFNY 2014 include Stephen Roche, one of only two men in history to have won the Tour de France, Giro d'Italia and the World Championship in one year, and Nelson Vails, 1984 Olympic silver medalist in the Cycling Sprint.
Sunday's race was preceded by the NYC Bike Expo (May 16-17), a GFNY-organized event, attended by more than 10,000 bike enthusiasts and featuring vendors in the cycling, automotive, food and wine sectors. New York City Mayor Bill de Blasio was on hand to launch the race on Friday at the expo and to celebrate the great Italian sporting tradition represented by GFNY.
"The Campagnolo Gran Fondo New York is for everyone. People from nations all over the world and New Yorkers from every background are joining together to participate in this great event. It is a celebration of Italian heritage, of cycling, and of New York City. I'm thrilled so many people are here to enjoy it with us and I wish everyone buona fortuna!" said Mayor Bill de Blasio.
Hundreds of riders also participated in today's 50-mile GFNY BEAR which concluded at Bear Mountain. The course highlight for both the 100 and 50-mile race is the scenic and rigorous Bear Mountain or "Montagna dell'Orso." Riders enjoyed groups of cheering spectators along the race route in Rockland County, NY and Bergen County, NJ.
Also, GFNY 2014 raised more than $50,000 for Operation Smile, the official race charity. Many local cyclists from the tri-state area participate in GFNY to fundraise for local charities; participants raised over $500,000 for charity.
After three successful races in the New York metropolitan area, Campagnolo Gran Fondo New York is going global. The race will expand with GFNY Italia, GFNY Cozumel-Mexico, GFNY Puerto Rico, GFNY Barcelona, GFNY Colombia and GFNY Brasil - the first events of the newly-founded 2014/15 GFNY World series. The organizers of Campagnolo Gran Fondo New York created the GFNY World series for two reasons: to bring the spirit and quality of GFNY to other parts of the world and to provide GFNY participants the opportunity to get their GFNY fix more than just once a year.
Did you Ride? Please Rate It!

If you took part in the event, why not take the time to Rate It. By rating the event you provide valuable feedback to the event organisers to help to improve the quality of events and help guide other visitors on Gran Fondo Guide to the best events. You need to register as a Gran Fondo Guide member to rate events.
About Campagnolo Gran Fondo New York
Gran Fondo New York was founded in 2010 by avid competitive cyclists with a mission to bring Italian cycling culture to the New York and New Jersey region and to raise the profile of competitive cycling in the United States. Gran Fondo New York is open to anyone who loves to ride and seeks a personal challenge. The official Gran Fondo New York website is: