Brutal climbs of the Tourmalet and l'Angliru feature in 2023 Vuelta a Espana
The Vuelta a Espana, a race that traditionally emphasises climbing, will hit the slopes early and often in 2023, with 10 mountain-top finishes on the route unveiled in Barcelona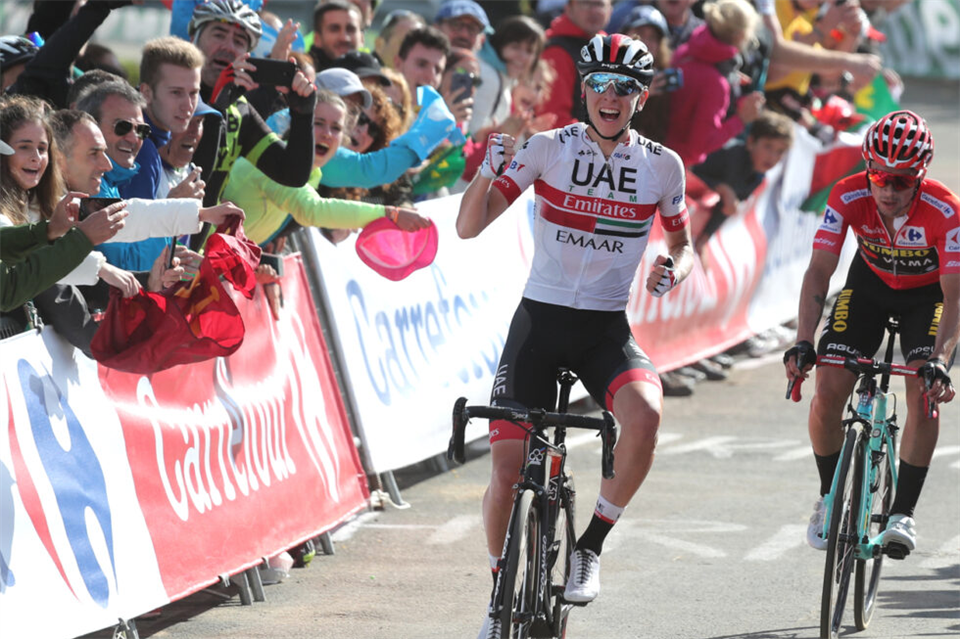 The race starts in the Catalan capital on August 26 and finishes in Madrid on September 17. In between it visit France and Andorra and break in several new ascents.
"The mountains are part of the DNA of the Vuelta and will still thrill us in 2023," said Javier Guillen, the director of the Vuelta, at the presentation of the route at the Palace of Catalan Music in Barcelona.
Champion Remco Evenepoel has already said he will race the Giro d'Italia at the start of the season and then skip the Tour de France, which would leave him fresh to defend his Spanish title.
Last year, the young Belgian took the overall lead on the first mountain-top finish and held it the rest of the way for his first major tour victory.
This year the climbing starts even earlier.
After starting with two stages in and around Barcelona, including a team time trial, the peloton will head for the hills on the third day with a first ever visit to the ski resort of Arinsal in Andorra.
The pack then rides south through Catalonia before stage six takes them to another ski resort, Javalambre, in the province of Valencia.
The second week will start with a flat individual time trial through the streets of Valladolid. Then will ride back to the Pyrenees.
A short but nasty 13th stage will take the peloton over four mountain passes and into France. They will climb the Aubisque and the legendary 17km Tourmalet pass, which the Tour de France has visited 87 times.
"Reaching the Tourmalet will be a milestone in the history of our race," Guillen said.
The next day, the riders will again cross the Pyrenees, climbing two brutal passes before another new mountain destination, Porto de Belagua.
After a second rest day, the pack will head along the hilly coast of the Bay of Biscay for the mountains of Asturias and one of the Vuelta's fearsome climbs, the Angliru, where gradients reach 23 percent.
The last chance for contenders to make up time will come on a hilly penultimate stage. It will be the longest of the race, at 208.4 km, and while none of the climbs rank above third category in difficulty, there are 10 of them.
The race then rolls into Madrid for the traditional finish.
2023 La Vuelta Stages
| | | |
| --- | --- | --- |
| Stage one | Barcelona to Barcelona | 14.8km TTT |
| Stage two | Mataró to Barcelona | 182km hilly |
| Stage three | Súria to Arinsal (Andorra) | 158.5km mountains |
| Stage four | Andorra la Vella to Tarragona | 185km hilly |
| Stage five | Morella to Burriana | 186.5km hilly |
| Stage six | La Vall d'Uixó to Pico del Buitre | 183.5km mountains |
| Stage seven | Utiel to Oliva | 201km flat |
| Stage eight | Dénia to Xorret de Catï | 165km mountains |
| Stage nine | Cartagena to Collado de la Cruz de Caravaca | 184.5km hilly |
| Rest day | Valladolid | Row 9 - Cell 2 |
| Stage ten | Valladolid to Valladolid | 25.8km ITT |
| Stage 11 | Lerma to Laguna Negra (Vinuesa) | 163.5km flat, uphill finish |
| Stage 12 | Ólvega to Zaragoza | 151km flat |
| Stage 13 | Formigal to Col du Tourmalet | 135km mountains |
| Stage 14 | Sauveterre de Béarn to Larra Belagua | 156.5km mountains |
| Stage 15 | Pamplona to Lekunberri | 158.5km hilly |
| Rest day | Santander | Row 16 - Cell 2 |
| Stage 16 | Liencres Playa to Bejes | 120.5km flat, uphill finish |
| Stage 17 | Ribadesella / Ribaseya to Alto de L'Angliru | 124.5km mountains |
| Stage 18 | Pola de Allande to La Cruz de Linares | 179km mountains |
| Stage 19 | La Bañeza to Íscar | 177.5km flat |
| Stage 20 | Manzanares El Real to Guadarrama | 208km hilly |
| Stage 21 | Hipódromo de Zarzuela to Madrid | 101.5km flat |