GFNY took over city roads of Kuala Lumpur for the inaugural Gran Fondo
Kuala Lumpur hosted the inaugural edition of GFNY Kuala Lumpur this past Sunday over 135.6 km with 1531m of climbing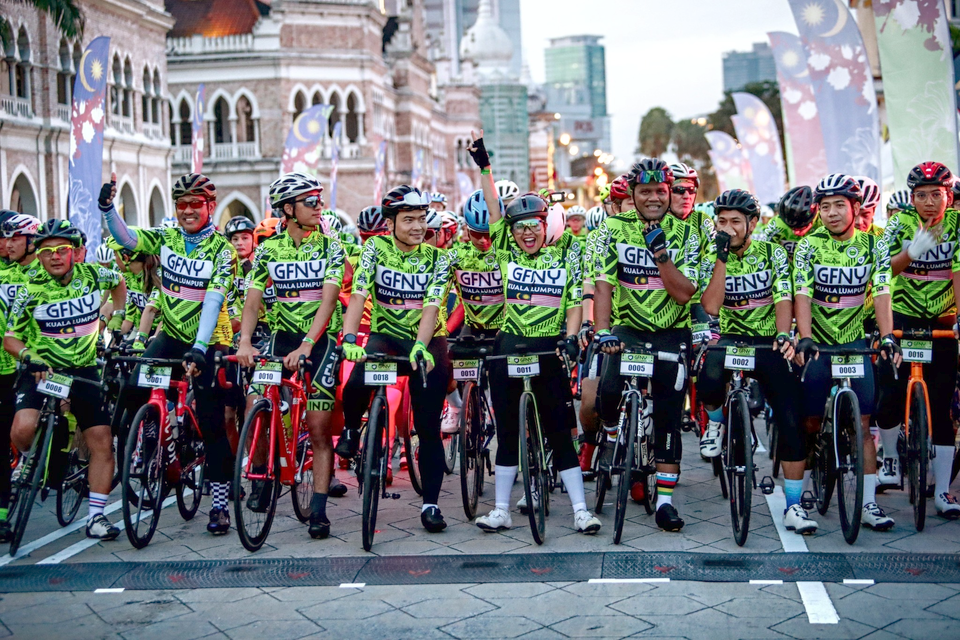 Malaysia's sports minister Hannah Yeon and Kuala Lumpur's Mayor Datuk Seri Mahadi Che Ngah sent 1003 GFNY riders on the completely closed to traffic roads of Malaysia's capital. 100 police motos and the same amount of race motos secured a free passage for the racers, in addition to additionally stationed safety staff.
"Fully closing 70 km of inner city roads for all GFNY riders to Be A Pro For A Day was an incredible feat," says GFNY CEO Uli Fluhme.
"Something of this magnitude is rare in cycling where closures on important roads like this are usually reserved for pro races that merely require rolling closures of a few minutes. I had the honor to accompany esteemed UCI race director Jamaludin Mahmood in the lead vehicle to witness this extraordinary race. Congratulations to the team of Syed Mohammed Feisal and Ghazally Rahman for pulling this off."
In scorching heat under the tropical sun, three riders from Jakarta's KGB team exploded the ten men lead group during the 10km climb with 300m elevation gain to the recreational area of Ulu Yam. Irwandi, Maulana and Gustaman, crossed the finish line together without contesting in 3:33:58.
In the women's race, Lucy Richardson (UK) took the win in 3:51:45, four minutes ahead of Olivia Kurniawan (Indonesia) and Dagreat Izzura (Malaysia) who rounded out the podium.
GFNY Indonesia owners Tenne Permatasari and Axel Möller as well as GFNY Thailand's Thomas Tapken were present to witness the new GFNY in South East Asia. The second edition of GFNY Kuala Lumpur is scheduled for February 24, 2024.
With GFNY Indonesia-Mandalika added in May this year to the hugely popular GFNY Bali, GFNY Thailand offering a race in October this year and March 2024, as well as GFNY Philippines likely to be back in 2024, riders in the region have several GFNYs to choose from. And many will use the opportunity to reach a GFNY 3-timer medal by finishing several of them.
Link to full 2023 GFNY Kuala Lumpur Results.
Next up on the GFNY calendar is the fourth GFNY Monterrey on Sunday March 5, 2023 to open the GFNY racing season in Mexico.