Mattia Gaffuri and Chiara Doni win 11th GFNY World Championship
Gaffuri attacked his breakway companions on Cheesecoat to solo 40 miles to victory as Swattclub teammate Chiara Doni won the women's race
Photo Credit: @gfny_world - Mattia Gaffuri (Swattclub) soloed 40 miles to the finish line
The race started for thousands of cyclists at 7am on George Washington bridge.
Around 150-200 riders got into the initial breakaway including the all the big favorites. Mattia Gaffuri and and his teammates from team Swattclub, controlled the pace at the front of the race.
The first big climb came after 10 miles with the Alpine KOM. GFNY Florida champion Leon Santamaria attacked, however Mattia Gaffuri (Swattclub) counter-attacked to take the KOM cash prize.
Kenny Nijssen (Universe Cycling Team) from the Netherlands attacked out of the leading breakway of around 25 riders. Recardo Piquatta and Mattia Gaffuri (Swattclub) went on the attack to chase Nijssen.
Gate Hill was the second climb, whereby Miguel Arroyo attacked from the breakaway and built up a lead of around 2 minutes.
Miguel Arroyo was caught by Mattia Gaffuri (Swattclub) on the Cheesecoat climb, who immediately counter-attacked and got a gap.
The 32 year old solo'd 40 miles, slowly building up a lead of over 3 minutes, he finished the ride in around 3h 27m. He won two of the KOM cash primes and came second in the other.
Teammate Chiara Doni (Swattclub) won the women's race in a time of 3h 43m, she finished as the only women in a leading group 16 minutes behind overall winner Gaffuri.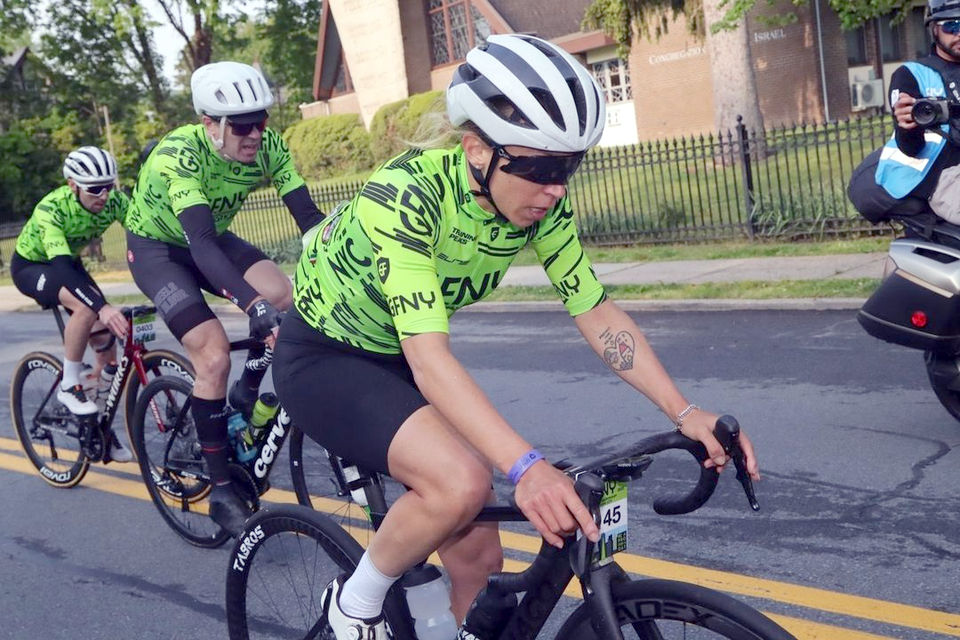 Photo Credit: @gfny_world - Chiara Doni (Swattclub) won the women's race
11th GFNY World Championship Men's Podium
1st - Mattia Gaffuri (Swatt Club) 3h 27m 32s
2nd - Benjamin De Vicente Eguiguren (Cyclingwolf) 3h 34m 26s
3rd - Francesco De Candido (Swatt Club) 3h 34m 27s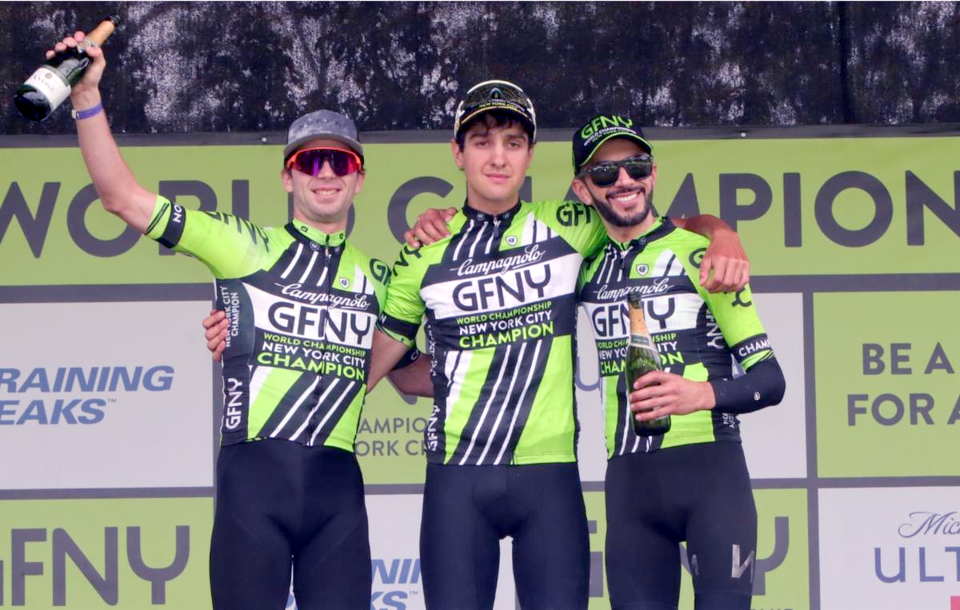 11th GFNY World Championship Women's Podium
1st - Chiara Doni Swatt Club 03:43:09
2nd - Annalisa Prato OFFICINE MATTIO 03:47:56
3rd - Samantha Arnaudo 03:47:56
Link to 2023 GFNY World Championship Results: https://gfny.cc/results/2023/NYC
2024 registration is now open: https://nyc.gfny.com/register2024