Gaffuri and Doni of Team Solowattaggio take the Crown at 2023 GFNY World Championship
The new 135 km race course with start on George Washington Bridge in NYC, 2000m of climbing and three sprint primes at Alpine Hill, Gate Hill and Cheesecote assured a fast race with start-to-finish action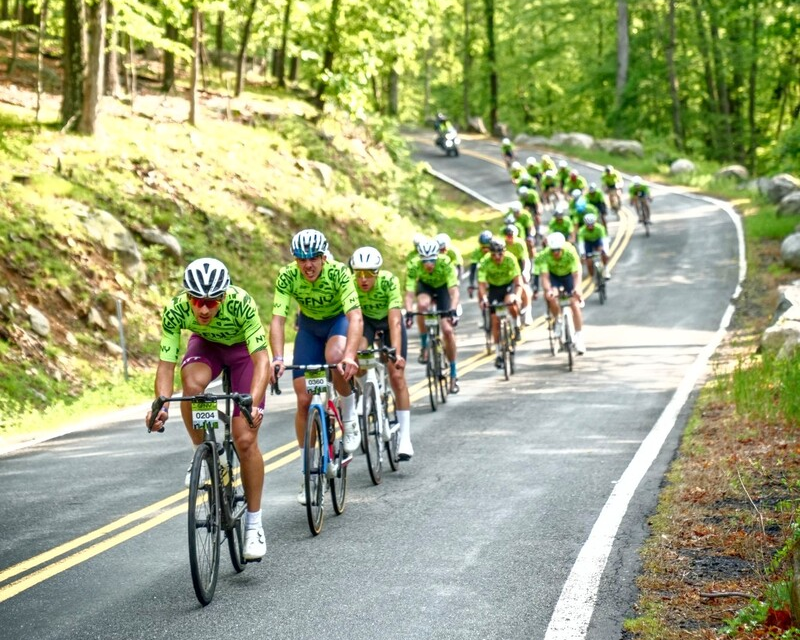 2022 runner-up Mattia Gaffuri (Solowattaggio/Italy) didn't hesitate and blew up the field up Alpine and took the first prime. US time trial champ Ben Wolfe cashed in on second and team mate Francesco di Candido third.
A lead group of thirty formed coming off the first primes but it was the up and coming Mexican pro Miguel Arroyo, double GFNY champion in 2022, who attacked and built a lead of up to a minute through Nyack, Haverstraw and Stony Point.
Team Solowattaggio kept the pace high in the chase group for captain Gaffuri along Mott Farm Road and through the first inclines of Gate Hill. Gaffuri finished the work of his teammates and chased Arroyo who just about made it to the top of the climb and cash in on the primes. Gaffuri took second, followed by Officine Mattio team mates Aleksander Worsdale (South Africa) and Ricardo Pichetta, the 2017 GFNY World Champion from Italy.
Gaffuri and Arroyo attacked Cheescote together but the Mexican couldn't keep up and was dropped in the early 18% steep section of the climb. Gaffuri took the first prime at the top, Arroyo the second and Jaime Vergara (Colombia) led the 15 rider chase group a few seconds back to take the third.
Gaffuri put the head down and soloed off the front through Pomona, followed by a group of first ten riders which later grew to 17. With the miles ticking by and no real collaboration in the group, Gaffuri's lead grew to two minutes with 40k to go. By the time he hit Alpine Hill again, this time from the northern side, his win was all but a formality. The chase had given up on the win and seemed to focus on completing the podium – and punching five of the tickets left up for grabs to join the new UCI pro race in 2024 as "Team GFNY".
Gaffuri took the solo win in 3:27:32 after training for this moment since the day he finished second here a year ago. The group sprint went to Benjamin Vicente (Team Cyclingwolf/Chile) ahead of Jonathan Jimenez (Team Zipaquira/Colombia). These three will race the all new Gran Premio GFNY New York City pro race on May 19, 2024 alongside fourth place finisher Diego Vazquez (Colombia), fifth Francesco de Candido (Italy) and sixth Luis Lemus (GFNY/Mexico).
Dutch pro and climbing specialist Kenny Nijssen was seventh followed by Ricardo Pichetta in eighth, Jaime Vergara in ninth and Leon Santamaria (Team 305Cycle/Colombia) in tenth (all same time).
In the female race, it was a start to finish domination of Italian Chiara Doni, Solowattaggio team mate of Gaffuri. She took the win in 3:43:09, a solid 4 1/2 minutes ahead of her countrywomen Annalisa Prato and defending champ Samantha Arnaudo (both Team Officine Mattio) who crossed the line hand in hand.
"The new course was appreciated by the front racers and the peloton of age group riders and finishers alike," said GFNY CEO and race director Uli Fluhme, "For the top riders, it makes the race faster but more racers are able to be competitive. And, while still challenging, it's a more approachable distance for the finishers."
"In 2024, the amateurs get a chance to chase the UCI pros on this very course. It's going to be amazing to see what the pros can do on this course which doesn't favor a specialist but really is made for riders who can roll but also kick hard on the relentless hills. I think that "Team GFNY", the six top finishers from this year, will put on a great show in the pro peloton and demonstrate the level of racers they are. I can't wait for May 19, 2024!"
Find out everything about the race at nyc.gfny.com
VIDEO: 2023 GFNY World Championship Race Recap