Hannay and Storrie fastest at the UCI Gran Fondo Isle of Man this weekend
A record number of people took part in the one of the Isle of Man's major cycling events being held this weekend, over 1,100 people were involved in five events across two days. Hannay and Storrie fastest at the Gran Fondo.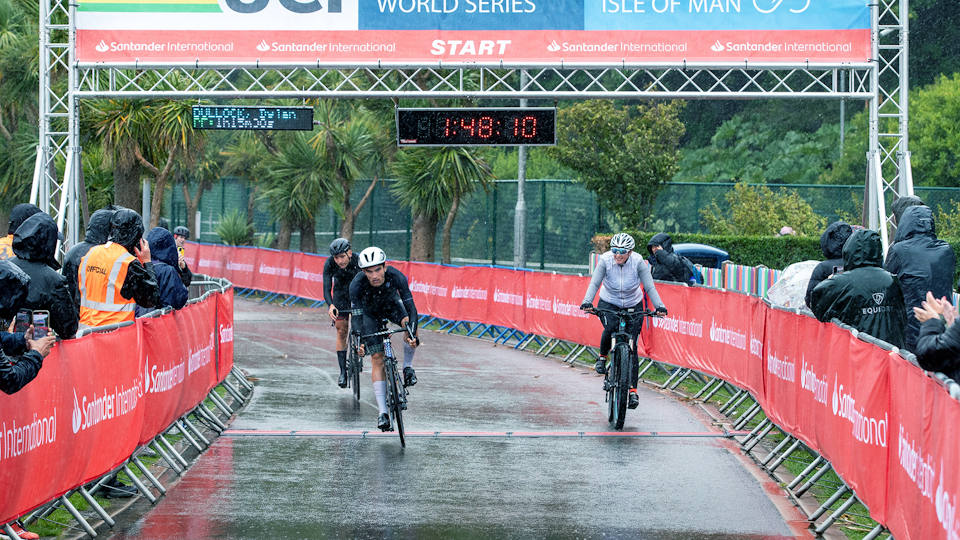 Over 1,100 riders from 14 nations of all ages and abilities were involved in Gran Fondo Isle of Man that took place this Saturday and Sunday, July 22-23, with five races/events across the two days.
Event organiser, Paul Phillips, says seeing the event grow again as both a competitive and social occasion is very encouraging:
The orginal 85 mile Gran Fondo Isle of Man route boasted 7,500ft of spectacular climbing around a largely closed road course. It would be foolish to underestimate the challenging nature of the shortened Fondo. After all, the Isle of Man's roads has tested to their limits, some of the world's greatest cyclists; think Coppi, Simpson, Fignon and Millar.
The Gran Fondo got underway in style with a mass roll out from Mooragh Park, before the peloton is escorted out of the neutralised zone. 45 miles of spectacular and unique racing awaited the competitors when the flag dropped – almost entirely held on closed roads , as well as an un-surfaced 'Strade Bianche' style blast through a forest plantation.
Packed with the Island's toughest climbs, competitors faced 25% gradients as they conquered each classic ascent – another stunning vista the only reward before plunging towards the sea that flanks those leg breaking hills.
Whether racing to win, or riding to finish, Gran Fondo Isle of Man was a true test of legs and lungs – one that rewarded competitors with an overwhelming sense of satisfaction and achievement.
The event involved a series of road closures across the Island during Saturday and Sunday which was hampered by very wet weather.
Hanney and Storrie Fastest at the Gran Fondo
Island resident Chris Lawless was announced as a last-minute entrant to defend the title he won in 2022, when Mark Cavendish was among those who took part.
However, Manxman Tyler Hanney (Team Saint Piran) was fastest in a time of 1h 48 11s on the shortened route (72 km) due to wet weather and safety concerns.
He battled it out towards the end with Will Draper but pipped him to the post by just a second. Despite the standing water, the high winds and the fog on high ground, this was a smashing result for him, and everyone who raced today. Kester McQueen was third (1:49:23) on the men's podium. Manxman Hanney last won the race in 2021 and finished in second place in 2022.
In the women's race, Becky Storrie (Pro Team DSM-Firmenich) was fastest in a time of 2h 3s, followed by junior Sophie Smith (2h 9m 5s) in second and Megan Chapple (2h 9m 6s) in third place.
Due to the deteriorating weather, the prize presentations were cancelled. Jerseys and medals will be sent out instead.
Riders finishing in the top 25% of their age and gender category will qualify to participate in the UCI World Cycling Championships August 3-13 in Perth, Scotland.
Link to 2023 UCI Gran Fondo Isle of Man Results : https://my.raceresult.com/228835/#1_E88C3C