Fall River Mills is nestled in a pristine northeastern California valley. The area offers many opportunities to ride in solitude with commanding views of two of California's famous volcanoes: Mt Shasta to the northwest and Lassen Peak to the south. We've planned a spectacular ride for you on a great route that capitalizes on this and other scenic wonders of the area.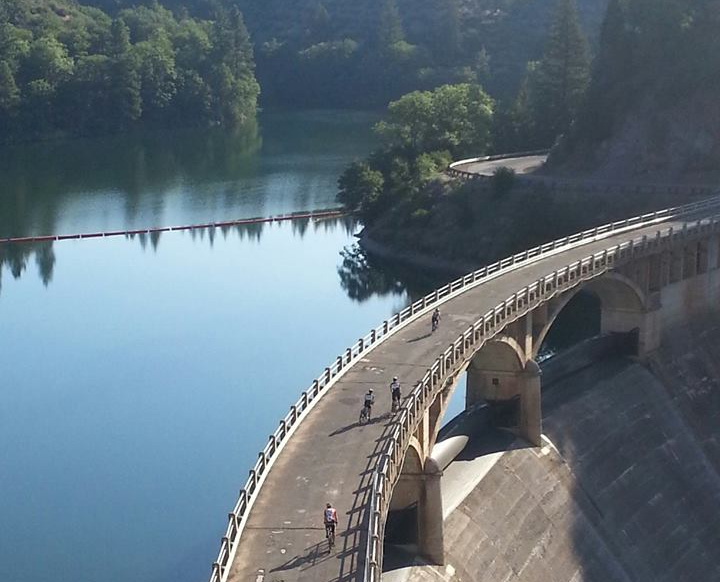 The century and double metric routes have been changed slightly to take advantage of newly widened and rebuilt Highway 299.
Limited to 500 Riders plus 100 registrants on the day of the ridde.
Start Time: Everybody may start at 7:00 am  (no later for the two longer rides). 100k riders must start no later than 8:00 am, and 25 mile riders must start no later than 9:00 am.
If you are wondering "How do I get there?", it is pretty easy.
From the South take Interstate 5 to Redding and take State Route 299 East. Stay on that for 74 miles until you reach McArthur. Look for the lit sign the Intermountain Fair keeps and turn left. Go straight for one block and you have reached the Intermountian Fairgrounds, Starting point for the four amazing routes of the Fall River Century bike ride.
From the North, Exit Interstate 5 at Mt. Shasta and go through McCloud to State Route 299. At the four-way stop turn left(which would be East) and in fifteen miles you will find the lit sign of the Intermountain Fair in McArthur.

Food will not be an issue. Breakfast begins at 5:30 am for all the early risers. It is provided by the American Legion and will include hotcakes, ham, eggs, and coffee. A special celebration dinner is planned afterwards for all riders. Tickets are available for non-riding guests for a small fee, payable on ride day. Take advantage of the cool and shady Main Hall at the fairgrounds to enjoy your lunch! Our after-ride meal is getting better all the time! We continue to offer a vegetarian option for those who wish it. For planning purposes, please check the box by the t-shirt info if you do not want meat in your meal on the registration form.

Party for the Century. It's back, and better than ever. But wait, there's more! Lots of food and drink and live music on Friday night from 5 to 10 pm. This event is brought to you by the Fall River Valley Chamber of Commerce.

About the Ride
There will be Sag Wagons and mechanics, lots of well stocked rest stops, and four routes to choose from: 25 mi, 100 k, 100 miles, and the 200k. The mornings (and of course the people) are cool, and the afternoons can be warm. Thundershowers are common here in July, especially in the afternoon. Register Friday evening between 6 and 9 or early on tide day.

Rules: Everbody must wear an approved helmet. Bikes will be roadworthy, and please obey all traffic laws. Be courteous and spread good will. Remember that folks driving those big trucks need the road as much as we do. They could be hauling your next bike, right? Everybody may start at 7:00 am (no later for the two longer rides). 100k riders must start no later than 8:00 am, and 25 mile riders must start no later than 9:00 am.