Distances: 21, 39, 40, 67, 101 miles
This is a bicycle tour through amazingly beautiful Shasta Valley in far Northern California with great views of Mt. Shasta. There is a full century again this year. The 87 mile route is the toughest and also has 14 miles of gravel in various parts, with 5,320 ft, of elevation gain. All other routes are all pavement. The 101 mile route has 4,986 ft. of elevation gain, the 67 mile has 4,363 ft. of elevation gain. The 3 shorter rides are relatively flat, with 1,352 ft on the 40 mile, 947 ft. on the 21 mile and 393 ft. on the 8 mile ride. There is a ride for everyone in the family. This is a fully supported ride with multiple rest stops, sag wagons and a picnic meal at the park at the end of the ride. There will also be beer for sale at the park. Tent camping is available at the park, and there are 2 RV parks nearby. This is an in-person event, that is deemed safe by the State of California and the Siskiyou Co. Health Department, even in the purple tier. Covid precautions will be observed. There is a fabric ride bag with goodies, and also prizes for various registration categories. This is sponsored by the Rotary Club of Yreka, and proceeds benefit our local community projects and youth scholarships.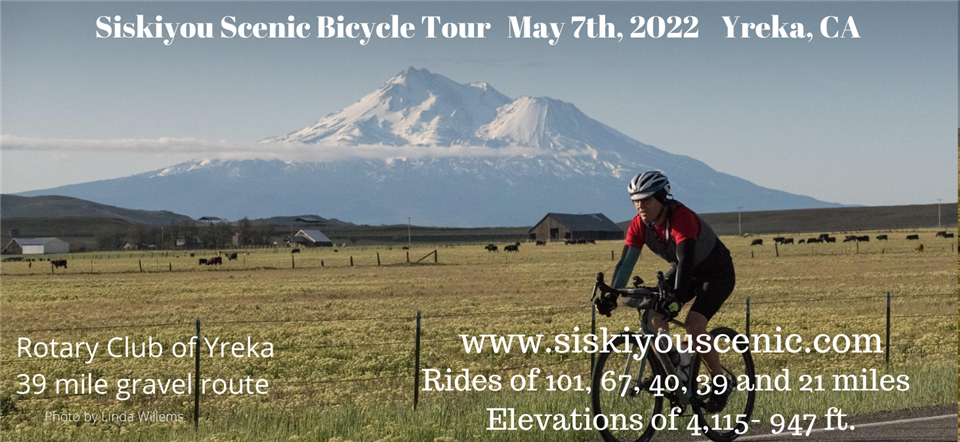 Start of ride coffee. Multiple rest stops with food and beverages, fully supported with sag wagons, end of ride meal. Event backpack for all participants.
5-7 pm the evening before on May 6th at Upper Greenhorn Park, and starting at 6am the morning of May 7th