RAMROD [Ride Around Mount Rainier in One Day] is the Pacific Northwest's premiere one-day ultra-marathon cycling event. It combines the incomparable scenery of Mount Rainier National Park with a challenging course featuring 10,000 feet of climbing over 152 miles. The course begins in Enumclaw, WA and takes riders through the rolling hills near Eatonville, Elbe and Ashford before entering the Mount Rainier National Park. You'll be challenged by three climbs: a 12 mile ascent to Inspiration Point (4,850 ft), the 3 mile Backbone Ridge climb and the challenging 9-mile Cayuse Pass ascent (4,694 ft). 
Join us for another great edition of this classic ride!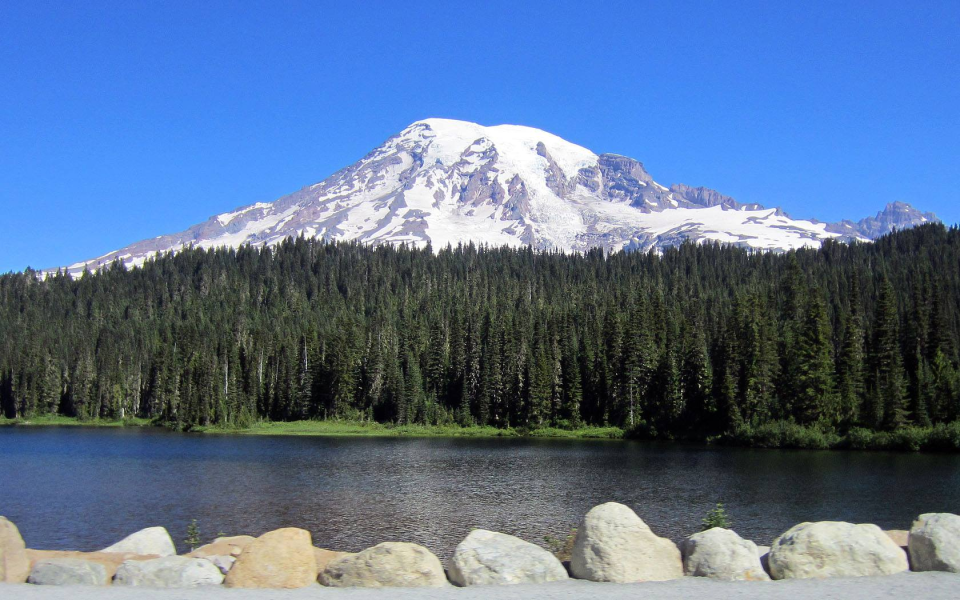 Map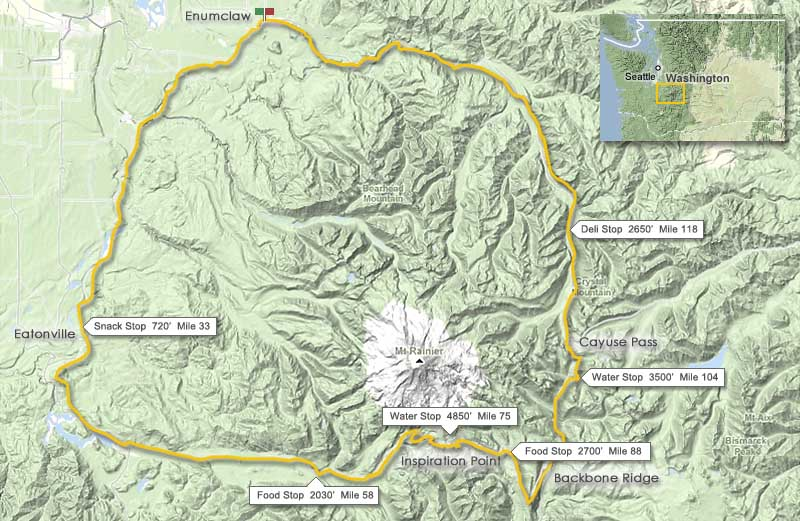 Profile

Rider Support
Start line: Breakfast feed with hard boiled eggs, hash browns, sausage, oatmeal, coffee and OJ. Sponsored by Enumclaw Rotary and Lions clubs - separate $10 donation, all of which goes directly to these two community organizations. Pre-register online at the RCC site; very limited walk-ins will be available. Breakfast will be served from 4 - 7 am in the Thunder Mountain Middle School Commons. NOTE: no bike shoes, not even ones with recessed cleats. There will be a shoe cop at the door.

Eatonville, mile 36 - open 6:00 - 10 am: Mini scones and mini muffins, Coffee (the regular brewed stuff), Water, Gatorade Glacier Freeze. (NOTE: Gatorade will be made half-strength at all stops; there will be powder available if you want to spike yours but you may need to ask), Port-O-Johns.
Lion's Club Food Stop, mile 54.8 - open 7:30 - 11 am: Bagels with cream cheese, peanut butter, jam, and/or honey, RR cookies: choco chip/oatmeal and oatmeal raisin, Fruit: bananas, grapes, nectarines, watermelon, cantaloupe, honeydew, Water and Gatorade Glacier Freeze, Port-O-Johns.

Inspiration Point, mile 78 - open 9:00 am - 2 pm: Water, Gatorade Glacier Freeze, Port-O-Johns.

Upper Box Canyon, mile 86.6 - open 9:30 am - 3 pm: Steamed new potatoes with salt and parmesan cheese. Chocolate croissants. Bagels with spreads, Fruit, Water, Gatorade Glacier Freeze, Port-O-Johns, (NOTE: no cookies at this stop)

Grove of the Patriarchs, mile 97 - open 10:30 am - 4 pm. Ice for Bottles and Socks

Deer Creek, mile 104 - open 10:30 am - 5 pm: Water, Ice, Gatorade Glacier Freeze, Port-O-Johns.

Cayuse Pass, mile 108 - open 11 am - 6 pm: Water, Gatorade Glacier Freeze, Port-O-Johns. (Note: there are NO other services at Cayuse-keep rolling downhill to the Deli)

Deli, mile 116 - open 11 am - 7 pm: Made-to-order sandwiches, RR cookies, fruit, chips, pickles & pickle juice shots (kosher dills, nummers!), soda, juice, V8, Gatorade (if you can still stand it by this point) and water, Port-O-Johns.

Finish Line - open from when the first rider finishes until 8 pm: Ice cream truck (included in your event fee), Soft drinks, Chips, Showers-bring your own towel, Massage (additional fee)
What is not provided at stops: OTC pain relievers such as ibuprofen or acetaminophen, Sunscreen.
 
Souveniers include a T-Shirt, a reflective band for the bike and a finishing patch.
Packets can be picked up at the Sunday Packet Pickup Barbecue. This is held the Sunday before the ride from noon until 4pm at Element Cycles, 8215 160th Ave NE, Redmond, WA 98052 425-881-8442
Packets can also be picked up at the Start line on the day before the ride from 4pm to 9pm and the morning of the ride from 4am to 7am.