Tour dem Parks, Hon! is the annual tour of the Baltimore parks system, held the second Sunday of June. The Tour goes through Baltimore's parks and neighborhoods, giving riders a up-close view of regional attractions and quietly tucked away gems. Participants choose from 4 routes: the 7mile family ride on the Jones Falls Trail,  12 miles, 25 miles, and 35 miles. The ride is followed by a relaxed barbecue with live jazz. Proceeds benefit Baltimore's parks, environment and cycling.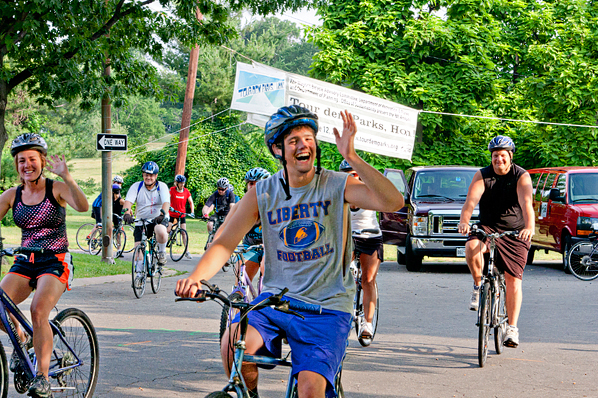 Le Grande Tour: (35 miles through all five main parks)
This is our most popular ride, designed for the experienced rider who wants to see Baltimore's parks and neighborhoods. This ride will take you through all five major parks (Carroll, Druid, Herring Run, Clifton, and Patterson) while passing through a number of of the other smaller parks that make Baltimore Bal'mer. Rest stops are frequent and fully stocked. 

Le Petite Tour:  (25 miles through three main parks)
This ride is a mix of trail and street riding going through three main parks and many  neighborhoods and smaller parks.

Family Ride: (12 miles up and down the Jones Falls Trail)
This is a short ride up and down the Gwynns Falls Trail connecting Carroll Park and Leakin Park. It's designed for families who want an off-road experience or for people who are just getting (back) into biking.
Park Ride: (7 miles, mostly flat)

8:00-9:30 Registration and all other rides start (view Description of Rides link for suggested riding ability)

10:30 Barbecue served

1:00 Rest stops close; riders should be off the road by 2:00 p.m.

2:30 Barbecue done; food finished; riders off the road

3:00 Clean-up, end of event
Rest Areas
Rest stops are located in the major parks: Patterson, Cylburn, Druid Hill, and Leakin.  Snacks, water and Gatorade are available; but bring your own water bottle.  Toilets or Poly-Johns, and mechanics are at all rest stops.

Bike Repairs
Mechanics are available at the start of the ride in Druid Hill Park, at all rest stops, and will be riding on all routes. Emergency contact numbers will be provided on your cue sheet in case you need assistance during the ride.  Again, bring a spare inner tube.
Lunch for all! Ride support! Puppies!
All proceeds benefit Baltimore's parks & environmental groups, Hon!