With chilly February weather and 2,675 feet of hilly climbing, the name says it all!
Chilly Hilly has been kicking off the cycling season in the Northwest on the last Sunday in February for the past 50 years. The 33-mile route around Bainbridge Island starts with a scenic early morning ferry ride across Puget Sound from Seattle, or you can join the crowd directly on Bainbridge Island.
Join us on Sunday, February 27, for the ride Bicycling Magazine named "One of Four Classic Rides" in the nation. It's guaranteed to be hilly, probably chilly and always a heck of a lot of fun.

Course is open from 8 a.m to 3 p.m. If you are taking the ferry over from Seattle, the ride starts when you get off the ferry. If you are starting on Bainbridge Island, the ride starts at the top of the ferry off-ramp on Winslow Way.
Packet mailing is included in the price for registrations made by February 20, 2022. Space is limited to 2,500 riders.
Enjoy:
+ A scenic cruise on a Washington State Ferry
+ Food stop at the midway point.
+ Local groups selling food to support local Bainbridge Island charities
+ Finish Line Festival with a fantastic chili feed that is a fundraiser for the Squeaky Wheels Bicycling Club.
Who rides Chilly Hilly?
Chilly Hilly record number of riders is 6,029 (set in 2010). 
Each year riders come from far and wide including Alaska, Iowa, Nevada and New York - plus British Columbia and France.
Typically 25% of riders were female; 75% were male
The oldest registered rider was 78 years old. The youngest participant was one and a half years old.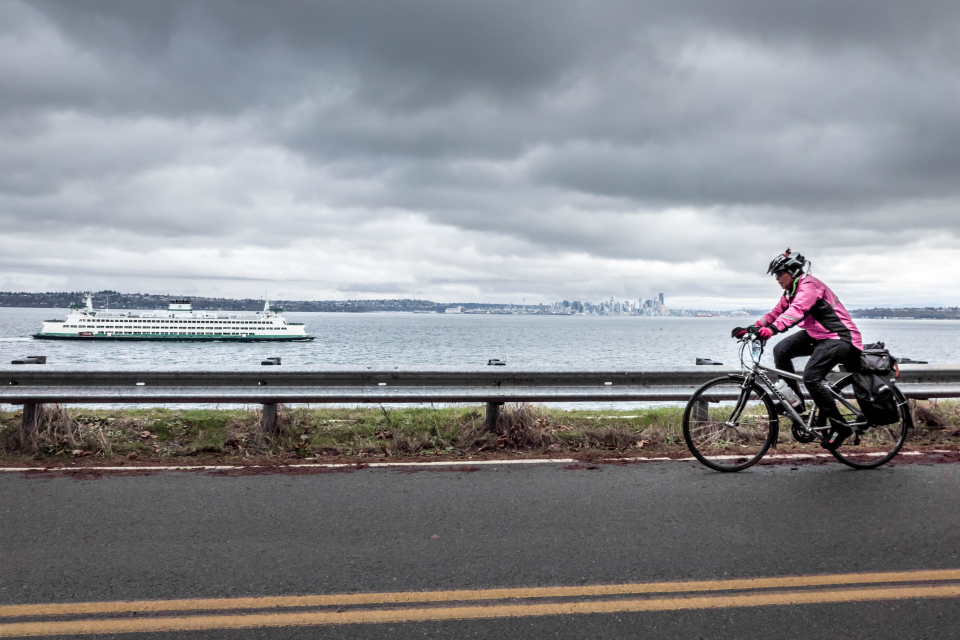 February 27 8 a.m. to 3 p.m.
Register online in advance. No day-of registration available.
Bainbridge Island packet pick-up available at 7am.
Ferry times to Bainbridge Island:
7:55, 8:45, 9:35 and 10:35 a.m.
Seattle registration includes ferry ticket
A scenic cruise on a Washington State Ferry (Seatte start)
Free food stop at Battle Point Park
Supporting local Bainbridge charities
Finish Line Festival with a fantastic chili feed benefiting a different Bainbridge Island non-profit each year
Lost packets can be replaced at locations in Seattle and on Bainbridge Island.