The virtaul double century is a giant figure eight type route composed of two 100-mile loops (centuries). The start/finish and lunch are at the center of the figure eight at MOTEL 6. The 100-mile option is available for either loop. However, the first loop is a Great Beginners Century.  The first loop has 3506 feet of total accumulated elevation gain spread over the entire 107-mile loop.  The second loop has about 3431 feet of total accumulated elevation gain, in which 1100 feet of climbing occurs in the first 13 miles of the 97 mile loop. One of the four original DCs in the California Triple Crown Doubles.
The double century has a eighteen-hour soft time limit.  The double century riders can start between 3:30 AM and 6:00 AM.  The double century closes at 0:00 AM soft limit, but completion is key and riders are allowed to get credit after 3:30 am.  No double century rider is allowed to attempt or start the second loop after 2:30 PM.

Single Century riders can start the first loop between 3:30 AM and 6:00 AM or they can start the second loop between 9:00 AM and 11:00 AM.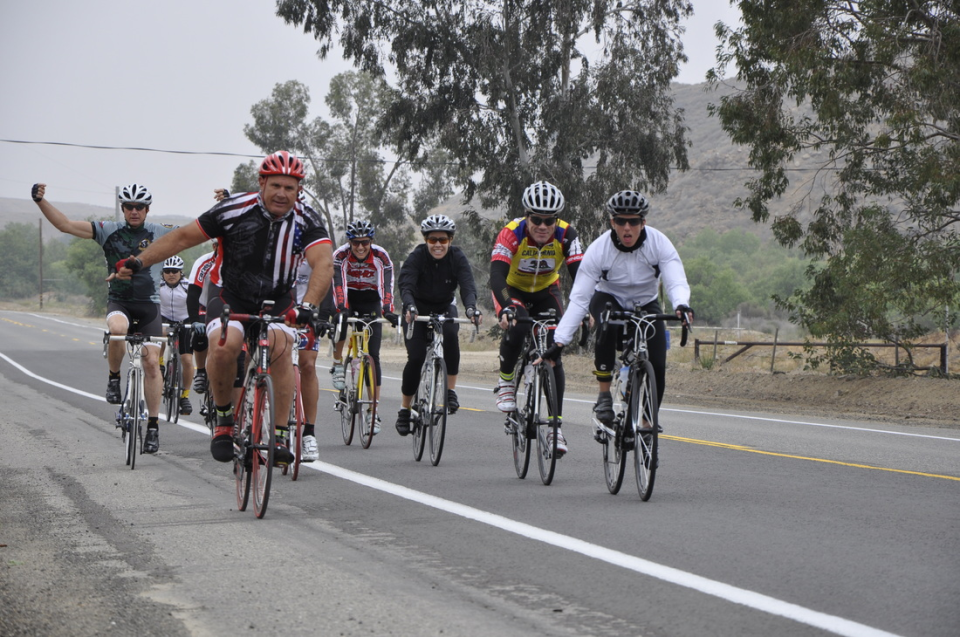 Virtaul 200 or 100 miles. Accurate route maps and route slips are provided to each rider, as well additional copies available at rest stops. This event is NOT a RACE. Traditionally, however, rider time has and is kept for fun only. Your time for lunch (up to one and half-hours) is subtracted from the D.C. elapsed time. The last ten or so years we have been suggesting that riders eat lightly at lunch time to minimize the battle between digestion and riding. The stomach always wins the war for thirty to sixty minutes and reduces performance. The timing results for all riders are posted on this web site from 1986 to present.