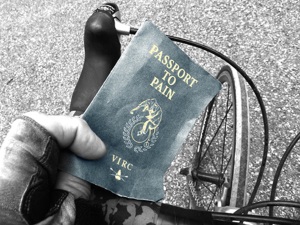 A bunch of rowers looking for off-season training rides came up with this crazy idea of stringing together all of Vashon Island's short steep hills into a real leg-burner. Because we're rowers (or maybe just because we're all a little bit crazy) we decided to add some fun to it, so you'll find staffed checkpoints with an attitude along with great food, water, and full-support. We added 30-mile and 50-mile options to provide variety.
The Executive Director of our Chamber of Commerce told us he was the Devil in disguise and could he please cheer/harrass/steal the soul of riders at the top of the baddest hill, Burma Road.
We threw in a finish-line BBQ. T-shirt and water bottle, de rigeur.
The way it works: At the start, you get a Passport. You get your Passport stamped at 18 checkpoints, most of which are designed to prove that you rode to the bottom of the hill (usually at the waterline) in order to have the opportunity to climb back up. You keep the passport at the end, for your bulletin board or scrapbook. You also get a map, but the route is well-signed.
This event, sponsored by Vashon Island Rowing Club, raises funds to support our national powerhouse junior rowers program (grades 6-12).
IT'S IMPORTANT TO REMEMBER that this is NOT a race or a sanctioned or timed ride. Also, Vashon is a rural area. Roads are steep and narrow, with sharp turns, potholes, gravel. There's also ferry traffic, horses, deer, dog-walkers, the undead, etc. MOST IMPORTANTLY, this ride is sick! – it's extremely strenuous! and those uncertain of their top fitness should consider the 50 or the 30 as alternatives (you can always come back next year to take on the next level).
Full support (great food, water, potty facilities at many checkpoints, roadside assistance), BBQ dinner at finish, t-shirt, water bottle, and a set of handlebar streamers at the last checkpoint. Oh yes, lots of entertainment at each themed checkpoint, ranging from Sleepy Time to Stars'n'Stripes to S&M (Motto: Your Pain Is Our Pleasure). Wait, wait: You'll also meet The Devil at the top of the biggest, baddest hill, the aptly named Burma Road (if you've never heard of the Burma Road, look it up, it's a heck of a story in itself).
At start, beginning 7:30 am.