Baja Bike Race is a cycling race to push the bicycle enthusiast past their comfort zone.  This event is also a fun bike ride, so no worries if competition is not your thing. The route takes you from the city of Tecate to the city of Ensenada in Baja California Mexico totaling 73 miles.  During the ride, you will climb almost 4000' with 4 major hills.  To create additional competition amongst riders, we created a race within the race to the top to one of the hills.  Competitors with the fastest time will earn themselves King and Queen of the hill!
This event is fully supported by the State of Baja California Mexico as well as the Federal toursim board of Mexico.  Our goal is to increase the sport of cycling across the neighboring country of Mexico and increase tourism.  BajaBikeRace is based in San Diego, Ca and American/Veteran owned.
 TIMING:
There will be live track timing that can be linked to your Facebook and Twitter pages.  Friends and family will be able to see where you are on the course.
EXPO:
There will be a pre race expo in Tecate B.C. Mexico located at the local art museum.  There will be a full food and wine festival as well as cycling/sports vendors.  You will have a chance to pick up your race bibs at the expo or the morning of the race.  (Highly recommended to pick up at the expo).
Teams will be able to set up their area during the expo (TBD time).  The area will be secured and security will be provided.
TRANSPORTATION/PARKING:
There will be transporation available to get you and your bike to the starting line or from the finish line back to the starting line. Costs: $24 each way
There will be a complementary shuttle from Ensenada to the expo on Saturday June 20, 2015.
Safe and secured (Gated and Security patrolled) overnight parking for your vehicles will be provided both in Tecate and Ensenada (Free).
We created this race for the love of cycling.  The route challenges all levels of riders and has history from way back in the 1970's. A company called Monday International owned by David Manwaring first created this route.  This man is responsible for bringing cycling to Baja California.  Back then, it was just a fun ride, with competition being more affluent, we decided to bring it back as a race.  It is my pleasure to bring back such an infamous route.  See you at the finishline! - Joshua Poe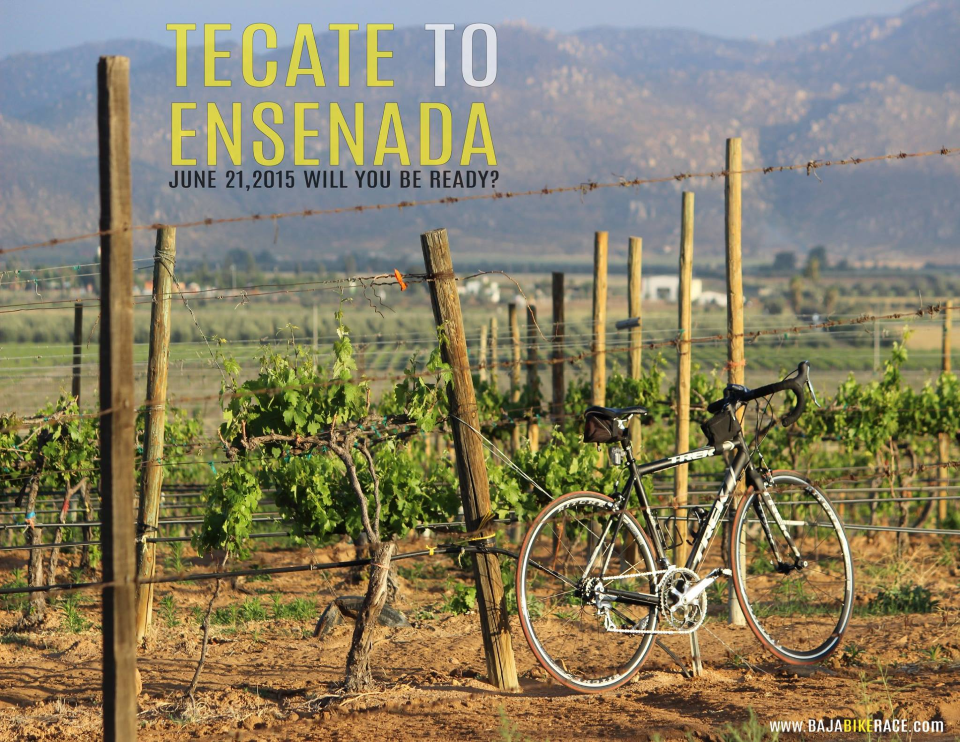 Official race T-Shirt
Finishers medal
Live track timing linked to Facebook and Twitter
Split times every 10miles
5 water/aid stations with Powerade and Carb boom gels
Beer mug for top 3 in all age categories
Prize purse for top 3 overall
Free secured bike parking
SAG van
Beer (if over 18yrs old)
Finish line fiesta