The SolarisCare Red Sky Ride is WA's premium endurance cycling event, focusing on ordinary people doing something extraordinary.
Riders cycle 1000 kms over eight days across the South West of WA, testing the limits of their endurance, and engage in an event that offers unparalleled fellowship during a demanding and gruelling journey. Providing opportunities for participants to build and maintain connections with a diverse network of professionals as well as improve their health and fitness to an elite level. 
The pelaton is supported by a dedicated group of volunteers who donate thier time and skills to support the riders including massage therapist, nurses, mechanics and well as local communities.
The Red Sky Riders are people who want to make a difference in the lives of those living with cancer and their loved ones. Participants not only commit to the ride itself, but also to raising significant funds in order to reach fundraising totals. Over the years, participants raised more than $2.5 Million to help the SolarisCare Cancer Support Centres maintain and increase their operations and delivery of free services to cancer patients and their carers. Our main objectives for the SolarisCare Red Sky Ride arre:
To raise awareness of the importance of health, wellbeing and 'quality of life' and the available cancer support service for patients and carers across Western Australia
To raise awareness of the SolarisCare Cancer Support Centres and the free services provided
To raise funds for the SolarisCare Foundation.
Build the alumni and lifelong connections of the Red Sky Riders
Our Values
Giving back to the West Australian Community
Unleash potential and achieving the extraordinary
Creating a challenging experience to inspire and unite
Developing leadership and teamwork
Educating quality of life, health and well-being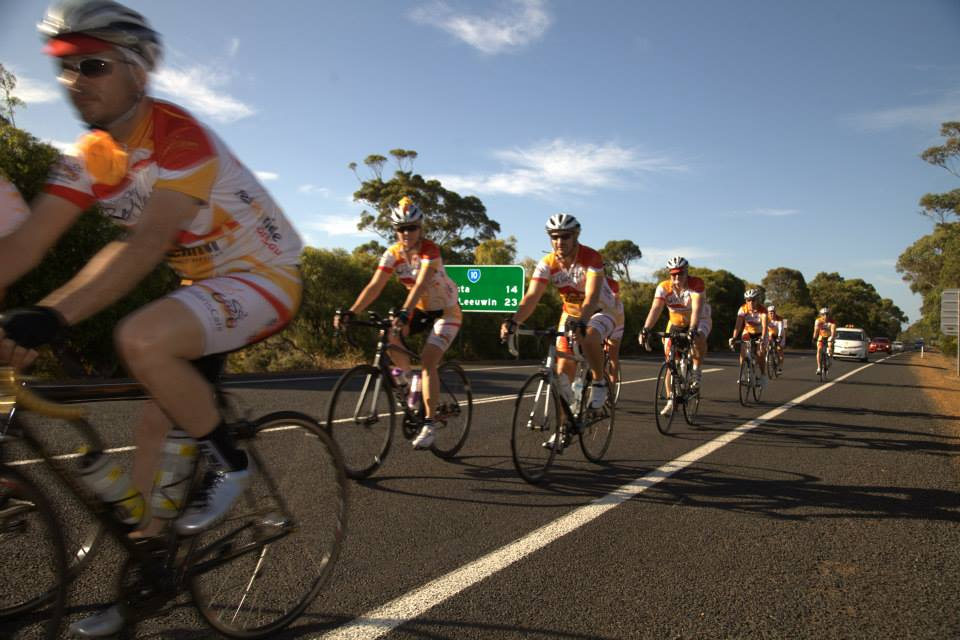 The Rider Donation entry fee includes all accomodation and catering for the eight day event as well as a full rider kit cosisting of:
Each rider will be equipped with a full uniform to wear on the ride and training, this includes:
· 2 x Team Jersey
· Wind Vest
· 2 x Knicks
· 2 x Polo
· Jacket
· 3 x Socks
· Additional attire: arm warmers etc.