Europe's most popular and spectacular stage race for amateur cyclists is entering the 18th round: The TOUR Transalp 2020 leads from 21-27 June over seven stages across the Alps. For the first time the race will start in Bruneck (South Tyrol) – and end in Arco (north of Lake Garda) after 784 kilometres, 17,795 vertical metres and 17 mountain passes. Participants can expect new stage locations and famous passes as well as remote and bizarre routes that are hardly known. The registration for team and individual starters is open
Bielefeld, 7t h of December 2019. Seven days of sweating, cheering, fighting and nothing else to do than just one thing: cycling. TOUR Transalp stands for adventure, breaking your limits, team spirit and amazing landscapes. Up to 1000 men and women from more than 30 nations enter the adventure each year – traditionally in teams or since 2019 also as individual riders. For many road cyclists the TOUR Transalp is a life's dream, others come back to the challenge year after year.
The TOUR Transalp is hosted by Europe's lea ding road cycling magazine TOUR. For the 18t h time the route is leading crisscross through the Alps without any loss of attraction, because race manager Marc Schneider has designed a course that is really varied – both in terms of sport, landscape and culture. From Bruneck in the Pustertal the race takes off to St. Vigil, followed by the four new locations San Martino di Castrozza, Possagno, Asolo and Lavarone, before it continues to Kaltern and finally to the finish in Arco north of the famous Lake Garda.
Besides well-known passes such as the steep and spectacular Passo di Furcia and Dolomites highlights like Passo Valparola, Falzarego and Rolle, the TOUR Transalp 2020 is conjuring new routes out of a hat, leading the participants into hidden corners aside from highly frequented courses. Across small and inconspicuous passes like the Forcella Franche leading to Lago del Mis, the riders will get to explore new place s. Also at the famous Monte Grappa, there is still something new to dis cover: A panoramic side street that has never been part of the Transalp before is going up the mountain. Equally new is the great climb up to the high plateau between Monte Grappa and T rento. Not as new, but still an insider tip is the remote and curious San Boldo Pass with its tunnels blasted into the rock with hairpin turns or loops.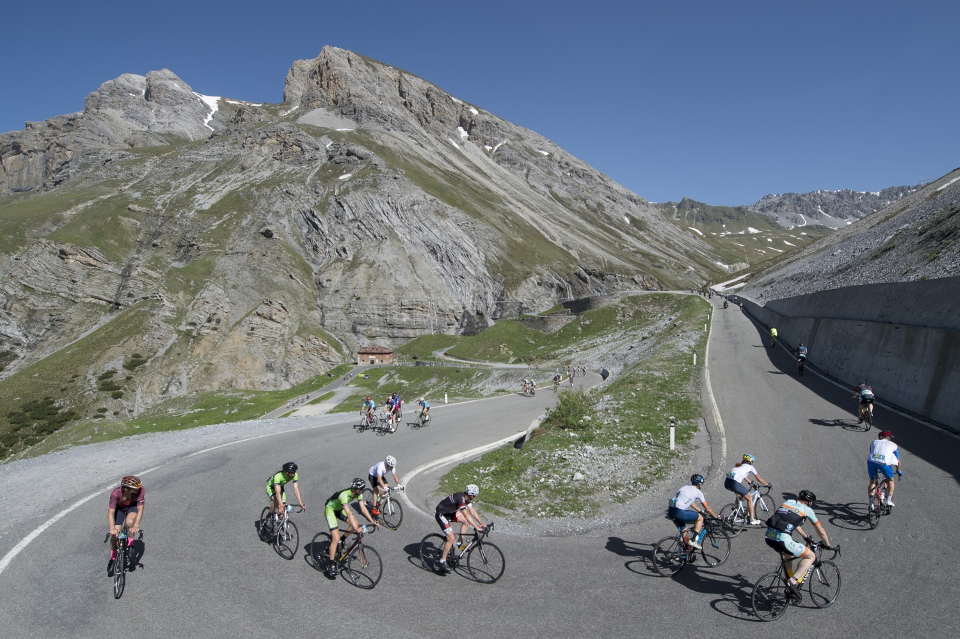 Roadway support system on the entire route
Start number set
Professional timekeeping by way of transponders
Precise roadbook incl. complete set of maps
Professional daily evening event (Pasta-Party) with dinner
Free catering per stage (fruits, sports drinks etc.) on at least 2 catering points on the route and another in the finish
Technical services along the course and in the Finish area (spare parts have to be paid for)
Big luggage bag
Luggage transport service to the hotels, to indicated gathering places or to the Transalp-Camp
Transportation of day bags from the start to the finish area
Medical support before, during and after every stage
Free parking on local parking lots for the during the whole event period
High-quality finisher jersey,- medal, and –certificate (for official finishers)
EXPO area in every stage location