The Eddy Merckx Classic is a bike event for everyone. We want to emphasize the sportif thought and minimize the stress and competion thought.
This is  the reason why the short Race (63km) will be a bike touristik tour.  We won't have  a timekeeping for this distance and no award ceremony. 
Also NEW is that you can drive with any bike type, but it has to be suitable for the street StVO 1960 (traffic regulation rules). All other services are the same like the last years. The only thing which changes is that you have enough time to enjoy the landscape.
In the slipstream of a cycling legend!
The proven track leeds through the Salzkammergut and the SalzburgerLand. You pass up to 11 beautiful lakes in the Salzburger Land and the Salzkammergut and will cycle through a fantastic scenery.
After the successfull last year, all Handbikers are very welcome again to the Eddy Merckx Classic 2018! New in the starting grid are the kickbikers, who will compete at the same track.
All handbikers are very welcome to be part of the Eddy Merckx Classic marathon 2017! Let's support the Charity-Organisation Wings for Life!
To bring a new variety to the starting grid this year it's the first time kickbikers are also competing at the Eddy Merckx Classic. Kickbikes are truly racing machines: 28 inch wheels and light tires combined with tremendous brakes are the perfect combination for competetive sport.
The Start- & Finish area in the idyllic town Fuschl am See is well connectedfor public transportation.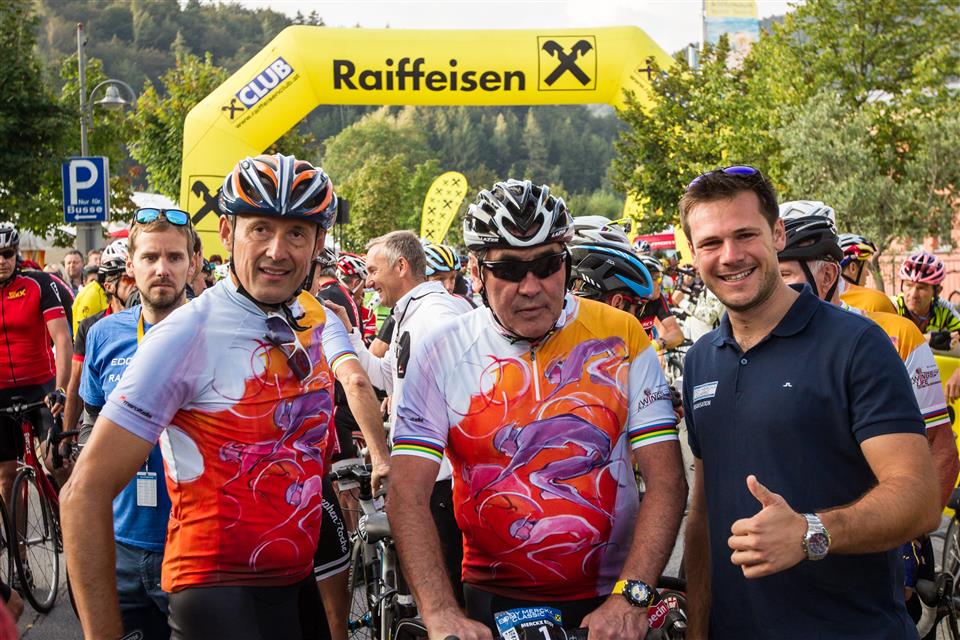 Saturday, 8th September 2018
2 - 7 p.m.
Issue of starting numbers in the Fuschlseehalle (Fuschlseebad, Dorfstraße 30)
Sunday, 9th September 2018
6 – 7.30 a.m.
Issue of starting numbers in the Fuschlseehalle (Fuschlseebad, Dorfstraße 30)
7.30 – 8 a.m.
Honourable salute from the Gunman´s Brigade of Fuschl am See
8 a.m
Start shot by the Mayor of Fuschl am See, Franz Josef Vogl
Start of the Bike Marathon from the Fuschlseebad in Fuschl am See
Short route 63 km – middle 106 km – long 169 km
Start of the Hand Bike Marathon long
9.30 a.m.
Start of the Hand Bike Marathon short in Hintersee/Lämmerbach
Finally a cycle-festival with the Fuschler clubs and hotelier!
Pasta service for all participants!
Following services are included for all participants:
The entire course is clearly marked with Eddy Merckx Classic signs from start to finish
Ambulances and medics provided by the Salzburg Red Cross offer care when needed as well as transportation of injured riders
Mobile race team out on the course to warn automobile traffic as cyclists arrive
Motorcycle-mounted race marshals ahead of the field to monitor that signs are in place, as well as accompany and protect participants
Lead vehicle ahead of the race with loudspeakers and warning signals
Trail vehicle to protect the riders at the back of the pack from approaching traffic
Broom wagon to pick up abandoned bicycles as well as exhausted riders
Technical service at the refreshment stations and in the start/finish area (any spare parts that are required must be paid for)
Personal certificate of participation and downloadable results list at www.eddy-merckx-classic.com
Photo service for participants (pictures are available for purchase)
Info counter
Bike Festival for participants and visitors in Fuschl am See
Sports-therapy massages at the finish area
Expo area for purchases, souvenirs etc.
Following services are included for the race- participants on the middle and the long track:
Awards ceremony
modern time tracking
finisher list to download