Welcome to the 6th Annual Bike for Bender Pioneertown Fundraiser Ride.  This year's ride will take place Saturday, May 13th, 2023.
This ride starts at the Desert Willow Ranch and takes you 25, 35, or 50 miles across the desert floors and valleys, up steep and rocky jeep roads, and straight up into the heart of the San Bernardino Mountains up to Big Bear. In Yucca Valley, you pass through a variety of ecozones starting with long stretches of Joshua Tree laden paths and then you work your way up scenic jeep and mining roads to the snow-capped mountains at 7000ft.
The climb up is a grueling 3-4 hour grinder that is not for the faint of heart! In some areas the sand is deep, the rocks are big, and there are some "hike-a-bike" sections.  You can expect snow, ice and mud at high elevations. The good news is that after the climb, you'll hit the turn-around point at 12.5, 17.5, or 25 miles and you'll enjoy miles of fast and pedal-free descending all the way back.
What could be more fun than hanging out at an old cowboy and western film town, camping, bbqing and doing an epic ride with your friends?
Courses
Giddyup 50 – 9:00 AM Start, ~50 miles, ~5500ft climbing, difficult – very difficult
Rawhide 35 – 9:00 AM Start, ~35 miles, ~3500ft climbing, moderate – difficult
Tenderfoot 25 – 9:00AM Start, ~25 miles, ~2800ft climbing, moderate   NEW DISTANCE
*Aid stations at mile  12, 18, 25, 32, and 38.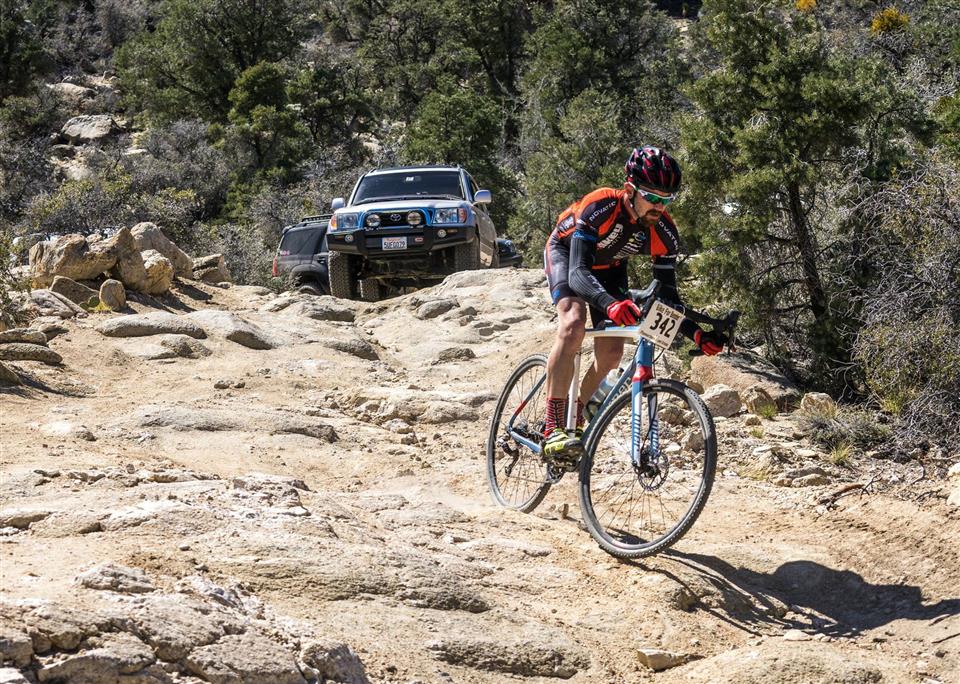 $10 – High School and Middle School Riders.
$30 – Just the Ride
$40 – Includes an event t-shirt
$65 – Includes an event t-shirt, Pioneertown Stainless Steel Pint Glass, and BBQ
$100- Includes an event JERSEY, t-shirt, Stainless Steel Pint Glass, VIP Parking and BBQ