Come join us in Fitzgerald, Georgia for the 6th Annual Wild Chicken 100 and enjoy a full day of bike riding, good fellowship, impeccable hospitality, and great food in one of the best small towns in South Georgia. Better yet, make it a weekend full of riding on some of the finest, rural, backroads in this whole area with friends, surrounded by folks who will treat you like you're family (the good kind!). This ride will be a challenge whether you partake in the racing, will yourself through the distances, or if you'd like to make a day of it while you ride party pace. We'll celebrate each rider and what they've accomplished and gotten to be apart of and we'll join together for a delicious post-ride meal.
This ride will focus on the mixed terrain rides, but we'll also feature two or three rides on the road for those roadies out there. For the mixed terrain rides, we'll let you choose from four different distances: Small (10-15ish miles), Medium (20-35ish miles), Large (60-80ish miles), and XL (100-120ish miles), and new for 2023 will be an XXL distance of 200+ miles!! The Large and XL distance courses will be a race and awards will be given for the Top 3 overall finishers regardless of age, gender, or any other differences or demographics. We are celebrating folks who ride bikes! And if you want to ride these distances, but have no desire to "race", then by all means, do it. That's what my plan would be. The awards will be given and announced mid-afternoon/evening when most have finished up, but I'll be cheering on those who've taken longer and are really getting their monies worth! This rides will feature a mixture of gravel, clay, dirt, and sand and have about a 75% to 25% ratio of dirt to pavement. Each of these distances will have SAG stops. We'll make sure there are restrooms for our longer distance riders. For the roadies we'll have distances of 15, 30, and 62 miles.
For the 2023 edition of the Wild Chicken 100, we'll be keeping what has worked, throwing away what hasn't, trying a few new things, and doing what we'd like most in a ride. We ride quite a bit, but don't get to go to, too many races, and there's some great ones we go to and there's some we pay a lot for and leave feeling as if we should have just ridden at home. We want each one of you to leave feeling you were important and wanted at our race/ride. All types of bikes are welcome. All types of riders are welcome. We just like riding bikes with friends old and new. E-bikes are welcome, but can't compete for awards.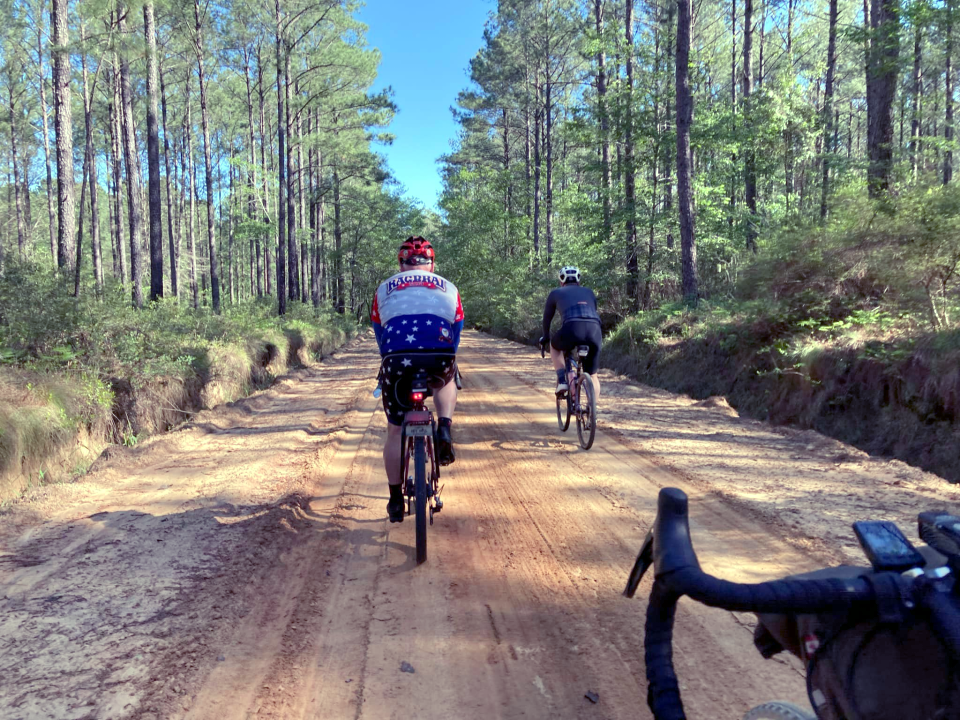 Depends on what you paid. Could be the ride/race, a t-shirt, a sticker, breakfast, lunch, and a few adult beverages.