Tour de Summer Camps NJ, brought to you by the Jewish Federation of Greater MetroWest, is both an in-person and virtual cycling event. Our goal is to raise funds towards need-based scholarships to help send children to summer camps!
The Jewish Federation of Greater MetroWest is one of the largest Jewish philanthropy organizations in New Jersey! We have earned that title by benefitting our community in the ways of Jewish learning, elderly funding, Holocaust remembrance, and ultimately creating spaces throughout New Jersey where people can feel comfortable embracing their culture.
Many children in our community live in places and go to schools where they rarely see another Jewish face or learn about their own history/culture. Because of this, it can be very difficult for these kids to feel a connection to that history when the people and teachings around them cannot relate.
This is why the Jewish Federation of Greater MetroWest believes deeply in the purpose of summer camp! For a child who feels a disconnection to their Jewish life on a daily basis, those two months of summer camp feel like heaven. Having a place to call home where you never have to explain yourself or hide who you are.
Overall, Tour de Summer Camps NJ is not only an amazing and fun event to practice your cycling, work as a team, and spend time with family and friends, but a way to help give Jewish children the opportunity to explore their culture and find a place of comfort in a world that is not always accepting.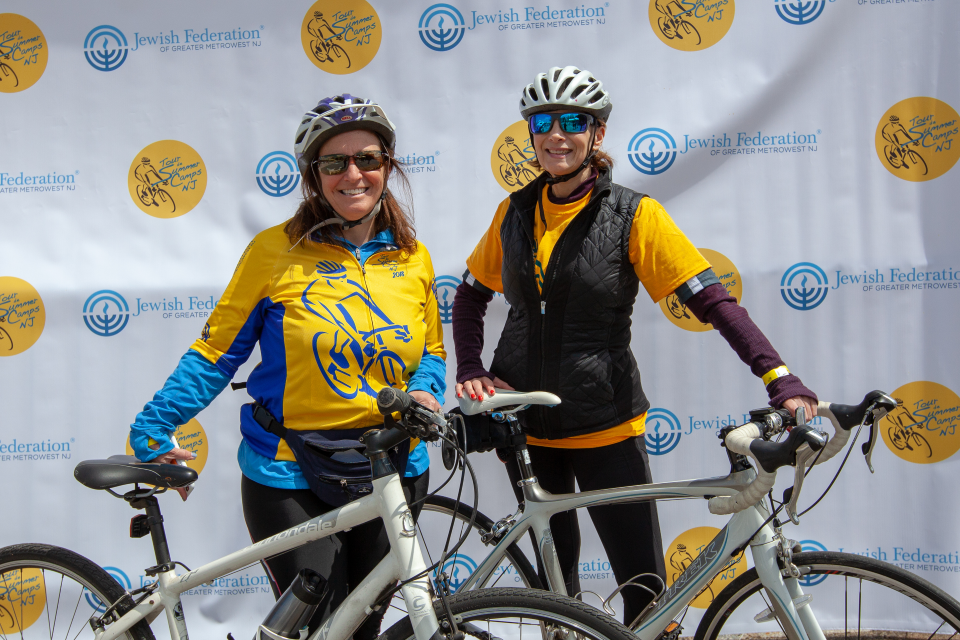 If you are choosing to ride in person, you arrive as early as 6 am to the Tour de Summer Camps NJ Starting-Point at 6 am on October 10.
Feel free to grab some breakfast, get your bike tuned by our mechanics, browse local bike shop merchandise, stretch with professional athletic trainers, test out spin bikes, and much more!
You then can choose your route...
For the more experienced rider, there's a 62-mile route with 3,600 feet of climbing.
Intermediate riders may opt for the 36-mile route with significantly less hills at 1,500 feet of climbing.
Novice riders can choose the 18-mile route with 800 feet of climbing.
5-mile ride stays near the start/finish for those who want to take a quick ride.
Lunch will also be provided for bikers at the Starting-Point or at our numerous rest-stops along the routes.
And at the finish line, stretch out all of your hard work and celebrate with your friends and family!