PALAPALESTRE is reconfirmed to host the Granfondo del Po 2022". The location is easily accessible by car or by bicycle and offers good parking space.
Here you can pick up the race pack, the technical envelope and activate or rent the  chip. Of course you can register on both Saturday and Sunday morning.
At the end of the show you will find the showers and the restaurant for the pasta party will be set up. Inside, the prizes will also be made.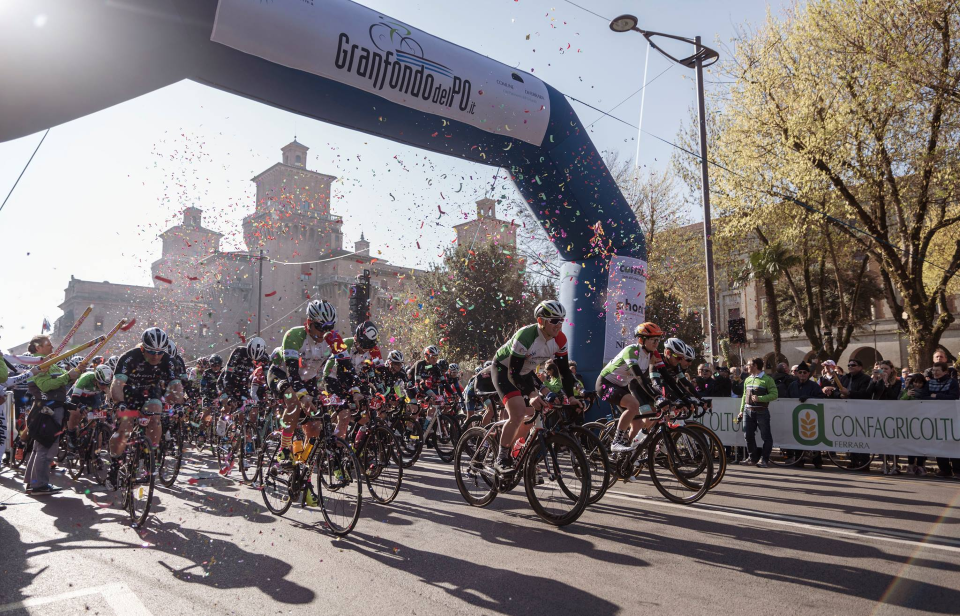 Registration Fees
7th edition of Granfondo del Po – Ferrara June 13th 2021

REGISTRATION FEE
ITALIAN MEMBERS OF CLUBS
– until December 20th 2020 € 30.00
– from December 21st 2020 until April 18th 2021 € 35.00
– from April 19th until June 10th 2021 € 40.00
– Saturday June 12th and Sunday June 13th € 50.00
Thursday June 10th dead-line for on-line registration at 18.00.
Saturday June 12th registration by the registration area. LAST DAY FOR REGISTRATION !!!
Sunday June 13th technical envelope and race package pickup
To those who enroll on Saturday, the race package is not guaranteed
FOREIGN MEMBERS OF CLUBS AND ITALIAN NON-MEMBERS OF CLUBS
– until December 20th 2020 € 40.00 (including the daily insurance of €10 of ACSI Ciclismo)
– from December 21st until April 18th 2021 € 45.00 (including the daily insurance of €10 of ACSI Ciclismo)
– from April 19th until June 10th 2021 € 50.00 (including the daily insurance of €10 of ACSI Ciclismo)
– Saturday 12th and Sunday June 13st € 60.00 (including the daily insurance of €10 of ACSI Ciclismo)
Thursday June 10th dead-line for on-line registration at 18.00.
Saturday June 12th registration by the registration area. LAST DAY FOR REGISTRATION !!!
Sunday June 13th technical envelope and race package pickup
To those who enroll on Saturday, the race package is not guaranteed
The registration fee includes:
– Technical packet (race number for front of bike, race number to be placed on participant's back);
– Race packet;
– Timing;
– Security;
– Medical assistance;
– Technical and mechanical assistance (spare parts excluded);
– Bathrooms;
– Refreshment stands throughout the race and at the finish line;