The cycling spectacle, which is popular far beyond the borders of Carinthia, is presented in a new look. In future, the motto will be "bike & injoy".
A bad accident in 2016 and the associated legal consequences led to the cycling marathon having to take a three-year break. Now the shadows of the past have finally disappeared - in 2021 the Jedermann cycling spectacle in the Nockberge Mountains made a glamorous comeback.
As in the past, the safety of the participants will be the focus of all efforts of the organizer. In order to keep the racing pressure and the resulting (often reckless) pace woodworking even harder, the bike marathon has been given a completely new system - unique in Austria to date. "There is only a time measurement for three climbs. And only those participants who have been on the road for at least three and a half hours are included in the rating," reveals OK boss Norbert Unterköfler, who, with his dedicated team, will be even more aware of the enjoyment factor of the cycling spectacle in the future wants to put the competitive idea. This strategy is also reflected in the new motto "bike & injoy". "We announce the fight against the race stress. Neither at the start nor at the descents and through the town should it be hectic. This will make the event even more attractive and safe for the many ambitious hobby cyclists, "says Unterköfler.
On these three climbs , route A takes the time measurement (26.5 km / 1792 vertical meters) :
1) Junction Turracher Bundesstraße into Nockalmstrasse - Schiestelscharte = 11.9 km / 881 meters in altitude
2) Grundalm - Eisentalhöhe = 6.5 km / 536 vertical meters
3) Radenthein - Bad Kleinkirchheim = 8.1 km / 375 vertical meters
There is no timekeeping until the first climb and between the climbs and the participants move in normal traffic! The STVO is to be observed without exception! There is repeated road damage, potholes, asphalt cracks and other road damage along the entire route! Every participant has to get a picture of it before the event and adapt his speed to this and the weather conditions!
Only those participants who reach the finish within the reference corridor (3:30 - 6:00 h) will be considered!
A route B is also offered! This has a length of 49 km and leads from Bad Kleinkirchheim to the Schiestelscharte with a mountain classification (11.9 km / 891 hm / with timekeeping) back to Bad Kleinkirchheim!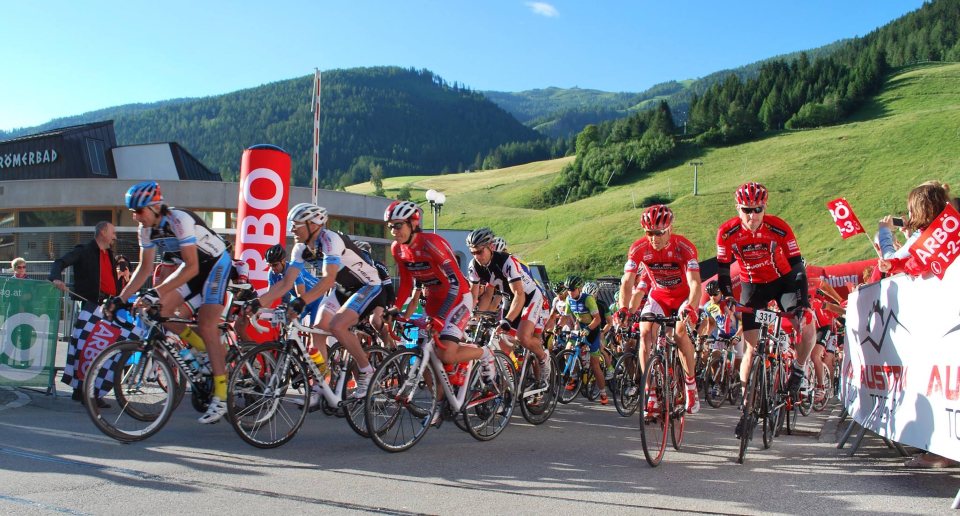 Start gift, chip timing, buffet zones, afterace party, winner ceremony