The Rise and Rise of Battenkill
Since it began over 10 years ago, the Tour of Battenkill,originally called the Battenkill-Roubaix in upstate New York - has skyrocketed. So exactly why has Battenkill captured the hearts of so many cyclists and cycling fans?


America's Biggest One Day Race and Gran Fondo ?
With approximately 3,000 starters across 38 races in recent years, it probably is America's largest single day road race. Over 2,800 starters in the Saturday amateur races including the Gran Fondo which culminates on the Sunday, with a UCI Pro race for over 150 professional bike riders.
Riders mostly coming from the Northeastern states, however last year's event saw riders from 48 states plus hundreds of riders 3 hours north of the border from Canada.


One of the toughest cycling events in America?
The Tour of Battenkill's steep punchy climbs are legendary in shattering fields of riders, both amateur and Pro alike.
At 62 miles for the amateur race and winning times of 2:40-3:00 hours it's not a big distance hitter. But the 62 mile loop that starts in the village of Cambridge is like no other!
The course smashes riders, pummelling them through majestic open farmlands, dark narrow covered bridges, choking dust, gravel, mud, the kind of rural roads you wish you could ride each day.
Battenkill's special ingredient - the numerous dirt sections are it's trademark.
Riders jockey for position. Behind, riders chock on the dust and mud thrown up from the riders in front, desperately hanging onto the wheel in front. Riders on the front have a clean view - albiet smashing an extra 35% effort to stay clear. Those behind suffer tunnel-vision and are constantly in fear of not being gapped.
This is no walk in the park, the Pro race is 124 miles.
For amateurs riders this is as close as it's gets to riding a European Spring Classic like Paris Roubaix or the Tour of Flanders.
For those new to racing or riding a Gran Fondo - this will feel like the toughest event they'll ever had ridden - for sure!

Flat Drama
The dirt sections cause countless punctures. Support vehicles - including Mavic neutral support in Sunday's pro race usually runs out of spare wheels.
Many amateur riders carry spare tubes and some even a spare tyre.
The course eats man and machine. Riders are strewn over the course at the side of the road waving down support or fixing flats.
Rather than being a discouragement, flat tires actually contribute to the day's drama. It means uncertainty and luck that could work for or against you. Techy-types groove by selecting tubeless tires (Stan's No Tubes saw the opportunity and was a lead sponsor of Battenkill previously), sealant, or extra-big rubber.
Moreover, the punctures come because you're out there flying down gravel roads in a cloud of chocking dust, with a number pinned to your back hanging on for grim death.
Success
At Battenkill, the course and pace shreds packs of 100+ Pro riders to bits, with a group of a half a dozen finishing together!
Arguably, everyone is dropped in the Pro event except the usual lead group of 2-3 riders!
The race somehow blends the best flavors of a Grand Fondo and a Road Race together.
The result is that everyone who finishes … even everyone who starts … goes home with rich stories to tell!
This is the secret success of the Tour of Battenkill and long may it stay that way.
So if you've never experienced Battenkill, register now for April 18th.
You'll never forget this Epic ride - www.tourofthebattenkill.com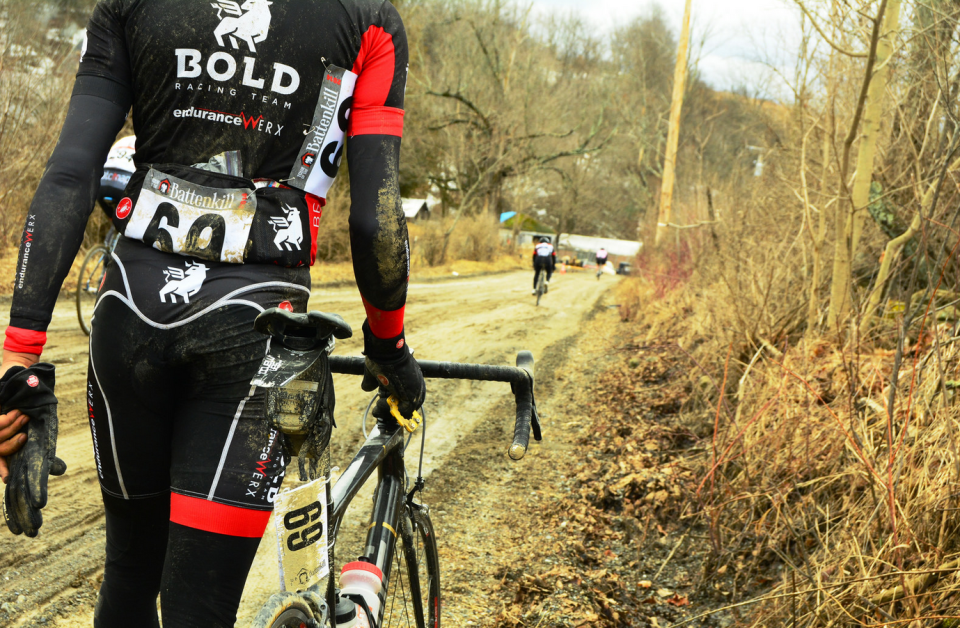 About the Tour of Battenkill Gran Fondo
The Tour of Battenkill Gran Fondo allows amateur cyclists to experience the professional course of 62 miles of rolling terrain on both dirt and paved roads as they travel through the world famous Battenkill Valley. Set in early spring, the race starts and finishes in the scenic village of Cambridge, New York and courses through covered bridges, family farms, and rural villages along the many challenging backcountry roads that traverse Southern Washington County, New York. The 2014 edition played host to over 3,000 amateur and professional cyclists from throughout North America and dozens of nations worldwide.

64.9 miles | 105 km | 4942 ft elevation gain | 10 dirt sections

The course features rolling countryside, covered bridges, and direct passes through several small villages. There are many challenging climbs - total climbing is nearly 5,000 feet - with a maximum gradient of 18%! 39/25 gearing is recommended. Racers should also carry a spare tube and pump/C02 cartridge.

For racers and non-racers, the Tour of the Battenkill Open is a mass-start, gran fondo-style event.

Enjoy:

64.6 mile course used by Pro/Am

Full road closure for select portions of the course

Police, course marshal, Mavic Neutral Service, and motorcycle support

Age-group competitions

King/Queen of the Mountain Competition

Leader's jerseys for King/Queen of the Mountain Champions

Awards for every age group

Raffle Prizes