Tour of the Gila Celebrates 30th Edition with Premier UCI Professional Teams
Kristin Armstrong to use the race for Olympic Games preparation.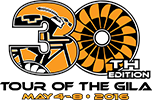 Rising stars and veterans of men's and women's professional cycling will tackle what many call "America's toughest stage race," during the 2016 Tour of the Gila, May 4-8.
Celebrating its 30th edition, the race will continue the tradition of welcoming the most outstanding UCI professional teams across North America and beyond.
The five stages and one-of-a-kind terrain surrounding Silver City, New Mexico will be covered by 25 men's teams and 16 women's teams. Although the race favors "general classification" contenders and outstanding climbers there is a stage for every type of racer, with an individual time trial, rolling road race and criterium bookended by the climb-intensive Mogollon and Gila "Monster" stages.
It is common for professional teams to bring both their best climber and best sprinter to the race because a Gila stage win is one of the most coveted prizes in professional cycling.
Defending champions from 2015, Mara Abbott (Amy D. Foundation) and Rob Britton (Rally Racing), return to showcase their superior all-around talent. Abbott, who was a guest rider for the Amy D. Foundation last year will return with the team and Britton, who transferred in the offseason from Team SmartStop, will ride with the support of Rally's new signing, Danny Pate.
Kristin Armstrong (TWENTY16 - RideBiker) has come out of retirement in her return bid for the 2016 Olympics. Armstrong has been a staple at the Tour of the Gila, winning the race twice, and capturing many stage wins along the way. Armstrong and TWENTY16 RideBiker team founder, Nicola Cranmer, have long praised the Tour of the Gila for giving the professional women's peloton the same racing experience - in respect to number of stages, distance, and difficulty - as the men's field.
"We are excited to celebrate a milestone like our 30th edition with the appearance of some of the most important cyclists of the last decade," said Jack Brennan, race director. "Offering someone like Kristin Armstrong a platform to prepare for the Olympics, an event that transcends our sport, is an honor."
Brennan, who had earlier announced 2016 his final year as race director, has been reinvigorated by the new momentum coming to cycling in the United States including Derek Bouchard-Hall's appointment as CEO of USA Cycling as well as the newly established Professional Road Tour.
Participating 2016 Tour of the Gila professional teams
Men's Pro Continental & Continental Teams

UnitedHealthcare Pro Cycling


Astellas Cycling Team


Axeon Hagens Berman


Elevate Pro Cycling p/b Bicycle World


Holowesko¦Citadel¦Hincapie


Jelly Belly p/b Maxxis


Lupus Racing Team


Team Jamis


Rally Racing
Men's Domestic Elite Teams

ArtsCyclery.com/Schnur Racing Team


Herbalife p/b Marc Pro-Nature's Bakery Elite Cycling Team


Landis/Trek


Echelon-Storck Development Team


Amore&Vita-USA Racing


EGO p/b Sammy's Bikes


ELBOWZ Racing


Gateway Harley Davidson / Trek U25 Cycling Team


Canyon Bicycles - Shimano


Primal - Audi Denver


Team Superissimo
Men's Foreign Teams

H & R Block Pro Racing


Silber Pro Cycling


Guatemala National Team


Team HUMARD Vélo-Passion


Transports Lacombe/Devinci
Women's UCI & Domestic Teams

Colavita Bianchi


Hagens Berman Supermint Pro Cycling Team


Rally Racing


Team TIBCO - Silicon Valley Bank


TWENTY16 - Ridebiker


UnitedHealthcare Pro Cycling


Visit Dallas DNA Pro Cycling


Canyon Bicycles - Shimano


Amy D. Foundation


Groove Subaru Excel Sports


Happy Tooth Pro


Women's Foreign Teams


Canadian National Team


Podium Ambition Pro Cycling p/b Club La Santa


Asahi MUUR Zero


Weber Shimano Ladies Power


Pedalea Cycling Team Colombia
About The Tour of the Gila
Celebrating its 30th Edition in 2016, Tour of the Gila takes place in and around Silver City, New Mexico and consists of three road race stages, an individual time trial, and a criterium. Stage 1 is a point-to-point road race ending on a 6.7-mile climb that peaks at a 19-percent grade en route to the ghost town of Mogollon. The criterium is held in downtown Silver City with high speeds and 90-degree turns. The iconic "Gila Monster" road race final stage consists of over 9,000 feet of climbing for the men and over 5,500 feet for the women, ending in the tiny enclave of Pinos Altos, nestled in the Gila National Forest - tourofthegila.com