Gran Fondo Mont-Tremblant Readies for its Fifth Edition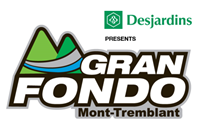 Registration is Still Open
On your marks, cyclists! Registration for the fifth edition of the Gran Fondo Mont-Tremblant is officially open. May 26 to 28, 2017 in scenic Mont Tremblant, the event promises a fun, varied, and expanded program and is ready to host 2,000 cyclists.
More Pelotons, Smaller Groups, More Choice Of Riding Speeds
"Our concern is to give participants the best possible experience," said Simon St-Arnaud, producer. "The event has seen significant growth, leading us to make some changes. We've increased the number of pelotons and offer more choices of speeds for the most popular distances. This should result in better fluidity for each ride."
The event continues to feature four distances for all calibres of cyclists:

160 km Super Fondo, for expert riders


125 km Gran Fondo, for experienced cyclists


80 km Medio Fondo, for intermediate to advanced cyclists


45 km Molo Fondo, for beginners and recreational riders
"The principal aim of the event is to promote cycling and the pleasure of riding with a group in a safe and non-competitive context," added St-Arnaud. "With this formula, the event appeals to all types of cyclists."
Our Ambassadors: David Veilleux And Sébastien Delorme
David Veilleux and Sébastien Delorme are back as event ambassadors and supervisors of the Friday night Devinci Sunset Ride, which was sold out two weeks before last year's event.
"Last year was my first edition and I was very impressed with the organization, the upbeat atmosphere, the region's scenery and the quality of the courses," said David Veilleux, the first Quebecer to complete the Tour de France. "I thought the event was so fantastic, I signed up for the 2017 ride as soon as I crossed the finish line."
Register for Final Places Now
For more information, please go to granfondotremblant.ca/en/site/inscription
Gran Fondo Mont-Tremblant And Desjardins – A Winning Team
The organizers are proud to announce a partnership with Desjardins as event presenter. The organizers are also pleased to continue their partnerships with Louis Garneau, Devinci, Plaisirs Gastronomiques, Clif Bar, RDS, Cyclepresse, Ville de Mont-Tremblant, Tourisme Mont-Tremblant and Tremblant Resort Association. The Gran Fondo Mont-Tremblant also welcomes Newad as its new media partner.
About The Gran Fondo Mont-Tremblant
The Gran Fondo Mont-Tremblant is a cycling event for amateur and seasoned cycling enthusiasts alike. Divided into several pelotons, participants ride on four courses of differing distances in a non-competitive environment. It's the ideal balance between personal challenge and scenic enjoyment, founded on safety and the pleasure of riding with a group. A maximum of 2,000 participants are expected at the 2017 event.
VIDEO: Relive The Best Moments of the Gran Fondo Mont-Tremblant 2016
Video credit: Marc-André Sauvageau