Knoxville Awarded Third Event to June Lineup for USA Cycling Professional National Championships
National Criterium Championships added as Gay Street will spotlight new pro criterium under the lights
Knoxville, Tenn., March 30, 2018 - For the very first time, all U.S. national champions in professional road cycling will be crowned the same week under the organizational umbrella of one host community. The 2018 USA Cycling Professional Road, Individual Time Trial and Criterium National Championships will be held in Knoxville, Tenn. from June 21-24.

This is the second year for Knoxville to host the U.S. Pro Road and Individual Time Trial (ITT) championships. The U.S. Pro Criterium championships, held in Louisville, Ky., in 2017, were staged in conjunction with the U.S. Amateur Road National Championships in previous years.
In partnership with Visit Knoxville and USA Cycling, event management agency Medalist Sports has designed new courses for the championships this summer. The ITT will be held Thursday, June 21 on a 7-mile section of roadway that traverse the banks of Melton Lake and the internationally-acclaimed Oak Ridge Rowing venue in Oak Ridge, Tenn. Friday will add the criterium events to the mix of popular night-time activities in downtown Knoxville, with the start and finish on Gay Street. Championship races will conclude Sunday with the signature road races on a similar 8-mile course that was used in 2017. This year the women's and men's road races will feature the Gay Street corridor for the start/finish line, expo activities and award ceremonies.
Four types of VIP Hospitality Access Passes will be available for purchase, including VIP Access for Individual Time Trial, Criterium, and Pro Road, as well as a 3-Day VIP Fan Experience Package to encompass the entire event.
"We are very pleased that USA Cycling has expanded this National Championship event to include the Criterium here in Knoxville. We have worked hard to confirm great courses in and around our community. We expect the professional athletes, as well as the passionate fans, will find this year's event even better than 2017," said Visit Knoxville Sports Commission Sr. Director Chad Culver.

"We are thrilled to have USA Cycling return to Knoxville. We look forward to welcoming athletes and spectators alike to experience the well-designed courses, the hospitality of our community, and the all-around vibrant atmosphere of downtown Knoxville," said Visit Knoxville President Kim Bumpas.

"Our objective in bringing professional road and individual time trial national championships to Knoxville last year was to increase the stature of these marquee events. Knoxville exceeded our high expectations, so we are thrilled to add the criterium to the line-up this year. We are so excited that America's best cyclists will have such great courses and fans again this year, and we are very grateful to Visit Knoxville for what they have helped us create in this remarkable city," said USA Cycling CEO Derek Bouchard-Hall.

The championships get rolling on June 21 with the new ITT course in Oak Ridge, Tenn., located 30 minutes west of downtown Knoxville. The professional and elite women will complete two laps of the ITT course for a total distance of 14.1 miles. The professional and elite men will complete three laps for a total distance of 21.25 miles. The course is relatively flat with three technical u-turns, allowing spectators to see athletes pass multiple times from one location.

As the "race of truth," the ITT is distinct in its format for participants to race against the clock rather than in a big group against each other. Both women and men will compete in waves, with each individual rider being separated at the start by a one-minute gap. In the women's event, the top U23 women (under the age of 23) will be awarded a separate championship.


On June 22, the Criterium Championships will be held under the lights of downtown Knoxville, with races beginning at 6:15 p.m. The 1.1-mile circuit is fast, with an uphill and technical final section before the finish. The pro women will race for a maximum of 75 minutes, followed by the men racing for 90 minutes.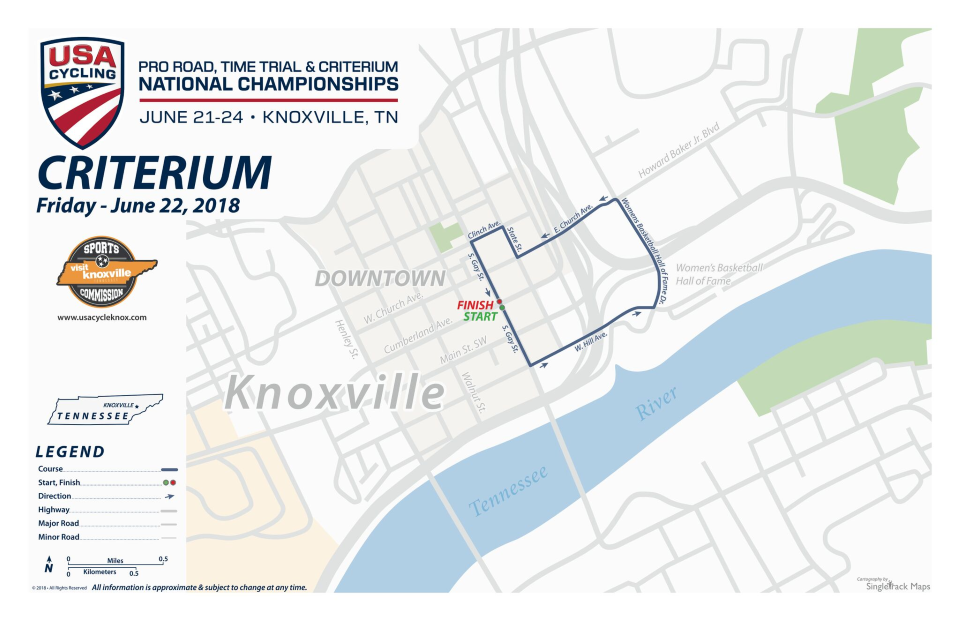 "I am excited for Crit nationals to move to downtown Knoxville," said Rally Cycling's Erica Allar of Demorest, Ga., who won last year's criterium title for pro women. "It will be great for spectators, but also moving our road nationals so that they're all in the same place will make it easier for other teams to justify (the travel). Winning the U.S. Pro Crit Championship (in 2017) was a highlight for me and my cycling career."

After a rest day for the athletes on Saturday, racing returns to downtown Knoxville on June 24. The Road Race course will use the same start/finish line in downtown Knoxville as the Criterium. The route will cover familiar territory used in 2017, crossing the Tennessee River via the iconic Gay Street Bridge, traversing the signature climb up Sherrod Street, and using the James White Parkway to return downtown through Knoxville's historic Old City.

A new challenge for the athletes will be a punchy climb at the end of each circuit on Clinch Avenue to reach the start/finish on Gay Street. The women will race nine laps, for a total distance of 72 miles, and the men will complete 15 laps for a total distance of 120 miles.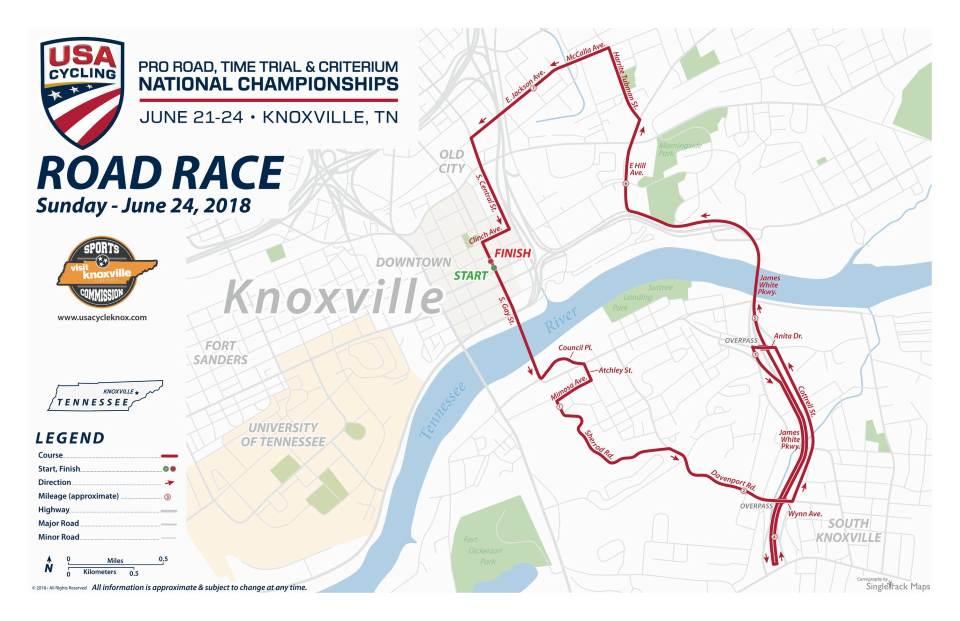 Amber Neben (Lake Forest, Calif./Team Velo Concept) made it two for two at the 2017 Pro Road & Time Trial National Championships in Knoxville by winning both the ITT and the road race. Joey Rosskopf (Decatur, Ga./BMC Racing Team) scored the men's title in the ITT and Larry Warbasse (Traverse City, Mich./Aqua Blue Sport) won the Stars-and-Stripes jersey in the men's road race.

"Wearing the Stars and Stripes for the last nine months has been an incredible honor," said Warbasse, who rides for a Pro Continental team based in Ireland. "I'm excited to race at the 2018 edition of the USPro Nationals and looking forward to the proposed course changes this season. The new finish line location in downtown Knoxville on Gay Street will provide an awesome backdrop for the finale. I'm glad the climb of Sherrod Road will remain in the race, as the atmosphere there was incredible in 2017, lined with lively fans the whole way."

While Allar (Demorest, Ga./Rally Cycling) earned the Women's Pro title in the Criterium, Travis McCabe (Tucson, Ariz./UnitedHealthcare Pro Cycling) captured the Men's Pro title. The Women's U23 criterium championship was taken by 19-year-old Skylar Schneider (West Allis, Wisc.), who now rides for Boels-Dolmans Cycling Team.

"Coming away with the national criterium championship last year was a big target that I had, and this year's goal is to focus on road nationals," said McCabe. "Combining the races makes things more convenient for the staff and the teams to come just spend the weekend in Knoxville. I also think it will be more exciting for the fans."

This will be the 33rd year for the men's professional road race national champion, first won by Eric Heiden in Philadelphia, Penn. in 1985. The USA Cycling Professional Criterium Championships began for men in 1986, held for many years in Illinois. The USA Cycling Professional Time Trial National Championship was introduced for men in 2006. In 2013, USA Cycling added professional women's titles for all road championship events, with events for elite women going back to 1985.

For a full schedule of events and course maps, click here. The Visit Knoxville Sports Commission will coordinate and oversee local sponsorships, expo booth space and live broadcasts of Sunday races. For information on hotels, VIP Hospitality Access Passes, local activities, and volunteer opportunities, click here
About USA Cycling
USA Cycling is the national governing body for the sport of cycling in the United States and oversees the disciplines of BMX, cyclocross, mountain bike, road and track. The mission of USA Cycling is to develop the sport of cycling in the United States at all levels and to achieve sustained international racing success while fostering a shared commitment to safety, integrity, and the joy of cycling. USA Cycling works to identify, develop, and select cyclists to represent the United States in international competition, and also supports amateur bike racing through grassroots development programs and the provision of critical infrastructure to run organized racing. USA Cycling's membership is comprised of racers and cyclists of all ages and abilities, clubs, coaches, officials, mechanics, and race directors. To learn more about USA Cycling, visit usacycling.org.
About Visit Knoxville
Visit Knoxville (Knoxville Convention and Visitors Bureau) is the official CVB for the City of Knoxville and Knox County. Visit Knoxville is a 501(c)(3) nonprofit, private company that works together with the community, business leaders and local and state government to further develop Knoxville as a premier leisure, meetings and travel destination. The Visit Knoxville Sports Commission is managed by Visit Knoxville and strives to bring world-class sporting events as well as amateur sporting type events to Knoxville, Tennessee.