Kettle Mettle Past Champions returning as Finish Line Wine Announced
Past Champions return to 5th Annual Kettle Mettle Dirty Fundo as 2017 Lang Vineyards Marechal Foch from Lang Vineyard awarded souvenir finish line wine
It's nearly time for the 5th edition of Western Canada's premier Gravel Fondo, the Kettle Mettle Dirty Fundo, taking place 22-23 in and around Penticton, British Columbia. the Kettle Mettle showcases the Kettle Valley Trail and the amazing scenery of the Okanagan, while also providing a safe and challenging ride.
There are three distances; 50km Medio, 100km Full Fondo and the 135+km Full Fondo Plus for all abilities of gravel grinders.
Returning champions include Greg Timewell, Dalton Fayad, Dale Ewanchook, Jason Rhodes, Sarah Carter and many others
Perhaps the 100km Mens course record will be broken this year? Set in 2016 by Dalton Fayad in time of 3:25:30 less than a half second ahead of 2nd Place Dale Ewanchook with 3rd place Greg Timewell less than 2 seconds behind (but also a former winner from 2014 as well).
2018 Kettle Mettle Trophies
Custom Triple Crown Trophies for best finishes at all 3 triple crown events and custom trophies for the Kettle mettle too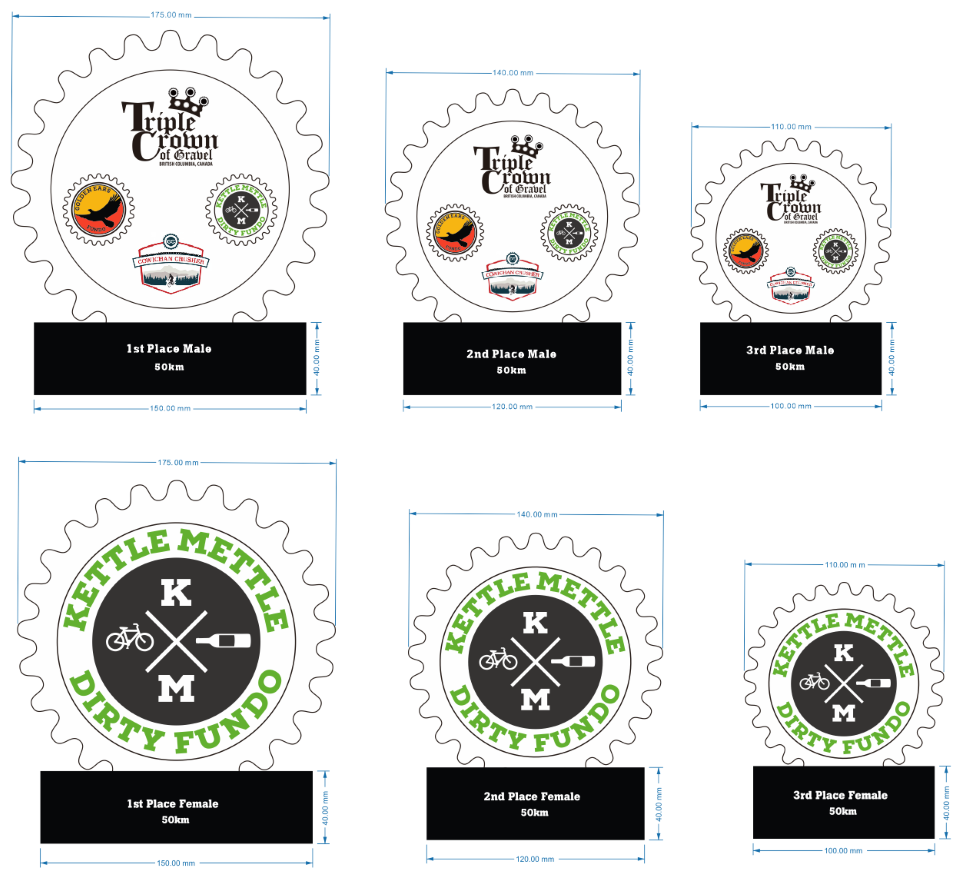 Kettle Mettle Finish Line Wine Announced for 5th Edition
The souvenir wine at the finish line is another amazing wine from Lang Vineyards the 2017 Lang Vineyards Marechal Foch.
The Kettle Mettle course passes less than 100m of the Land Vineyards location!
Lang Vineyards is located at 2493 Gammon Rd in beautiful Naramata, B.C. The winery was the first Farm Gate winery to ever be opened in British Columbia back in 1990. They would love for you to stop by and taste some of our exquisite wines and take in the breathtaking views overlooking our vineyards and Okanagan Lake.
Come and enjoy a bit of B.C.s richest wine history!
For more information, please visit; Lang Vineyards https://langvineyards.ca
Register Now and Save 12%!
Use promotion code: KETMETSEP
To register, please go to: kettlemettle.ca or click the register button below.

Note: Not on Bus tickets or Merchandise