Limited Edition VIP: Experience Italy's Strade Bianche with Garda Bike Hotel
Dine with Bora-Hansgrohe the team of Peter Sagan. Watch the Pro race with exclusive access. Ride Tuscany's "white gravel roads" at the front of the Strade Bianche Gran Fondo on a new Pinarello Grevil bike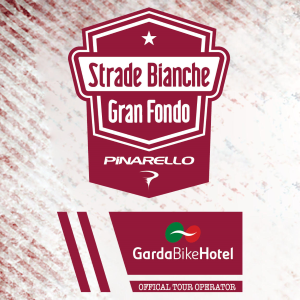 Official Strade Bianche Tour Operator, Garda Bike Hotel are excited to offer just 20 cyclists, the cycling trip of a lifetime.
This world class experience includes preferential start at the front of the Strade Bianche Gran Fondo, which sees over 5,000 cyclists tackle the same "White Roads" the professional's race every spring.
In true "Dolce Vita" style, you'll ride at the front of the Gran Fondo on a brand NEW 2019 Pinarello GREVIL bike.
You'll dine with BORA-Hansgrohe the team of three times World Champion Peter Sagan at an exclusive intimate dinner.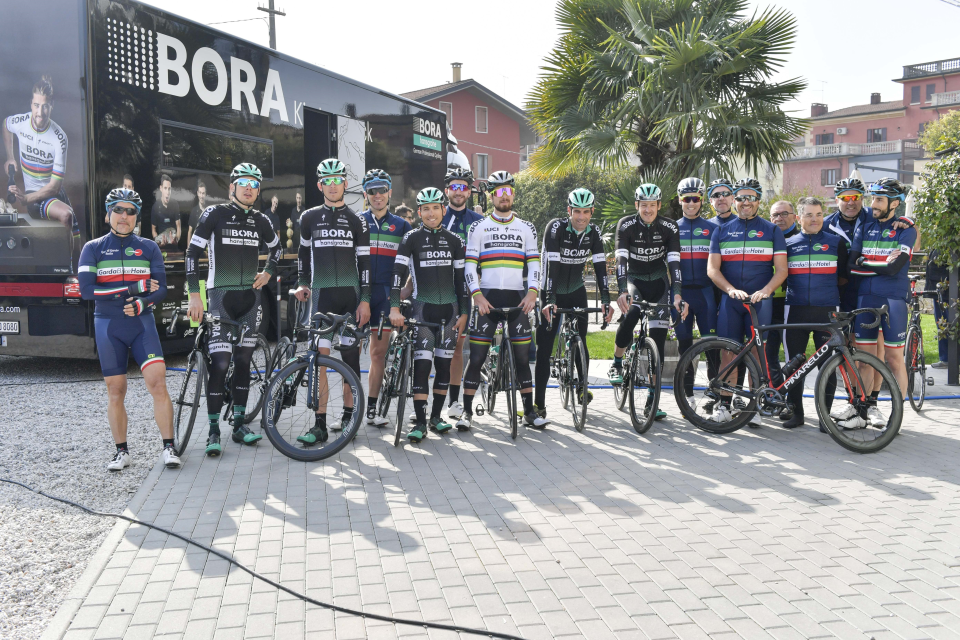 Highlights
The white gravel, common throughout the picturesque Tuscan countryside, provides the unique character of the race. These country lanes and farm tracks, called "Strade Bianche" or "Sterrati" in Italian, twist through the hills and vineyards of the Chianti region. The unpaved sections are characterized by uneven road surfaces and white gravel, which give a unique feel to the ride, and will give you a memorable challenge.
From the minute you arrive, you'll receive full VIP treatment with transfers and the choice of two top hotels near the famous Piazza del Campo, in heart medieval gothic city of Siena.
After settling in, a private guided ride will give you the chance to setup and test your NEW Pinarello Grevil bike whilst stopping for lunch. The evening includes an exclusive, intimate dinner with Bora-Hansgrohe, the team of three times world champion Peter Sagan. You'll dine with the pros and find out more about them before you watch them race.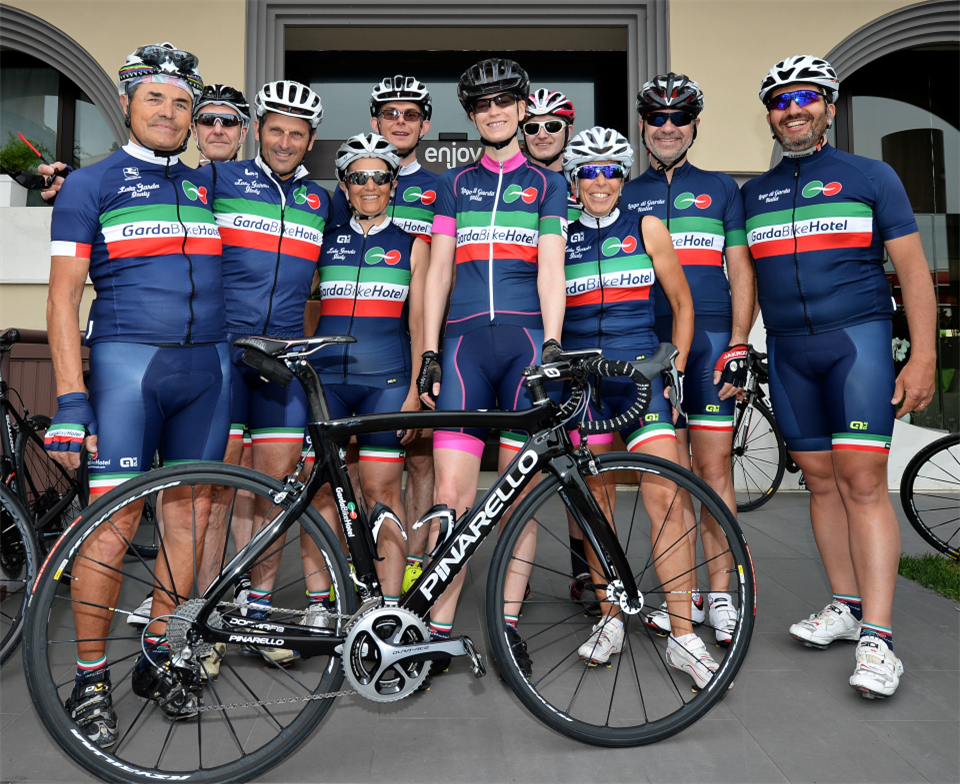 The next day you'll get familiar with the challenging White Roads of Tuscany with an easy paced supported ride along the beautiful route, with its punchy hills and jaw dropping views. You'll stop for photos and lunch long the way. In the evening you'll head to a beautiful wine estate in Felsina to taste classic Chianti and Sangiovese wines over a farm to table dinner.
Enjoy a fully VIP guided day watching the Professional race, as you head down to the start of the race, head out on your bike for a warmup, lunch, and back to watch the finish of the race, as the excitement builds in the Piazza del Campo in the heart of Siena. That evening you'll dine together and finalise plans for tomorrow's Gran Fondo.
Today is your chance to shine in the Gran Fondo Strade Bianche, choosing either the long course of 139km, featuring 31.4km of gravel, or the shorter option at 86.6km with 21.6km of white roads. After completing the Gran Fondo, you'll enjoy a well-earned lunch at the Garda Bike Hotel booth. In the evening, you'll get together for a dinner bash to share your ride and celebrate!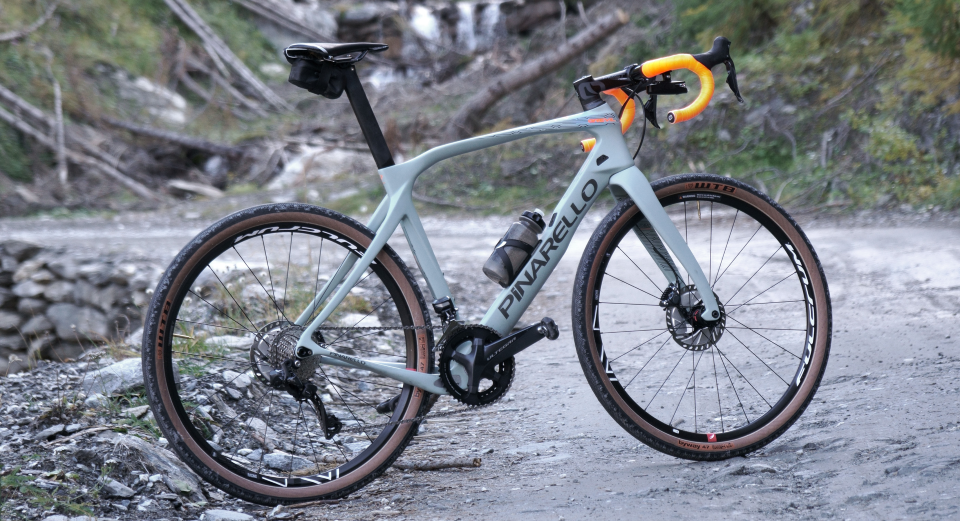 Dates
The 4-night minimum package, includes:
• 4 nights in Siena, Tuscany, from Thursday March 7 to Monday March 11 2019, with choice of two unique hotels
• Optional stay at Lake Garda, before or after, including transfer between hotels
• Other optional trip customizations possible before or after
Included
• 4 night's hotel accommodation in Palazzo Ravizza, boutique hotel in Siena, Tuscany in double rooms
• Buffet breakfast every morning
• Dinner every evening including VIP dinner with the Bora-Hansgrohe Team
• Professional Garda Bike Hotel guides including Van Support and Bike Mechanic
• VIP Entry into the Gran Fondo Strade Bianche at the front of the Peloton, 1-200 starting grid
• Rental of a new 2019 Pinarello Grevil gravel bike
• Full Cycling Kit by Alè
• Collective transfer from Peschiera del Garda to Siena (07th March in the afternoon)
• Collective transfer from Siena to Peschiera del Garda (11th March in the morning)
Optional Extras
• Single Room
• Accommodation at Grand Hotel Continental, 5-star boutique hotel in the historical centre of Siena
• Additional Stay at Lake Garda Bike Hotel before or after Tuscany
• Airport Transfers (Milan, Venice)
Limited VIP Places
To provide this exclusive, intimate and authentic VIP Italian cycling tour, numbers are strictly limited to just 20 cyclists.
Register early to secure a place as it will sell out in advance.
To find out more, please visit: gardabikehotel.com/en/strade-bianche-granfondo-cycling-experience