Kickstart your Season at BC's Golden Ears Gravel Fondo
The second annual Golden Ears Gravel Fondo on May 25th 2019 will showcase the amazing scenery of Pitt Meadows and Port Coquitlam in British Columbia
The Golden Ears Gravel Fondo features two distances; a 55 km Medio Fondo and a 100 km Gran Fondo for all abilities of cyclists. The 100 km Gran Fondo features an updated course with some added hills to make it more challenging.
Start and finish are in Port Coquitlam not far from the Pitt River Bridge.
The Gravel Fondo is primarily on gravel and dirt and the majority of the ride is on the gravel dykes and trails through Port Coquitlam and Pitt Meadows, showcasing the amazing scenery of Golden Ears also providing a scenic and challenging ride.
After completing the ride, participants will enjoy the Beer Gardens sponsored by Central City Brewing and featuring the local and super tasty Red Racer Ale and Red Racer Pilsner.
Included in your entry fee is a Souvenir T shirt, Several Aid stations on course, support on course (mechanical / flat), timed results, first aid, a beer ticket and food at the finish.
There are prizes for overall and some draw prizes too.
The prizes categories are; male, female, individual, teams of 2, teams of 4 and the bike catgeories are; Gravel Bike / Cyclecross, Mtn. Bike, Hybrid and Classic (older bicycle at least 25 years and older)
Get your riding buddies and friends together and sign up either individually or as a team.
BC Triple Crown of Gravel Series Founder, Dean Stanton, stated "We are putting more FUN into our Fondo cycling events."
Don't Delay Register Now!
For more information, please visit: http://www.goldenearsfondo.com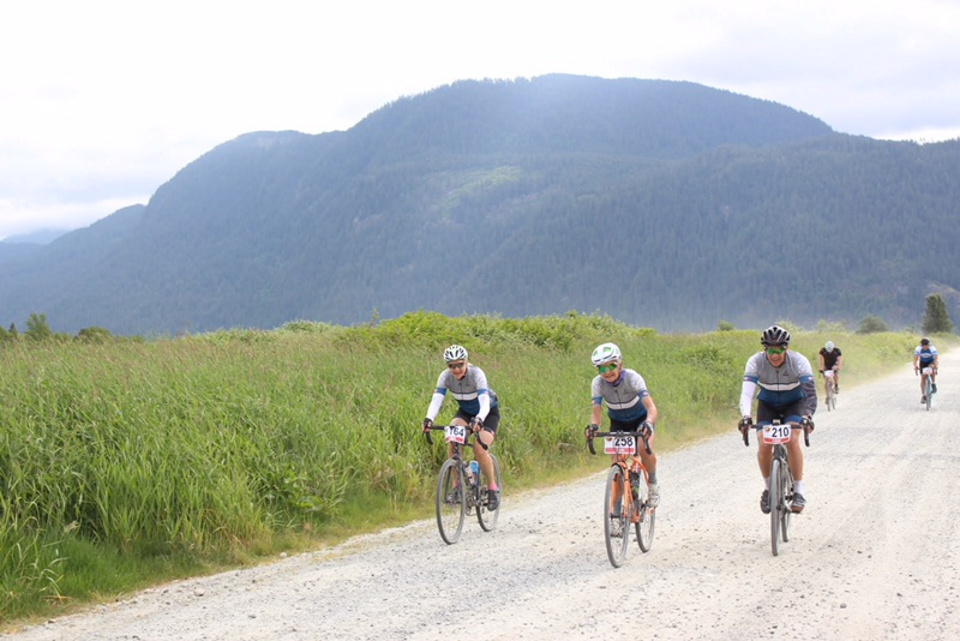 About the 2019 Triple Crown of Gravel Series
Tri 1 Events have announced their popular returning series of Gravel Fondo's for 2019. The BC Triple Crown of Gravel includes the well-known, popular and well-established events, The Golden Ears Gravel Fondo the Cowichan Crusher, Vancouver Island's Premier Gravel Fondo and the Kettle Mettle, Western Canada's First and Premier Gravel Fondo.
Golden Ears Gravel Fondo, Pitt Meadows, BC - May 25th, 2019 - goldenearsfondo.com | register now
Cowichan Crusher Gravel Fondo , Lake Cowichan, BC - June 23rd, 2019 - cowichancrusher.com | register now
Kettle Mettle, Penticton - Kelowna, BC - September 21st, 2019 - kettlemettle.ca | register now
Presenting Sponsor for the series is again KazLaw. KazLaw is one of Vancouver and BC's leading personal injury lawyer firms specializing in making a positive difference for injured victims. Founder, Marc Kazimirski, has been a lawyer on some of the largest personal injury cases in British Columbia. He is active in the legal community and is the past President of the Trial Lawyers Association. Marc is an adjunct professor at the University of British Columbia's Faculty of Law and is teaching one of the first personal injury courses available at a Canadian law school. Marc is committed to an active lifestyle and was an avid cyclist on the Canadian National Cycling team. KazLaw Injury Lawyers is a proud presenting sponsor for the BC Triple Crown of Gravel Series!
The BC Triple Crown of Gravel Series are Proud to have Easton Cycling on board as a series sponsor once again in 2019. Easton Cycling's growing line of AX components redefine where road bikes belong. The EA70 AX and EC70 AX carbon drop bars give more control over unconventional terrain while maintaining ergonomic positioning. And the EA70 AX wheelset has the durability to withstand aggressive trail riding with only your wheels and tires giving compliance. From bike packing adventures loaded with gear, to grinding out a washboard gravel loop - the road less travelled is where your AX adventure begins. #EastonAdventure
Schwalbe Tires are proud to be the official tire brand of the BC Triple Crown of Gravel. Victoria, BC is home to Schwalbe's North American headquarters and on the doorstep of some of the best gravel riding in Canada. With multiple sizes, and tread options perfectly suited to British Columbia's network of unpaved roads and trails, Schwalbe's G-One line of tires is an excellent choice for beginners and experts alike.
Honey Stinger, Ultima, GoMacro and Stoked Oats announced as official nutritional sponsors for the series.
The BC Triple Crown of Gravel Series would like to thank Planet Foods for providing awesome Honey Stinger and Ultima for on course race nutrition while Go Marco and Stoked Oats can provide great before and after race nutrition.
Series Official Beer Garden sponsor and Official finisher beer is Red Racer once again for 2019.
Register for the Series and SAVE!
Sign up for all the events with a season pass. 3 Events one Great Price, save at least 10% on individual entries.
To register for the whole series, please visit https://ccnbikes.com/#!/series/tri-1-events-season-pass-triple-crown-of-gravel-2019

About Tri 1 Events
Tri 1 Events is an experienced Sport Event Management company that aims to put on fun challenging and memorable events in Western Canada. Tri 1 Events take place throughout BC. People that compete in a Tri 1 Events are people looking to live life to its fullest. We have everyone from novice - beginners to experienced people and all in between that use our events to gauge themselves and fitness. They participate in these events to push themselves and compete against each other to see if they have what it takes to take their life and fitness to the next level.
For more information, please visit: http://www.tri1events.com