FREE training plans from RBC GranFondo Whistler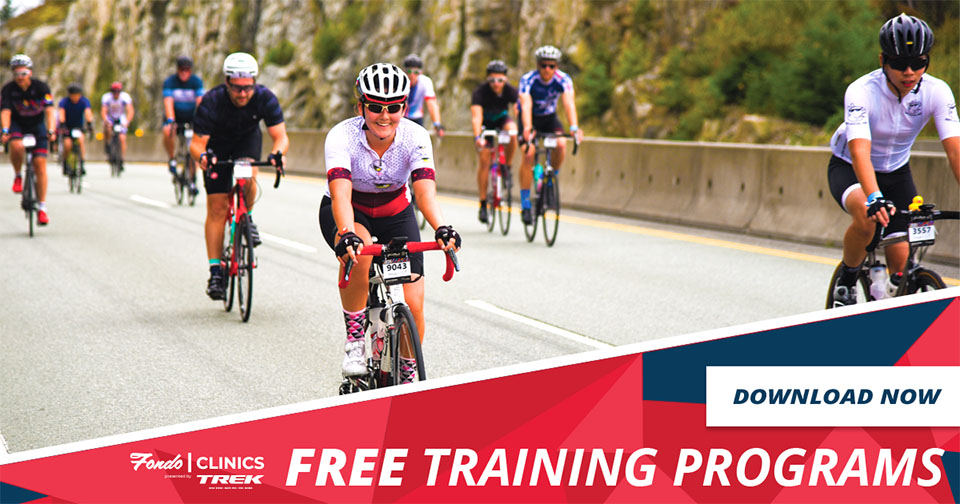 RBC GranFondo Whistler is offering free 12-week cycling training programs to keep you fit and motivated this year.
Choose from: Beginner / Intermediate / Advanced programs.
Each year, the RBC GranFondo hosts the Fondo Clinics presented by Trek, a series of 12-week programs designed to guide riders through the steps and progression to make their efforts on a bike a success.
With no in-person clinics possible, this year RBC GranFondo Whistler is releasing these programs as a free download beginning June 8th, waiving the usual $275 entry fee.
Even better, the plans are available free to cyclists everywhere, not just in BC!
The experts at SportMedBC—creators of the successful Vancouver SunRun InTraining program—will be supplementing the program with free optional weekly emails from June 15th to August 31st, packed with tips, guidance, coach advice, and more to help participants stay on track. You can opt-into this during the download process.
Weekly support newsletters begin June 15th!
To choose a level, download the program, and sign up for the newsletter, visit:
Download: Free 12 week training programs

What the athletes say…
Lesley Tomlinson – 2x Olympian
"Let us turn things into a positive.
These programs will help us all when we feel low in motivation. Ultimately, you are accountable to yourself, so set those goals and write them down. It will be exciting to have a long-term goal and build towards it."
Alex Steida (former pro Tour de France cyclist and Yellow Jersey holder)
"Firstly, it's such a shame that the UCI Gran Fondo Worlds have been cancelled. It was my main goal this year. However, it's not the first time I've had to reset goals. Going forward, I'm looking at short, medium, and long-term goals.
"I'm maintaining my daily fitness training and will be challenging myself with individual tests. There's a 200km loop outside of Edmonton I've never done that I'm excited to build up toward riding."
Download now: Free 12 week training programs