Italy Bike Tours returns to climb the Passo Stelvio and Giro d'Italia Giants
Post coronavirus, Italy is quickly back in business. Italy Bike Tours returned with a staff trip to the big climbs featuring in this year's Giro d'Italia
When the coronavirus pandemic cast its darkest shadow over the Italy in late February, Bergamo in the Lombardy region was worst hit.
Ravaged by the world's deadliest coronavirus outbreak, hospitals battled with rising number of patients, flags and notes were taped at every street corner making an attempt at reassurance: "Andrà Tutto Bene" – everything will be fine.
The whole region went into lockdown on March 22 as the country ordered the closure of all non-strategic businesses, while hospitals struggled to cope with the number of new cases daily.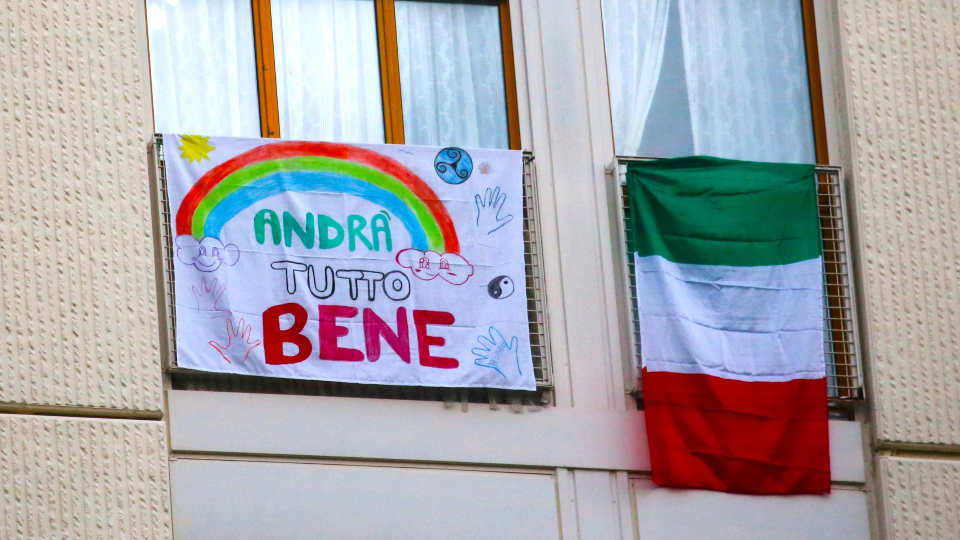 Fighting Back!
The Italy Bike Tours team responded to the disaster, CEO Clive Marshal explained "We quickly dedicated our staff and equipment to combat the fight against COVID19. Our home in Bergamo was the worst hit anywhere in Europe."
"One of our tour support vans was used to supply food to the elderly, Marco worked as an emergency undertaker, Alberto worked in a factory making ventilators. It was all hands on deck, this is a proud region with its own language, cuisine and culture. The fight to beat the COVID19 was impressive."
"Italians did something that nobody including themselves thought they could do, which was to follow the rules. Abiding by the strict lockdown, with no bike riding outside for at least two months".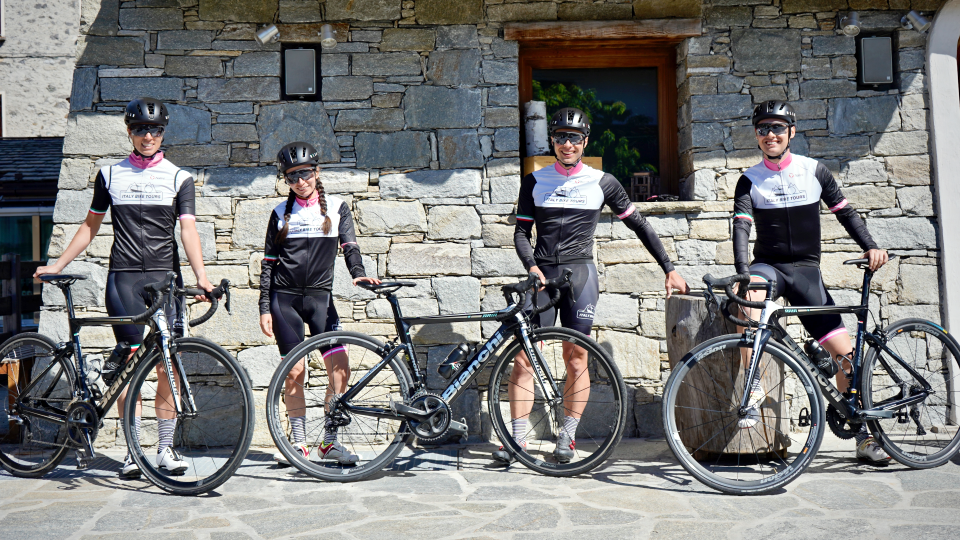 The Bergamo community fought back and gradually started to win. Through May there was a gradual of easing of the lockdown restrictions.
As of June 3rd, Italy is effectively back open for business. Bars, restaurants, hotels are all very busy. There is still sensible social distancing rules in place, masks must be worn in some regions.
However no mask is required while riding a bike or stopping for a coffee and a bite to eat at the many roadside cafés and restaurants.
Clive Marshal enthused "There is a renewed love of cycling in Italy, so much so, bikes sales have rocketed and it has become difficult to buy one! The government introduced a grant of 500€ for people wanting to buy a bike rather than use public transport."
The roads are a lot quieter due to the big drop in traffic, plus there are a lot more cyclists on the roads which only fuels the cycling renaissance.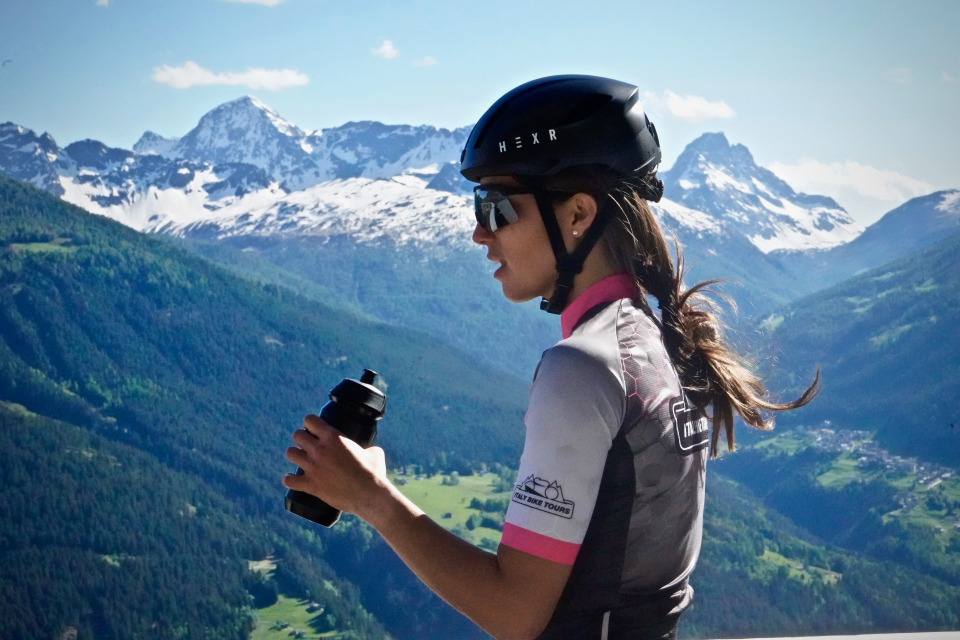 Back to the Business
In late May as Italy opened back up for business, Italy Bike Tours decided it was time for the staff to reconvene, a chance to try out our new sponsor's equipment including Hexr Helmets, Albaoptics sun glasses and new custom Nalini kit.
It was also a chance to get back together as a team and enjoy the simple pleasure of riding a road bike with friends after such a traumatic few months.
Along for the ride were Italy Bike Tour guide's Alberto, Girogio, Laila and Paula.
They decided to ride the big climbs that will be used in this year's Giro d'Italia, the Stelvio, Gavia and the not so well known Laghi di Cancano.
Stage 18 of the 2020 Giro d'Italia in October is a colossal Alpine stage with 5,400 m vertical altitude gain in as little as four climbs!
The route starts uphill on Passo Campo Carlo Magno, takes a first-ever pass off the recently-opened Passo Castrin/Hofmandjoch and enters the Val d'Ultimo for the first time. After leaving the Vinschgau Valley, the route tackles the Stelvio from the hardest side and, immediately afterwards, takes in the final climb leading to the Laghi di Cancano with 21 hairpins along the mountainside (the so-called "Scale di Fraele"). It's a breath-taking climb, the last few kms are pure gravel.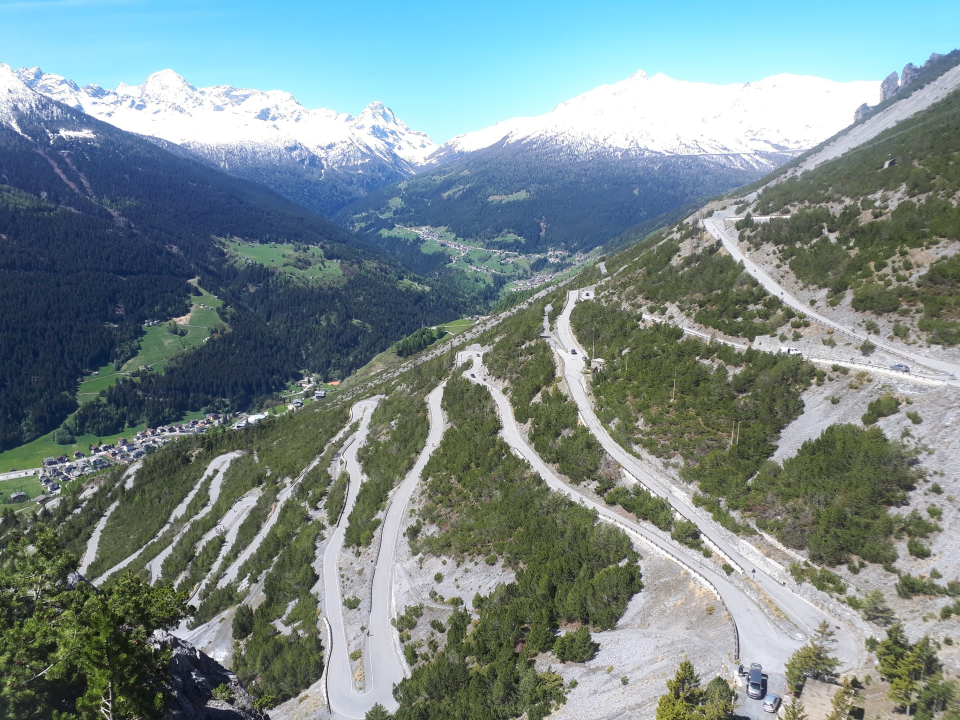 No Better Time
Clive firmly pressed home "There is no better place to escape the chaos of 2020 than in the Alps and Dolomites. Fresh mountain air is what the doctor ordered!"
"Those wishing to enjoy the Italian Alps and Dolomites should be excited about the Giro d'Italia in October where we have official tour packages. We also have a number of tour packages in August and September of real interest too."
Due to the lockdown, many athletes have never been fitter and with really cheap flights this is a great time to visit in Italy, much of its economy is based on exceptional customer service.