Hotter'N Hell 100 goes Virtual on Rouvy Platform this Sunday August 30
The United States' largest one-day cycling event attracts over 15,000 riders and takes place on the scenic country roads surrounding Wichita Falls
Race Start : Sun, August 30, 2020 07:05 Eastern Time
Though the in-person event was canceled due to the COVID-19 pandemic, the Hotter'N Hell organization invites riders from all over the world to come together and ride the virtual edition.
The route begins on Scott Avenue, just outside the Hotter'N Hell clubhouse and after its initial climb, proceeds along the gently rolling roads of Wichita County before concluding out front of the Kay Yaeger Coliseum beneath the Hotter'N Hell 100 arch."We are exceptionally excited to announce our partnership with Rouvy to extend the experience to any and all cyclists who love Hotter'N Hell 100, even if they cannot make it to Wichita Falls to share in the in-person event, this year and beyond." Charlie Zamastil, Race Director of Hotter'N Hell 100.
The virtual race is 23 miles long with 318 feet of climbing, maximum 5% gradients, you can view the route and actual race video here: https://my.rouvy.com/virtual-routes/detail/54966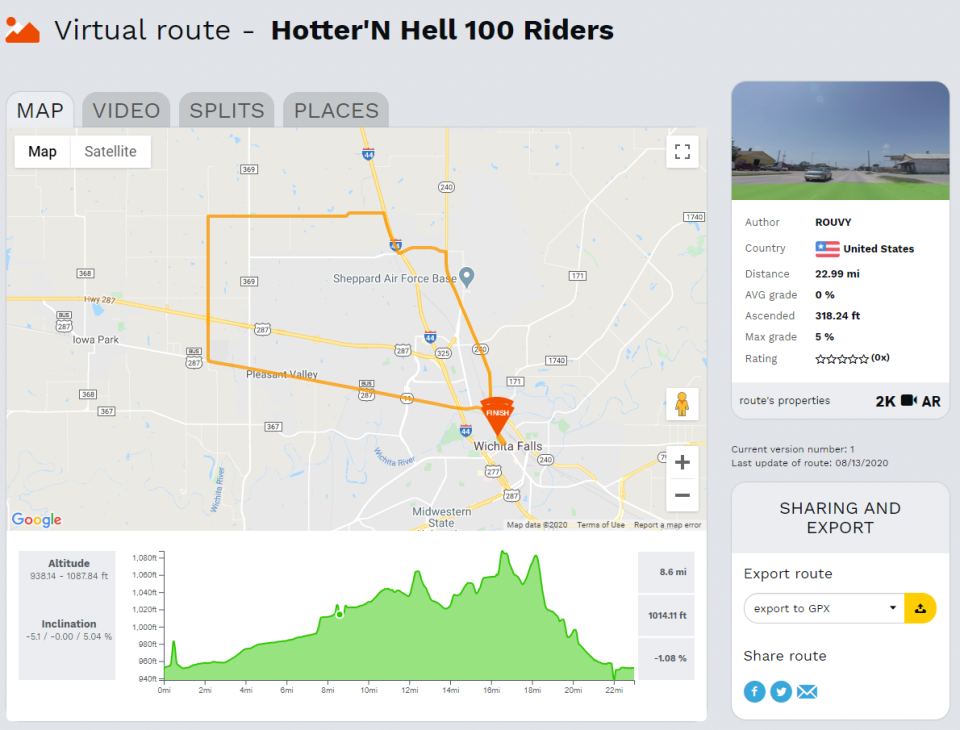 About Hotter'N Hell is celebrating her 39th birthday this year in unusual circumstances. Begun as a centennial celebration event for the city of Wichita Falls, in which a few dozen riders planned to ride 100 miles in 100-degree heat, the event's popularity exceeded all expectations in its first year, and now every year, 15,000 people take part in the four days of running, cycling, shopping and feasting that the Hotter'N Hell 100 has become famous for. Proceeds from the event go entirely toward not-for-profit causes throughout the North Texas community and beyond.
For further information, please visit www.hh100.org
How to register to the race?
Ensure your spot on the starting line by registering to the race TODAY!
All of the ROUVY adventures starts in your ROUVY profile. Follow the steps to below to the best Augmented Reality experience:

Register for the race by using the link below


Make sure you DOWNLOAD the route ahead of the race - preferably 1 hour ahead of the race


Open the ROUVY AR App and go to ONLINE RACE


Select MY RACES, if you have already registered as per the first step


Hit the START button and warm up before the race
Register here:
https://my.rouvy.com/onlinerace/live/31821

The race will start automatically at the given time - please, make sure you are on the starting line ahead of the start!
We wish you a lot of fun and good luck in the racing on ROUVY!