The open TOUR DE SUISSE Virtual Racing Series on ROUVY
Cyclists of all athletic levels are invited to explore the Swiss Alps and match against the pros. Mapped on the same courses and segments as the actual tour, the open Tour de Suisse community racing series will take place over the period June 6th - 12th. The 2016 Olympic Champion, Fabian Cancellara will join the community online on TT Stage 1, on June 6th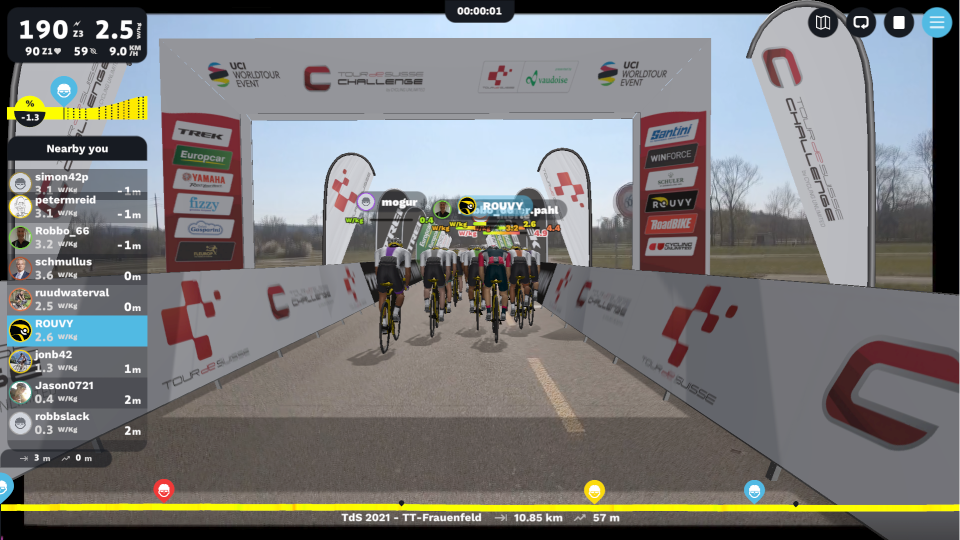 The Tour de Suisse is only 1 week away, and unfortunately, it will take place without spectators. However, for anyone of the competitive breed, there is a special opportunity. Together with Cycling Unlimited AG, the organizer behind most of the Swiss tours, ROUVY is giving everyone the chance to experience the magnificence of Switzerland and race along on the same roads as the pros!
International community of cycling enthusiasts will compete against each other on the ROUVY Indoor Cycling Reality platform. Everyone owning a smart trainer can ride and compare their own efforts to the pros' from INEOS, Jumbo-Visma, BORA - hansgrohe and the other World Tour Teams; and win cool prizes from Cycling Unlimited!
Mario Klaus, Head Brand Management of Cycling Unlimited AG: "We are delighted that we are given the chance to organise the Tour de Suisse 2021 for the pros. We all will definitely be entertained by the tough races to come. The races on ROUVY will be equally challenging. As is well known, the Swiss Alps are always demanding. Looking forward to seeing a large ROUVY community during the races."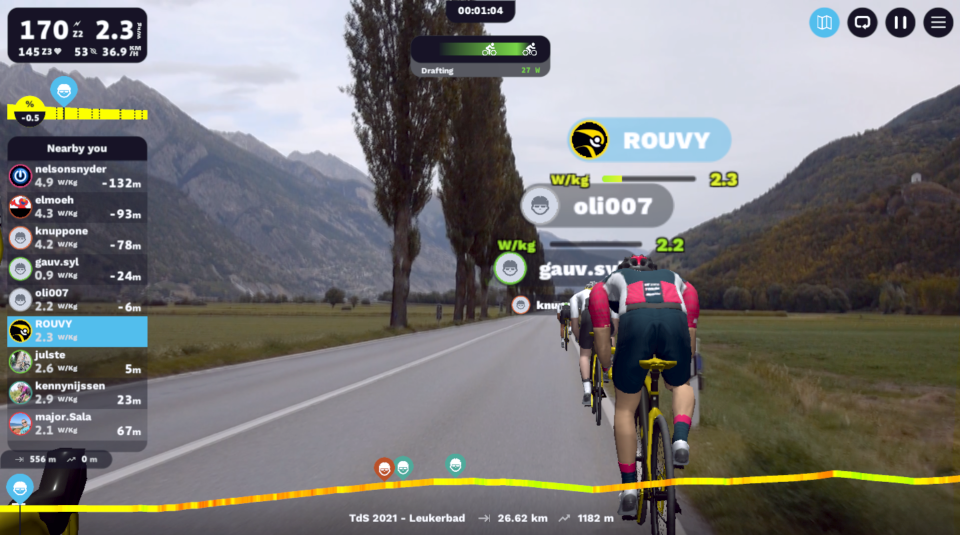 Parcours
The virtual races representing the real efforts will be held on sections of the Tour de Suisse 2021 map, over June 6th - 12th, just as the actual pro race.
June 6 | Tour de Suisse | RACE 1 | TT-FRAUENFELD (Stage 1) | 10.6 km, 57 m of altitude
June 7 | Tour de Suisse | RACE 2 | NUFENENPASS (Stage 6) | 26.6 km, 1182 m of alt.
June 10 | Tour de Suisse | RACE 3 | LEUKERBAD (Stage 5) | 33.5 km, 1565 m of alt.
June 11 | Tour de Suisse | RACE 4 | LUKMANIERPASS (Stage 6) | 37.8 km, 973 m of alt.
June 12 | Tour de Suisse | RACE 5 | OBERALPPASS (Stage 7) | 11.8 km, 634 m of alt.
Europe, USA and Asia times are covered.
Participating Star
True to its mission to bring the world level cycling competitions to everyone's home, ROUVY is delighted to be an official multiple-year virtual partner of the Tour de Suisse. Any avid cyclist is welcome to discover Switzerland and this stage race in 1:1 realistic augmented simulation and effort. In order to enable all the ROUVY riders to "feel like a pro" in real time, Fabian Cancellara will be joining the opening TT race on June 6 and looking for some competition. Riding along with a legend like Cancellara may have been an impossible fantasy once upon a time, but today due to ROUVY's unique augmented reality, everyone is able to join in the chase of the Swiss TT master and the Olympic champion. Over 17 years of professional racing, "Spartacus" gained 4 World Individual Time Trial Championships (2006/07/09/10), 3 Wins of Paris-Roubaix (2006/07/13) and 86 professional victories.
Race Format
Simultaneous start for all riders. Each day is an individual, stand-alone, single race with the best 3 results in the series going towards the ranking in the overall general classification. Drafting is available. The first race is a TT stage without drafting.
Prizes
Original Tour de Suisse Challenge Jerseys by Santini. Winners will be chosen in a raffle. To increase their chances, riders are welcome to join the Tour de Suisse Challenge on ROUVY running through June.
Registration for the race series is OPEN HERE.
About Tour de Suisse
The Tour de Suisse (in Eng: Tour of Switzerland) is an annual cycling stage race in Switzerland. Raced over nine days, the event covers two weekends in the latter half of June. Since 2011, the event is part of the UCI World Tour, making it the 4th biggest and toughest professional road cycling race globally, coming just after the 3 Grand Tours.
About Cycling Unlimited AG
Joining the forces from the Swiss cycling world, Infront Sports & Media AG, Swiss Cycling, TORTOUR GmbH and ProTouchGlobal GmbH are the owners of Cycling Unlimited AG, an umbrella platform for biking enthusiasts. The partners bundle their extensive expertise in order to advance all levels of the sport. Well-known national cycling events for professionals and amateurs, including the Tour de Suisse, the Tour de Suisse Challenge, the TORTOUR Ultracycling and the TORTOUR Gravel as well as the Swiss Cycling Alpenbrevet belong to their portfolio. The primary objective of Cycling Unlimited AG is to establish a complete community and communication platform for everyone who has made cycling a part of their life.
About ROUVY
ROUVY is a digital racing platform that brings the experience of real-life cycling competitions to your home. ROUVY offers thousands of exciting virtual roads to join the pro peloton online or to compete with friends. Overlaying animated avatars and objects over the geo-synced real-life video footage, ROUVY makes home training both realistic and fun. Cycling enthusiasts and the most demanding athletes are welcome to cycle the world from their own homes, to stay fit or to get ready for the next race!