Virtual Rad-Bundesliga by The German Classic ESCHBORN-FRANKFURT on ROUVY on May 1st
Gesellschaft zur Förderung des Radsports mbH, the event organizer behind the UCI-licensed races of ESCHBORN-FRANKFURT and DEUTSCHLAND TOUR, organizes, the German 'pros-only', 2 Virtual qualifying races on ROUVY. Only German licensed professionals, over 100 men and 25 women will compete in the "Men's BUNDESLIGA" and the "Women's BUNDESLIGA", respectively, on May 1st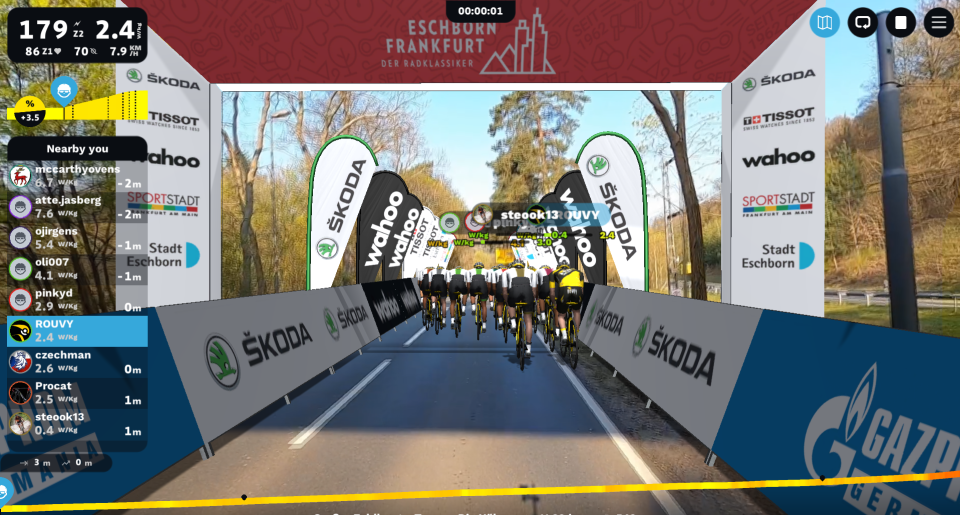 Frankfurt, Germany / April 30, 2021 - The 2nd edition of the ŠKODA Velotour E-Race will take place on May 1st, on the routes of the German UCI Classic Eschborn-Frankfurt. It is here that the Tissot Mountain Queen and King are to be determined and crowned again, in the real race on September 19th.
Two E-Races, the "Women's BUNDESLIGA" and the "Men's BUNDESLIGA" will hit the roads of the Eschborn-Frankfurt (ŠKODA Velotour Skyline) course. Thanks to the 1:1 simulations by ROUVY, the German professionals will ride on a shorter 40 km-loop of the ESCHBORN-FRANKFURT.
FORMAT
- Only riders owning a valid German pro-license will compete in these qualifiers ('pros-only', thus no community mix this time).
- 3 CATEGORIES in each race: overall classification / only U19 / all over 19.
- Individual race: Drafting is "ON".
- AWARD: The fastest riders and the 'U19' winners will wear the BUNDESLIGA leader jerseys at the first real outdoor 2021 Bundesliga race on the road.
"Men's BUNDESLIGA" | PARTICIPATING TEAMS
26 teams; the riders' list is here.
"Women's BUNDESLIGA" | PARTICIPATING TEAMS
12 teams; the riders' list is here.
PROGRAM
- Community race on Feldberg 9:00 a.m. CEST. (Participation will unlock the 1962 anniversary virtual jersey for the rider's avatar)
- PRO Women start at 10:00 a.m. CEST.
- PRO Men start at 11:00 a.m. CEST.
The elite race course
The WorldTour race of The German Classic runs over 187.5 kilometers between Eschborn and Frankfurt. The climbs to the Feldberg and the Billtalhöhe, as well as four times the steep Mammolshainer Stich and two times the Ruppertshainer, sum up to an altitude of 3,200m. Having passed these Taunus icons, the riders reach the finish line right in the city of Frankfurt.
ŠKODA Velotour Skyline course on ROUVY
The road course on ROUVY is a shorter version of just 40,5km with a 307m altitude. The route has a 1:1 branding of the start and finish gates, as well as the other real-life objects. So, the riders of The German Classic can enjoy the realistic atmosphere as at the actual event. The course is equally available for community riding and racing.
BROADCAST
The races will be live-streamed with professional commentary. Presenter Marcel Meinert (Sky Germany) will lead the conversation with Claude Rach (A.S.O.), Matthias Vacek (Gazprom RusVelo Cycling Team), Vice President of the German Cycling Federation, Günther Schabel and follow it up with the winners too.
The action starts airing at 9:30 CEST.
-> Everyone is welcome and invited to Watch on Youtube here.