Register for RBC GranFondo Whistler by Jan 26th and Save $100!
Great news, the 11th edition of North America's largest Gran Fondo is back on September 10th 2022!
The 10th edition in 2019 was the most remarkable one yet with around 5,000 cyclists gathering to take on the challenge of riding the spectacular Sea to Sky Highway. This ride offers beautiful landscapes and a clear, traffic-free passage followed by a challenging climb to the mountain Resort of Whistler.
This spectacular point-to-point ride takes you from Stanley Park in downtown Vancouver all the way to Whistler in your own dedicated lane on the scenic Sea-to-Sky highway with beautiful coastal mountain views. You even get to experience riding over Lions Gate Bridge car-free!
The event has established itself as the premier cycling event in Canada and North America.
The categories for the event include the Forte (152km) which starts with an epic mountain climb up Cypress Mountain, the GranFondo (122km) and the Medio (55km).
The ride is a whole weekend of festivities, the finish line at Whistler is truly a celebration party with BBQ and beer garden for all cyclists and an afternoon concert!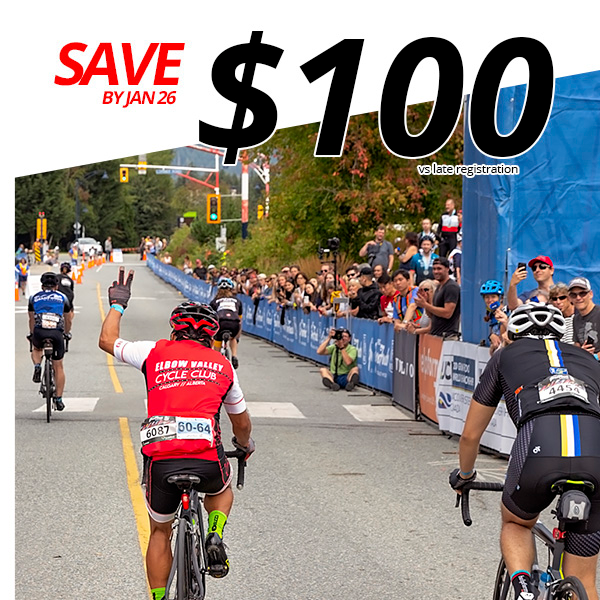 Unfortunately the ride had to be postponed in 2020 and 2021 due to you know what!
Neil McKinnon, Founder and Chief Enthusiast of RBC GranFondo Whistler commented, "We opened registration for the 2022 RBC GranFondo Whistler after a two year hiatus. Already we have had 3,300 early bird registrations, about 40% are returning 2020 deferrals, BUT 60% are new people."
"As you can imagine, we're giddy with excitement, as this shows unprecedented support. We're off to the races."
"Our goal for 2022 is to return as an in-person event - bigger and better than ever before!"
Register NOW and SAVE!
Register before 23:59 January 26th Pacific Time (PT) and SAVE up to $100 CAD versus late registration.

For more detailed information, please visit www.rbcgranfondo.com/whistler