Red Bull Bay Climb Returns for Heart-Pounding Fifth Anniversary!
San Francisco's iconic Red Bull Bay Climb uphill race on October 22 puts riders' strength and determination to the test on Potrero Hill, which is only .32 miles but with an average grade of 15%, and a peak grade at a quad-burning 21%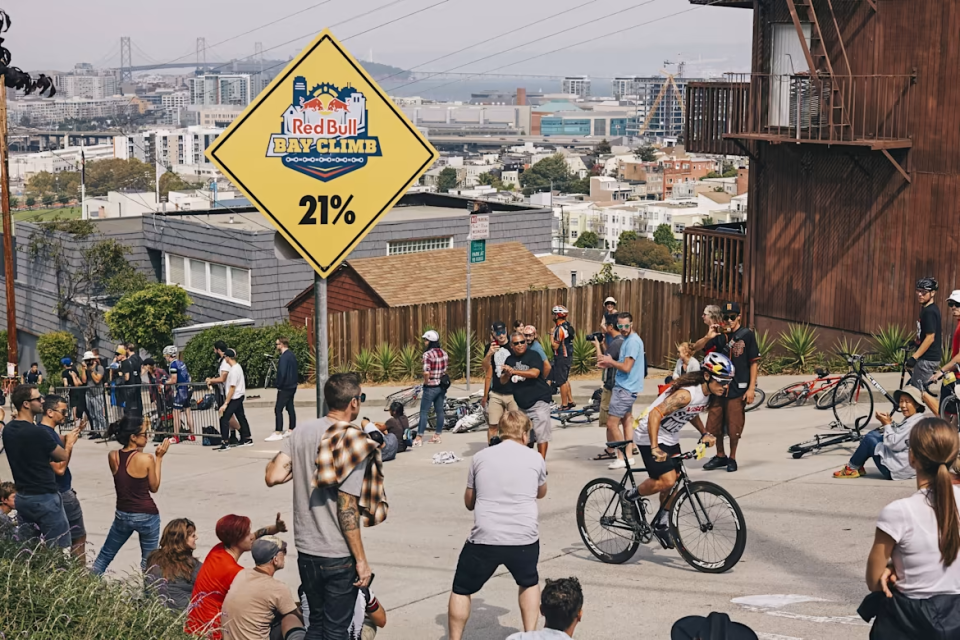 On Saturday, October 22nd, Red Bull will host the 5th annual Red Bull Bay Climb at San Francisco's iconic Potrero Hill, a heart-pounding, uphill, sufferfest of a bicycle sprint race. In true Red Bull style, the unique course and race format is designed to maximize intensity, forcing athletes to dig deep if they hope to make it to the top of this awe-inspiring San Francisco hill.
As a leader in progressive sports and events, Red Bull has distinguished Bay Climb from a typical uphill bike race with its impressive locale, and unique course and competition construction. The race length is just 0.32 miles, but with an average grade of 15%, and a peak grade that clocks in at a quad-burning 21%, this fast and furious contest is not for the faint of heart.
October 22 will see 250+ riders competing in either the Fixed (single gear) or Open (any two-wheel bike) categories. Male and female divisions in both categories are open for entry, with the biggest stipulation for bike entry being that it must be human-powered, no electric bikes allowed.
Athletes from all stages of their cycling careers are expected to attend and compete, and Red Bull Bay Climb welcomes spectators along the course offering an energetic party atmosphere. The cost to participate is $45 for all individual categories.
Red Bull Bay Climb is produced in partnership with San Francisco-based Mission Crit, who produce the world's most exciting bike races including Red Bull Short Circuit and Mission Crit, the Last Great American Bike Race. Red Bull Bay Climb is free and open to spectators along the course.
For more information, please visit: www.redbull.com/us-en/events/bay-climb
VIDEO: Racing up the STEEPEST HILL in San Francisco?!?