Red Bull Bay Climb Celebrates Community and Cycling in San Francisco
5th Annual Uphill Bike Race Congratulates Dani Morshead on 3rd Consecutive Win
Last weekend, around 150 bike racers took to the streets for Red Bull Bay Climb, a heart-pounding, all-out uphill bicycle sprint race up one of the steepest street segments in San Francisco. The fifth annual Red Bull Bay Climb challenged racers in Fixed (single gear) or Open (any two-wheel bike) categories to attack the iconic Potrero Hill, facing grades reaching 21% over the 0.32-mile course.
Photo: Josef Nelson races at the Red Bull Bay Climb in San Francisco, California, USA on October 22, 2022.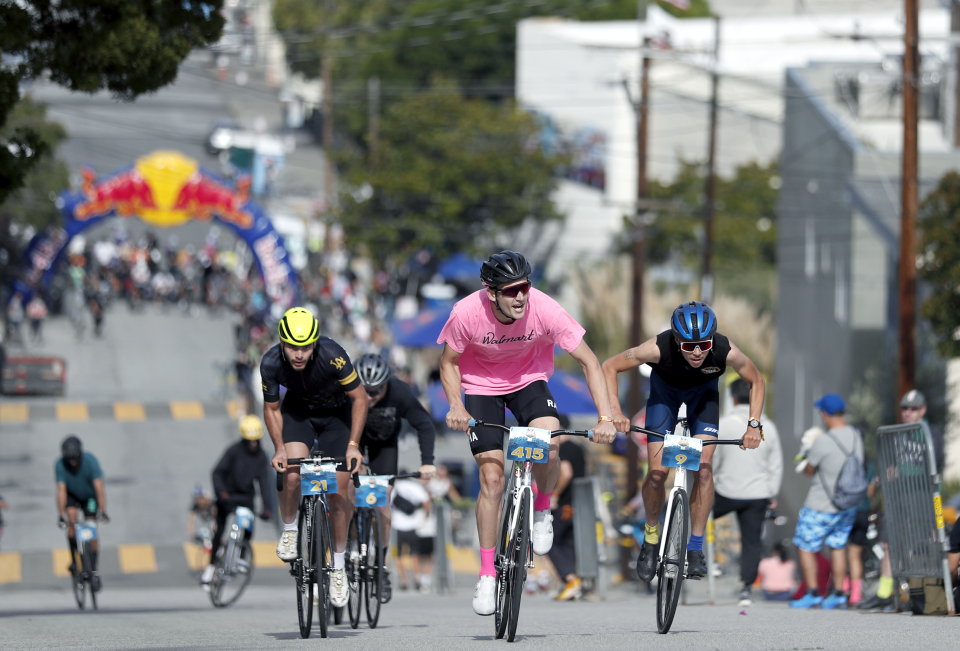 The competition saw the 2021 Men's Open champion Harry Elworthy, Men's Fixed champion Gino Gabuyo, and two-time Women's Fixed champion Dani Morshead, all returning to defend their crowns. The Men's Open category also included two rising stars in the international Cross Country Mountain Bike circuit in Riley Amos and Brayden Johnson, both members of the U23 USA Cycling team looking to prove their XC prowess can translate to a grueling road climb.
In typical Red Bull Bay Climb fashion, the competition was fierce thanks to a combination of capable riders, unique course construction, diverse bikes, challenging hills and epic views. Competitors left everything on the course in a true display of grit and determination.
The 2022 Red Bull Bay Climb First Place Results:
Women's Open – Niky Taylor, Santa Cruz, CA
Men's Open – Riley Amos, Durango, CO
Women's Fixed – Dani Morshead, Aptos, CA
Men's Fixed – Josef Nelson, San Francisco, CA
Two time Women's Fixed champion and Bay Area native Dani Morshead of Team Nice Bikes returned for her fourth Red Bull Bay Climb appearance to defend her 2019 and 2021 titles and secure her third overall win. After taking third in her 2018 debut in the Women's Open category, Dani decided to ditch her derailleur and return to Red Bull Bay Climb in 2019 on a fixed gear bike, and has been the reigning Women's Fixed Gear champion ever since. When asked why Red Bull Bay climb is such a significant race, Morshead said, "I have my parents here, my grandmother's here, my childhood best friend is here. They don't get to watch me race often because I'm traveling the country racing. Sometimes they'll watch a live stream, but it's just not the same thing as being there in person, so it's so exciting to have my family here watching."
UCI U23 World Cup winner and Trek Factory Racing team member Riley Amos took gold in the Men's Open category. Amos said of the race, after battling last year's winner Harry Elworthy and former Bear National Team member, Brayden Johnson; "That was such an intense minute and a half, so much happened. It was great having so many people here cheering, having a good time supporting this event, and taking the win today was super sweet. It was so dramatic to the very last second."
In her first Red Bull Bay Climb appearance, Niky Taylor of Santa Cruz, CA put on an impressive performance in a stacked pool of competitors that included 2021 silver medalist, Liz Schinski. Taylor and Schinski battled at the front of the pack for a near photo finish, but Taylor edged out Schinski at the final moment to secure the win; "I was super excited and intimidated to race against some of the other riders. It was very fast, and I barely held it together to win by six inches."
During the final race of the day, Josef Nelson, an avid fixed gear rider and San Francisco native secured a first-place finish after taking silver behind close friend Gino Gabuyo in 2021. Nelson and Gabuyo returned this year, but Nelson managed to dig deep and dethrone Gabuyo in his second Red Bull Bay Climb appearance. When asked what winning a fixed gear race in his hometown meant to him, Nelson said, "I had to come back and bring it home for San Francisco again. Being able to come back, do Red Bull Bay Climb, and win really means a lot because the San Francisco fixed gear scene is really what I grew up on and it's a big part of my life."
Red Bull Bay Climb is produced in partnership with San Francisco-based Mission Crit, founded by local race director James Grady, a leader in the Bay Area cycling community.
Photo: Niky Taylor celebrates on the podium at the Red Bull Bay Climb in San Francisco, California, USA on October