Swenson and Schiff win 2023 Garmin UNBOUND Gravel presented by Craft Sportswear
Keegan Swenson won Unbound Gravel on Saturday, outsprinting Czech rider Petr Vakoc with Lachlan Morton crossed the line in third. German Carolin Schiff soloed to the finish to win the women's 200 mile race
Photo: Keegan Swenson outspinted his rivals to the 2023 Unbound Gravel 200 men's race and German Carolin Schiff soloed to the finish to win the women's 200 mile race @Credit: UNBOUND Gravel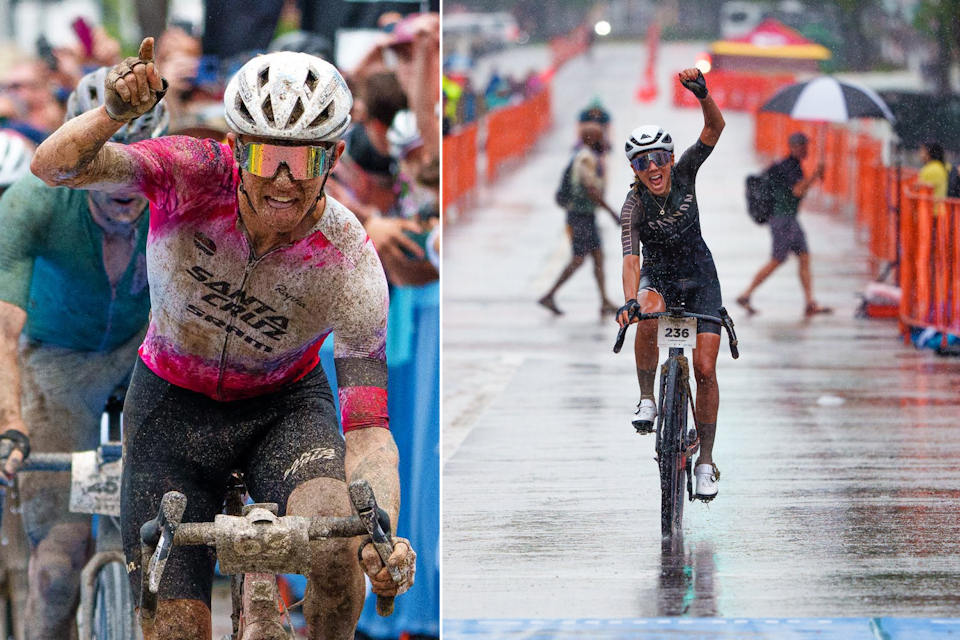 There was a classic finish for the Unbound Gravel elite men's 200 race in downtown Emporia on Saturday.
In the the men's 200 mile race, seven riders including; Pete Stetina, Laurens ten Dam, Ian Boswell, Russell Finsterwald, Keegan Swenson, Lachlan Morton and Petr Vakoc worked together for over three quarters of the race.
In the finale Keegan Swenson of Heber City, UT, claimed victory, leading a pack of seven riders to the finish line in a time of 10h 6m 2s. Petr Vakoc of the Czech Republic was one second behind. Lachlan Morton, Laurens ten Dam, Ian Boswell, Russell Finsterwald and Peter Stetina finished third through seventh, respectively, with Stetina eight seconds behind Swenson.
As a result, Keegan Swenson keeps his Life Time Grand Prix presented by Mazda series lead.
The elite women's 200 mile race, Carolin Schiff of Germany soloed to the finish in a time of 11h 46m 39s ahead of Sofia Gomez Villafane in second place 15 minutes behind, with Sarah Sturm 7 minutes behind Villafane in third place.
Logan Kasper won the XL 350 mile race. Kasper, of Baldwinville, MA finished in a time of 22h, 54m 25s. Kristen Legan was the fastest women in a time of 26h 6m 35s finishing 8th overall.
David Brower was the fastest finisher in the 100 mile men's race in 5h 49m 57s, beating Elliot Phillips, Brian McCullough and Scott Funston by one second. Tiffany Cromwell was the fastest woman in 6h 13m 54s.
Morgan Chaffin won the women's 50 mile race in 2h 24m 53s. William Raatz was the fastest man in 2h 27m 44s.
Katia Rojas was the fastest finisher in the women' 25 mile ride, reaching the finish line in 1h 27m 5s. Jonathan Brown was the fastest man at 1h 28m 31s.
Link to 2023 Garmin Unbound Gravel Results: https://www.athlinks.com/event/174195/results/Event/1034618/Results