Thousands of cyclists take part in the 11th Okanagan Granfondo
They came by the thousands to take part in one of the premier North American cycling events, last Sunday's 11th edition of the Okanagan Granfondo in Penticton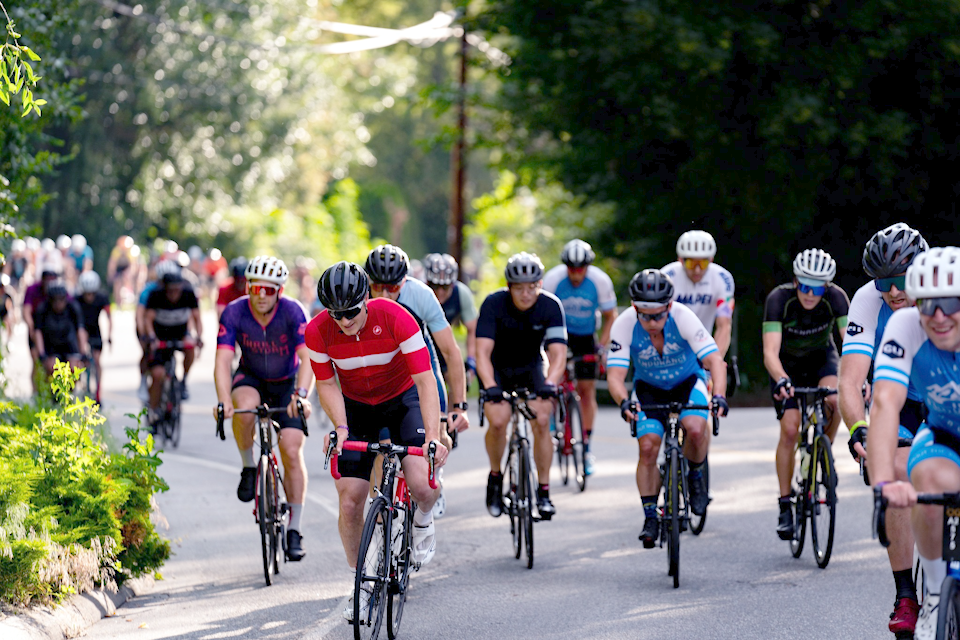 Penticton was full of energy and excitement last weekend as roughly 3,000 cyclists plus supporters descended on the city for the 11th edition of the Okanagan Granfondo.
The Granfondo race featured more than 1,200 metres of elevation gain along 121 kilometres of the South Okanagan's most scenic roads, from Penticton up to Naramata, down to Osoyoos, and back downtown, all in the July heat.
Fans and supporters lined the roads along the way, offering cheers and sometimes a cool-down spray of water.
The challenging 121-kilometre Granfondo was down from 153 km due to a route change because of the Summerland slides.
The weekend events kicked off with Friday's welcoming of participants and cycling expo which continued through Sunday. Also on Saturday, more than 300 kids from one to 10 years old got a chance to show off their skills at the always-popular Piccolofondo on Lakeshore Drive. In a series of starts the young cyclists cycled distances from 400 metres to five kilometres.
On Sunday, in addition to the Granfondo distance, participants had the option of registering in three other classes, the Velocefondo (121km) Mediofondo (87km) and Cortofondo (52km). Skill levels ranged from the elite and pro to recreational riders. "We have national cycling team members and we have others who have just gotten into cycling and they want the experience of being in a big race," said veteran race announcer Steve King who has called every event since it began in 2011. "The thing with this is it's a race if you want it to be, but it is an experience and it's the South Okanagan and you can't get better than that.'
Lots of amatuers cyclists enjoyed the accomplishment of riding hundreds of kilometres in one day, the excitement of riding with so many other riders, the camaraderie is great.
The challenge really is all about the community of riders and the people in Penticton are so welcoming. Cycling is a very supportive community.
Over 1,000 cyclists took part in the 121 km Granfondo. Seth Cowie from Kelowna was fastest in a time of 3h 3m 43s ahead of Colin Eriks in second and Brad Bickley in third. In the women's category, Ivanie Blondin from Calgary was fastest in a time of 3h 11m 49s ahead of Renata Szado in second and Carolyn Russell in third place.
In the 112km Velocefondo, Chi To Lee from Vancouver was fastest in a time of 3h 13m 8s. In the 87km Mediofondo, Andrew Skuse from Noth Vancouver was fsatest in a time of 24 34m 21s.
In the 53km Cortofondo, David Wakefield from Newport Beach was fastest in a time of 1h 40m 52s.
Over 11 teams of 5 riders took part in the team event with Team United Velo 2 fastest ahead of Commercial Athletics Club in second and Tempo CC in third place.
Third place in the GranFondo Brad Bickley from West Kelowna was the fastest in the KOM challenge in a time of 2h 51s. Granfondo women's winner Ivanie Blondin from Calgary was fastest in the QOM in a time of 3m 6s.
Okanagan Granfondo director Jodi Cross was front and centre throughout the weekend helping out wherever needed including on the kids' course Saturday, making sure everyone was safe. Jodi said "It takes a lot of good people to put this event on, we have over 400 people from Penticton who come out and help us and we couldn't do it without them. Just the community here, it's so welcoming and everybody loves coming to Penticton."
Link to 2023 Results: https://okanagangranfondo.com/2023-results