Sprints decide the winners of 2023 UCI Gran Fondo World Champions in Scotland
Astana Qazaqstan Team General Manager Alexander Vinokourov and Billionaire businessman and co-owner of the Israel-Premier Tech among the 20 Rainbow Jersey and Gold Medal Winners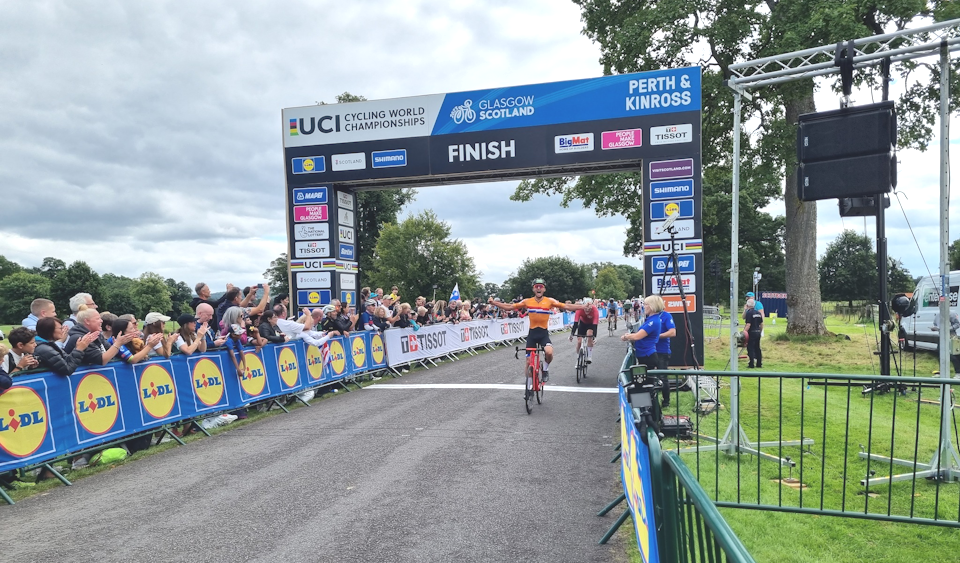 The second day of the UCI Cycling World Championships saw the UCI Gran Fondo races take place. Over 1,878 riders from 68 different countries battled it out in their age group categories for one of the 20 gold medals and coveted Rainbow Jerseys.
Age category starts were given with five minute intervals, with the Medio Fondo starting first at 10.00am in the morning. The 87km Medio Fondo course incluided all women over 50 and men over 60 with 807m of elevation, finishing in Scone Palace, just outside Perth.
2023 UCI Medio Fondo Medal Winners
Amy Phillips from the United States outsprinted a large group of 31 riders from which 20 were from the F50 category and 11 from the F55 who all started together. Swiss Jutta Stienen and Italian Michela Gorini completed the podium.
In the F55 in the same sprint, Belgian Annick Van Leuven won with a large gap to German Ina Pfuhler and Irish lady Julie Rea.
Suzie Godart was the fastest to win gold in the F60 category, beating American Lilian Pfluke and Danish Marianne Hald Hesselbjerg.
British Linda Dewhurst surprised French Jeannie Longo to win gold in the F65 category in the same sprint while Kathryn Churchill from Britain in third place.
The final rainbow jersey in the F70 category was won by American Vanessa Cooney beating French Gisele Thureau and Australian Mary Cullen.
Norwegian Jorn Fjedavlie won the first rainbow jersey of the day beating two riders from British riders Rob Pears and Mike Twelves in a sprint with a group of 50 to win the M60 worldtitle.
Sylvan Adams from Israel, owner of the Israel Premier Tech world tour team got a six second gap on the line toward in front of Venezuelan Arnaldo Salazar to win the M65 title with Dutch Ron Paffen in third place/
In the M70 category, the two first spots were for Frenchman Liberto Correas winning in a sprint of a large group of 26 before his compatriot Bernard Siguenza and Spanish Luciano Mitxelena Irazoqui.
The M75 worldtitle in the same sprint, Frenchman André Petitpas beat Australian John Horsburgh and British rider Rob Stones in third place.
James Macdonald from the States, outsprinted John Jones from Great Britain with Roberto McGowan in third in the M80 category.
2023 UCI Medio Fondo Championships Results

Overall

1 Jørn FJELDAVLIE NOR 2:14:57
2 Rob PEARS GBR +0:01
3 Mike TWELVES GBR +0:01

Women Overall

1 Amy PHILLIPS USA 2:27:48
2 Jutta STIENEN SUI +0:01
3 Michela GORINI ITA +0:01

Men 60-64


1 Jørn FJELDAVLIE NOR 2:14:57
2 Rob PEARS GBR +0:01
3 Mike TWELVES GBR +0:01

Women 50-54

1 Amy PHILLIPS USA 2:27:48

2 Jutta STIENEN SUI +0:01

3 Michela GORINI ITA +0:01

Men 65-69

1 Sylvan ADAMS ISR 2:19:22

2 Arnaldo SALAZAR VEN +0:06

3 Ron PAFFEN NED +0:31

Women 55-59

1 Annick VAN LEUVEN BEL 2:27:50
2 Ina PFUHLER GER +0:04
3 Julie REA IRL +0:04

Men 70-74

1 Liberto CORREAS FRA 2:29:43

2 Bernard SIGUENZA FRA

3 Luciano MITXELENA IRAZOQUI ESP

Women 60-64

1 Suzie GODART LUX 2:32:53

2 Lillian PFLUKE USA +0:03

3 Marianne Hesselbjerg HALD DEN +0:06

Men 75 - 79

1 André PETIPAS FRA 2:29:44

2 John HORSBURGH AUS

3 Rob STONES GBR +0:02

Women 65-69

1 Linda DEWHURST GBR 2:32:54

2 Jeannie LONGO FRA +0:04

3 Kathryn CHURCHILL GBR +7:30

Men 80 - 84



1 James MACDONALD USA 2:45:27

2 John JONES GBR +0:01

3 Robert MCGOWAN GBR +29:36

Women 70-74

1 Vanessa COONEY USA 2:52:03

2 Gisèle THUREAU FRA +1:37

3 Mary CULLEN NZL +3:23
2023 UCI Gran Fondo Medal Winners
The 159km Gran Fondo categories started with 5 minutes intervals after the Medio Fondo. The 1,927m of climbing on course was mainly in the middle section through the Scottish Highlands with three 5-7km climbs before coming back to Perth on flatter roads. 1,878 riders registered for the road races amongst which UCI president David Lappartient, but also former pro riders as Jeannie Longo (defending world champion in both time trial and road racing in her category), Mario Cipollini and Alexander Vinokurov. The 68 different nationalities at the start mades this the most international UCI Gran Fondo World Championships ever.
The categories racing on the 160km GranFondo course started 20 minutes after the last Medio Fondo start. The women's categories started in two waves with riders under 40 and riders between 40 and 50, all battling for 4 world titles.
In the youngest female F19 category, a big bunch sprinted for the title with British Emily Proud outsprinting Marine Lenehan in second and Canadian Michelle Gagnon in third place.
Wies De Jong was the fastest F35 in the same sprint beating Belgian Kim Knaeps in second and Slovenian Petra Pasar in third place.
The F40 title was won by British cyclist Mary Wilkinson who won the sprint with Swiss Claudia Sutter in second and Slovenian Lina Cepak in third place.
Belgian Ilse Van der Moeren won the F45 title outsprinting the 2021 world champion Esta Bovill from Canada with British cyclist Helen Jackson getting a bronze medal a few minutes later.
The M19 and F40 age groups scored the fastest average speeds, respectively 41.2 km/h and 34.6 km/h.
In the mean's races, Belgian Lars Van Coppenolle winning the M19 category with an attack in the last kilometers, winning by 14 seconds to a large group where Italian Matteo Cigala won silver and Swiss Matthias Studer bronze.
In the men's M35 category, Polish cyclist Wojciech Szczepanik won ahead of Belgian Fabio Porco in second and former world champion Stefan Kirchmair from Austria in third place.
Johnny Hoogerland took his second world title after 2021 to win the men's M40 category in a big bunch sprint beating Danish cyclist Jeppe Tolboll in second and Belgian Carlo Porco in third place.
In the M45 category, Norwegian Jone Ellingsen won a second world title after the time trial title from 12 years ago during the first UCI Gran Fondo World Championships in Belgium. Portuguese Carlos Brito and Belgian Peter Verstraete completed the podium.
In the M50 category, former professional Alexandr Vinokurov from Kazachstan won his first gold medal after already having won gold during the London Olympics in 2012. He beated Spanish Raul Patino and Polish Adrian Jach in a sprint of 3. Ex-professional and now master amateur Vinokourov finished 3rd at the UCI World Championships twice before. This year he raced in the amateur men's 50-54 year-old Gran Fondo against 215 amateur cyclists and finally took home a world title and the covetede UCI Rainbow Jersey.
Defending World Champion Michael Schaefer was the only rider who could defend his M55 Rainbow jersey. The German won a tight sprint against Belgian Lieven Van de Perre in second and Canadian ex-professional Pascal Herve in third.
2023 UCI Gran Fondo Championships Results

Overall

1 Lars VAN COPPENOLLE BEL 3:51:20
2 Matteo CIGALA Italian + 14
3 Matthias STUDER Switzerland + 14

Women Overall

1 Emily PROUD GBR 4:35:27
2 Marine LENEHAN IRL
3 Wies DE JONG NED 4:35:27

Men 35-39


1 Wojciech SZCZEPANIK POL 3:59:11

2 Fabio PORCO BEL +0:01

3 Stefan KIRCHMAIR AUT +0:01

Women 19-34

1 Emily PROUD GBR 4:35:27

2 Marine LENEHAN IRL

3 Michelle GAGNON CAN +0:01

Men 40-44


1 Johnny HOOGERLAND NED 4:02:59

2 Jeppe Heinfelt TOLBØLL DEN

3 Carlo PORCO BEL +0:02

Women 35-39

1 Wies DE JONG NED 4:35:27
2 Kim KNAEPS BEL +0:01
3 Petra PASAR SLO +0:02

Men 45-49

1 Jone ELLINGSEN NOR 4:07:03
2 Carlos BRITO POR
3 Peter VERSTRAETE BEL +0:03

Women 40-44

1 Mary WILKINSON GBR 4:30:27
2 Claudia SUTTER SUI +0:03
3 Lina CEPAK SLO +0:04

Men 50 - 54


1 Alexandr VINOKUROV KAZ 4:05:22

2 Raul PATIÑO ESP +0:01

3 Adrian JACH POL +0:04

Women 45-49

1 Ils VAN DER MOEREN BEL 4:30:33

2 Esta BOVILL CAN +0:02

3 Helen JACKSON GBR +3:13

Men 55 - 59

1 Michael SCHAEFER GER 4:09:48

2 Lieven VAN DE PERRE BEL

3 Pascal HERVE CAN +0:01