Fantastic Weekend at the Hincapie Gran Fondo
Thousands of cyclists turned up at the Hotel Domestique, just outside Greenville, South Carolina early on Saturday morning to tackle the epic Hincapie Gran Fondo.
The number of people entering this year well up on last year.
Pro cyclist Taylor Phinney was seen mingling with participants prior to the start.
It was a rather chilly start, at 8am temperatures were just over 0.5C/ 31F.
Pro Cyclist, Taylor Phinney chatting to some of the participants (courtesy @BMC_Ride)
Riders got their numbers, route cards and were briefed at the sign on desk.
3 routes were on offer of 15 miles, 50 milles or the full blown Gran Fondo of 80 miles depending on everyone's fitness and ability.
This is a family event, so everyone was well catered for, especially children, with extra activities and kids cycle races.
Free food and drinks laid on for everyone throughout the day.
The Gran Fondo course featured four rest stops and two KOM climbs (courtesy @barry_wilcox)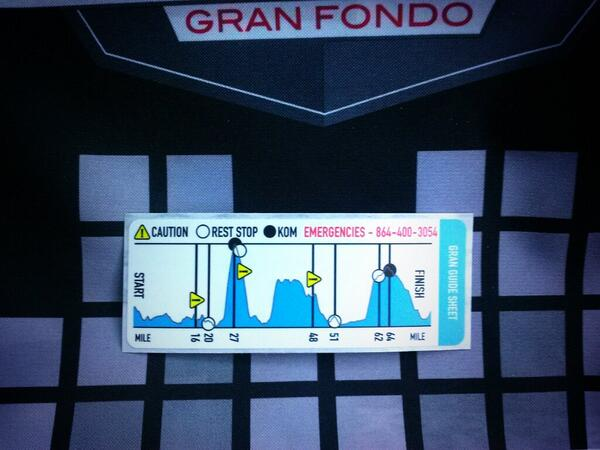 Thousands lined up in high spirits despite the chilly start, for a great ride around the foothills of the Blue Ridge Mountains.
Chilly Start, courtesy (@TheChadAndrews)
George Hincapie lined up with friends and team mates Christian Vande Velde, Tom Danielson, Taylor Phinney, Michael Schaer, Michael Barry, Thomas Craven and Ann Cleaver.
Also seen up at the front was ex-pro Steve Bauer and Matt Rollfast, organiser of the Rollfast Gran Fondo (earlier this year) and director sportif of the Rollfast Cycling Club.

George Hincapie and Friends (Courtesy @TheChadAndrews)
The Climbs
The full 80 mile Gran Fondo course has 3 significant climbs.
The 4 mile climb of Syuka Mountain Rd at an average of nearly 9%!
Howard Gap 1.4 miles at an average of nearly 11.5% and Green River Cove at 2.4 miles at 7.5%.
Everyone had the opportunity to record their times on Strava for the overall KOMs on 2 of the climbs.
You can have a look at the actual ride completed by Chris Lyman (@CLymanPlay) on Strava here - http://www.strava.com/activities/91431387

The Ride
Rumour has it that George Hincapie, Christian Vande Velde, Taylor Phinney, Tom Danielson, Michael Schaer and a group of around 15 riders gave the climbs a good kicking!
However, It was a very sociable ride and they all finished in a bunch together to complete a very hilly 80 miles, in under 5 hours.
Everyone having a great time around Greenville in great company (Courtesy @michaelschaer)
The view from top of Skyuka Mountain was an awesome site on such a crisp Autumn day.
Here's a picture sent to us from Kevin O'Brien (from Florida) who took part (@CycleKev) at the top.
Kevin's ride partner for the day was famous chef and restauranter, Michael Chiarell (@ChefChiarello) from California.
Needless to say everyone was well catered for after the ride with ample changing facilities, showers and food and drink.
Everyone joined family and friends for a fun festival at the picturesque Hotel Domestique.
Complete with live music, cold beer, the festival was a great way to cap off the day, rumours are that it went on well into the evening ...
A big thank you to everyone who spared their time and volunteered to make it such a special day.
2013 Results
Here is a link to 2013 Hincapie Gran Fondo results - http://www.granfondohincapie.com/news/Results2013.aspx

Official Photos
Professional cycling photographer Brian Hodes of Velo Images was the official photographer, official photos will be available through this link shortly.

Next Year
Make sure you add this event to your cycling bucket list for next year!
Make you sure you enter well in advance due to demand and don't forget to get some training in for tackling these awesome climbs.
A portion of the proceeds of the event benefits the local charity Meals on Wheels which provides nutritious meals and personal contact to seniors throughout Greenville county. Over 10,000,000 meals provided since the charity was established.
Be sure to keep an eye on http://www.granfondohincapie.com and Gran Fondo Guide for news and full details of next year's event.
Chef, Michael Chiarell (@ChefChiarello) with cycling Legend George Hincapie, courtesy (@ChefChiarello)