Former pro Canadian Alex Stieda keynote speaker at Bluewater International GranFondo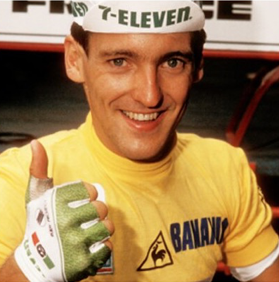 Canadian Alex Stieda is a former professional cyclist and the first North American to wear the Yellow Jersey at the Tour de France, and will be the keynote speaker at the Saturday evening pasta dinner August 4th and will also be riding the 150km Gran Fondo on Sunday August 5th.
In addition, to the Yellow Jersey Alex also won 5 jerseys in total including the Polka Dot as best climber, White Jersey as best rookie, and the Red Jersey for intermediate points and combination.
Toronto Hustle will once again be present
In only six months, Toronto Hustle has emerged as one of Canada's most prominent cycling teams at any level– garnering attention from the biggest pro-cycling outfits across North America.
They have secured media coverage from two continents and Toronto Hustle has cultivated a global following delivering tangible results, on and off the bike.
Also speaking and riding will be Stephen Cheung Phd author of Cycling Science, science and training editor for Pez Cycling News and consult to world champion cyclists.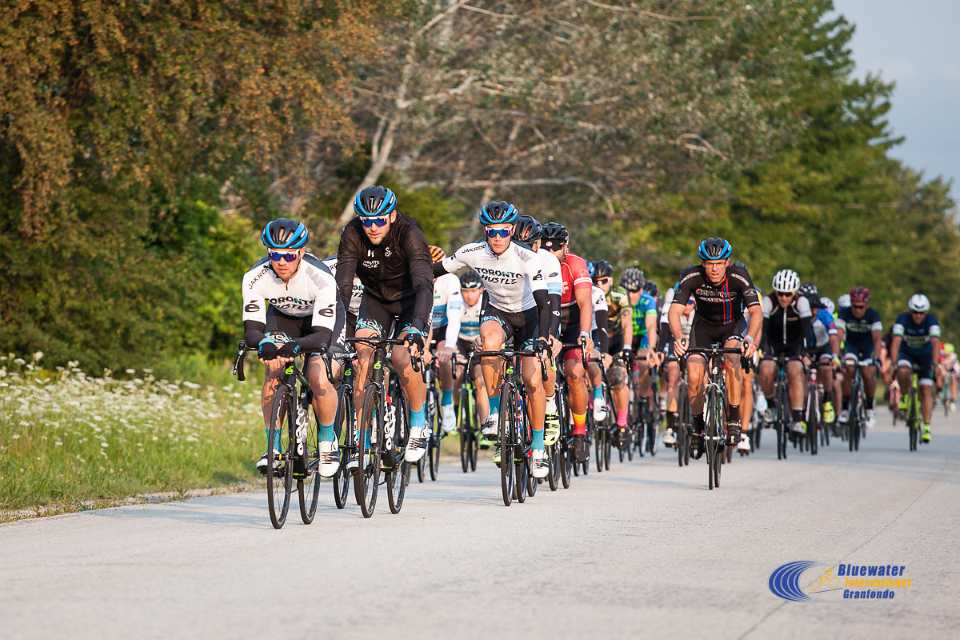 About the Bluewater International GranFondo
Part of the Gran Fondo World Tour series Internationally, the 3rd edition of Bluewater International Gran Fondo is one of the fastest growing Gran Fondos in North America
Over $50,000 raised for Palliative Care and the first Lambton Palliative Care Retreat as event expands and hosts the Ontario First Responder Road Cycling Championships.
The Bluewater International Granfondo (B.I.G.) is a cycling event for cyclist of levels which starts and finishes along the shores of scenic Lake Huron at Mike Weir Park in Sarnia, Ontario. The first two editions sold out in advance as entry limits were raised to 750 cyclists. The date for the 3rd annual is August 5th 2018 and plans are to increase registration to 1,000. Since its inception, the event has sold out in advance.
Riders will have three routes to choose from 50, 100, and 150 kms each with its own start time specifically designed to avoid mass start anxiety and allow riders of all routes to finish within a reasonable time of each other. B.I.G. utilizes timed sections which is a format that prevents chaotic starts but still allows competitive juices to flow.
This format allows all riders to receive a competition time while also being able to regroup with friends upon completion of the timed sections. Riders can cool off with a refreshing swim in Lake Huron prior to relaxing to live music courtesy of Offsite Impact, one of Lambton County's finest 5-piece Rock and Roll bands, while enjoying a well-deserved beer or soft drink along with some very tasty food.
B.I.G. supports two charities, St. Joseph's Hospice and Bluewater Health's Palliative Care with the emphasis being on further education of staff in the field of Palliative Care. A significant portion of the $50,000 raised in 2017 was dedicated to funding the first Lambton Palliative Care Retreat, a 2-day conference in Lambton County, where participants heard from a number of world-renowned speakers in the field of Palliative Care. In addition MP Marilyn Gladu spoke about introducing the Private Members Bill C-277, an Act providing for the Development of a Framework on Palliative Care in Canada.
VIDEO: Gran Fondo Palliative Story
During the 12 weeks prior to B.I.G. "Wednesday Night Rides" are hosted. These are training/educational rides, both experienced and inexperienced riders are encouraged to participate in. However the emphasis is on assisting newer riders and each week starts with a short educational talk by local experts covering road safety, nutrition, tire changing etc. Riders are then divided into five groups based on distance and speed with each group having either two or three guides assigned to them for the evening.
Last year "the rides" became extremely popular causing registration to be closed at 140 participants. Each participant received sponsored T shirts promoting the rides.

B.I.G hosts Ontario First Responder Road Cycling Championships
First Responders show their dedication every day. Increasing focus to integrate Palliative Care into EMS allowS for the delivery of advanced Palliative Care at home or expediting admission to Hospital Palliative Care Unit or Hospice. For 2018 BIG is proud to host Ontario First Responders Road Cycling Championship (OFRRCC)
First Responders are committed to their community and to their teammates. The OFRRCC will give them an opportunity to showcase their dedication to the sport of cycling while taking part in a terrific community event. The OFRRCC is open to active and retired sworn and civilian members of the police, fire and paramedic communities. The unique format of the Championship allows the riders to enjoy a casual ride or to "ride to win". Their ride will consist of a 100km route which is part of the Bluewater International Granfondo. Within the 100km, there are three timed sections (7km, 2km and 9km) which can be raced for the championship. The winners will be riders who finish the 100km route and post the fastest cumulative time in the three sections. Because only sections are timed, riders will be afforded the opportunity to regroup, ride together, and enjoy the support of the Bluewater International Granfondo.
Participants will compete in the following categories: Men/Women Individual, Masters (over 40) Men/Women, and Teams. The team time will be based on the 3rd rider finishing each timed section. We anticipate OFRRCC will be an excellent complement to Sunday's B.I.G. making Sarnia a special Canadian cycling weekend destination for both riders and fans.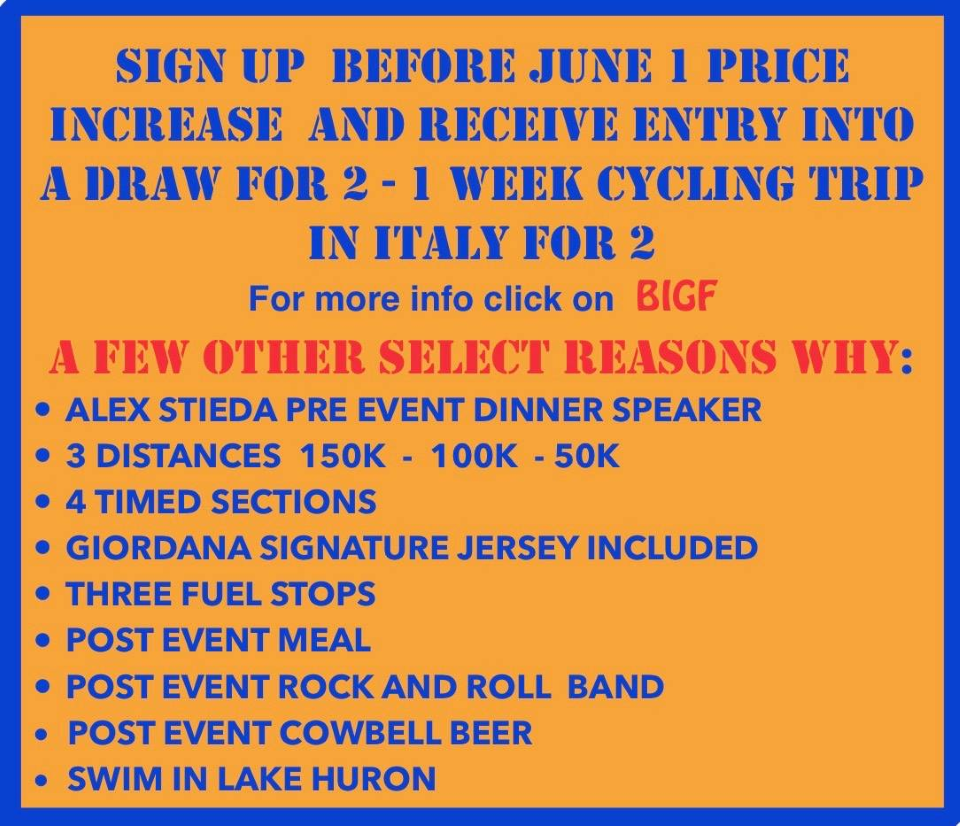 Part of the Gran Fondo World Tour ® Series
With three events in North America cyclists can compete for the final overall prizes, worth $36,000 US dollars, one of the largest prize pots for amateur cyclists in the world.
The cash prizes are split equally between men and women and each will receive $10,000 USD (1st place), $4,000 USD (2nd place) and $2,000 USD (3rd place) respectively in the final overall rankings.
It's important to note the Bluewater International Gran Fondo (93 miles) in Ontario is a non-competitive even which means that it will provide the same points for all Gran Fondo distance finishers of 1,000 points.
For more information on the North American events in the series please visit: gran-fondo-world-tour-announces-north-american-destinations
For more information on the race points and how those go towards the final ranking, please visit: granfondoworldtour.com/race-points