2020 UCI Gran Fondo Qualifier season started this weekend with the RBC Granfondo Whistler
RBC GranFondo Whistler is one of the biggest Gran Fondo's on the North American continent and was the first Qualifier event for the opening 2020 qualifier season this weekend in Canada
A total of 5,000 cyclists descended on the Sea-to-Sky Highway during the 10th-annual RBC Gran Fondo Whistler cycling race this weekend.
The race saw participants pedal 122 kilometres along Highway 99 from Stanley Park, in Vancouver all the way up to Whistler Village.
St. Regis Cup
Up front, some of the fastest cyclists in the Pacific Northwest and beyond were competing for glory in age group categories and the St. Regis Cup team competition. Further back, weekend warriors and recreational cyclists challenged themselves to reach personal bests and conquer the steep climbs and fast descents along Highway 99.
Local rider Brendan Armstrong of Trek Red Truck Racing came out on top after making the winning breakaway on the climb out of Squamish.
Armstrong was able to shake the last breakaway companion Jaco Kronje from Missouri City, Texas and on the kicker at Function Junction, 8km from the finish. With a 40-second gap coming onto the final straight, he crossed the line in a time of 3:13:40.
In the women's race, his Trek Red Truck Racing teammate Megan Rathwell showed off her climbing strength, establishing a final gap of just over 5 minutes over second-place finisher Claire Cameron of Team Lotus. Rathwell finished with a time of 3:25:04.
In the St. Regis Cup teams competition Trek Red Truck Racing won both the women's and men's categories with Team Lotus taking first place in the mixed division.
Top 20% Finish will Qualify for UCI 2020 Gran Fondo Championships
The RBC GranFondo Whistler is the first event that will apply the new 20% UCI Gran Fondo Qualifying rule. New this year is that all age groups will be awarded with medals, a jersey and qualifying spots, even if only one rider signs up in a specific age category.
The 3 participation rule qualifying for Worlds: If you did three different events without finishing in the top 20%, this is NO LONGER VALID, for the 2020 UCI Gran Fondo World Series.
2019 RBC GranFondo Whistler Results
In the Gran Fondo Jaco Cronje (M35-39) from Texas was the fastest for the men in a time of 3h 14m, ahead of Marty Heck from Team RBC (M45-49) and Robert Tornai (M45-49).
Laura Matsen Ko from Seattle (W35-39) was the fastest women to cross the finish line in 3h 26m ahead of Julie Petersen (W50-54) and Carolyn Russell (W45-49).
GCN's Simon Richardson finished in a time of 3h 25m for 36th place overall.
The top 20% in each age category will have qualified for the 2020 Gran Fondo World Championships in Whistler in September 2020. Each rider will be contacted and invited by the UCI to attend.
Congratulations to all those who completed this year's RBC GranFondo, click the button below for the full 2019 results.
Some official photo's can be found here.

Photo: Riders line up for the Medio Fondo in Whistler. Photo Credit: TLB Photography.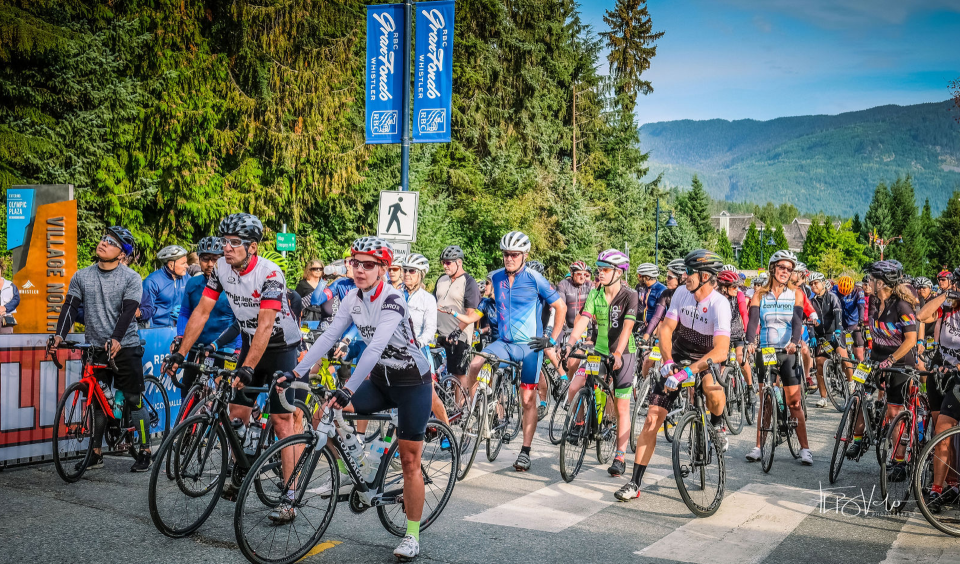 Special Pricing for 2020 RBC GranFondo Whistler!
Sign up now to be part of the 2020 RBC GranFondo Whistler and get the best pricing of the year.
The 11th annual RBC GranFondo Whistler takes place on Saturday, September 12th, 2020.
Well over 10,000 cyclists from around the world are expected in 2020.
Special pricing ends at 2pm PDT September 11th.

Photo: In the St. Regis Cup teams competition Trek Red Truck Racing won both the women's and men's categories with Team Lotus taking first place in the mixed division.