Cache Gran Fondo Celebrates Ten Years of Community Cycling Success
1,500 cyclists from all across America came to celebrate at North America's top COVID crushing bike ride!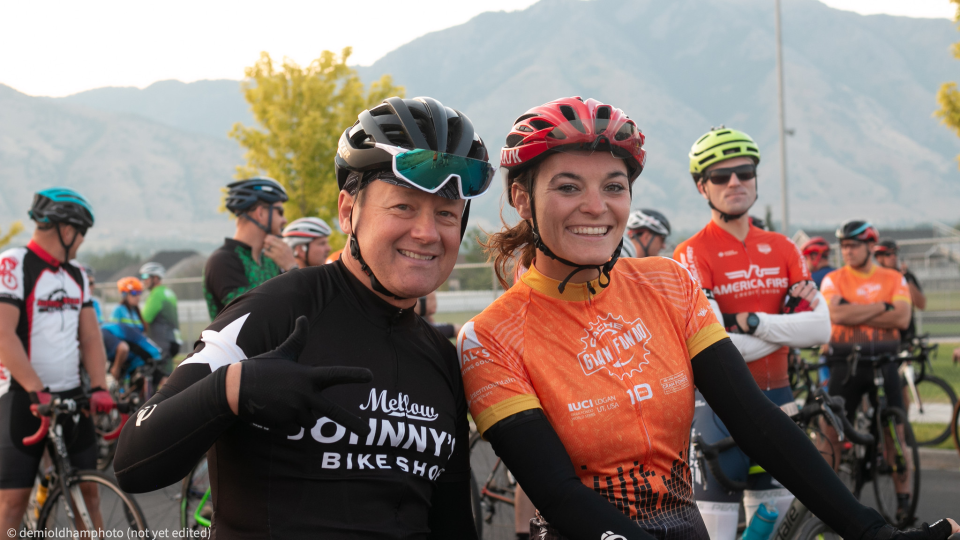 Photo: Smiles for miles: thousands of cyclist's line up for an early start in Logan, Utah
The dust has "only just" settled after a great weekend this July 9-10th in the Cache Valley in Utah.
The weather was gorgeous! Despite super-hot and dry conditions earlier in the week, the valley had a blanket of generous cloud cover which kept the temperatures around 15 degrees cooler than normal, great for cycling!
With public health restrictions easing a more traditional Gran Fondo race format was allowed, those taking part were in two distinct groups, those racing to represent their country and state at the UCI Gran Fondo World Championships and USA Cycling Gran Fondo National Championships, and those riding any one of 4 courses to suit all abilities.
The racing group left first and followed pilot vehicles out of the city of Logan and then a motorcade of professional moto-ride marshals. Local law enforcement stayed with the huge peloton and chase group for the entire 76-miles.
A total of 1,500 riders took part over 4 distances, around 550 cyclists rode the 76 mile race course, 575 rode the challenging 100-mile course and the remainder of cyclists rode the 50 and 35 mile courses.
Cyclists from 28 states across America were represented, and this year one person from EACH state won a prize from local supporting bike shops in the Cache Valley!
Cache Gran Fondo and Colnago Gran Fondo National Series Winners
Below are the podium places (first three), with many more cyclists who qualified to take part in the USA Gran Fondo Championships in Asheville on July 18th
Men -19

1st Jared Hunter
2nd Caleb Campbell
3rd Tyler Jensen

Women -19

1st Jocelyn Smith
2nd Camille Gerritsen
3rd Ellie Jensen


Men 19-34

1st Supe Dursteler
2nd Taylor Skinner
3rd Tim Frost

Women 19-34

1st Janalynn Fisher
2nd Stefanie Young
3rd Brittany Huff

Men 35-39

1st Taylor Edwards
2nd Curt Jansen
3rd Mike Houston

Women 35-39

1st Lindsay Marx
2nd Katie Hanks
3rd Bonnie Anderson

Men 40-44

1st Caleb Benton
2nd Tom Liddell
3rd Ryan Stanley

Women 40-44

1st Maggie Evans
2nd Glenda Green
3rd Kim Lawson

Men 45-49

1st Christopher Whelchel
2nd David Lesher
3rd Rich Campbell

Women 45-49

1st Misti Timpson
2nd Donna Smith
3rd Kristy Philippi

Men 50-54

1st Mike Likert
2nd Hideomi Adachi
3rd Kevin Yates

Women 55-59

1st Angela Patterson Edwards
2nd Cj Boyenger
3rd Danielle Bingham

Men 55-59

1st John Mansell
2nd Craig Zimmerman
3rd Vigen Sarkisian

Women 60-64

1st Margaret Douglass
2nd Julie Stuart
3rd Diane Granger

Men 60-64

1st James Edwards
2nd Kevin Poulsen
3rd Brett Friedman

Women 65-69

1st Katy Kessinger

Men 65-69

1st George Smith
2nd Don Page
3rd Wes Raymond

Men 70-74

1st Randy Rogers
2nd Stewart Wilson
3rd David Soper

Men 75-79

1st Steve Curtis
2nd John Christensen
3rd Bill Latimer

Men 80-

1st Bernd Pankow
2nd Ken Stephens

Angela Patterson Edwards and John Mansell win UCI Utah Gran Fondo
The Utah Gran Fondo aka the "Cache Gran Fondo" counted for the second time as UCI qualifier event for the UCI Gran Fondo World Championships.
Riders had the option between 4 different courses, but it was the 76-mile course that counted towards the official qualifier for worlds.
The 76 mile start was given in one wave with a neutralized start of a few miles out of the city. The race had some minor elevation and rolling hills but the majority of the course was flat and fast, resulting in a 23-man sprint at the end to award the overall winner and the winners per age group.
It was a close battle with John Mansell of the 55-59 age group outsprinting a lot of his younger opponents to claim overall victory before Supe Dursteler (M19-34) and Taylor Edwards (M35-39). We also saw riders from the 60-64 and 65-69 age groups in the same sprint finish battling for the win. The average speed of the first group was 25.2 mph (40.57 km/h).
In the women's categories, the 55-59 age group showed their power as Angela Edwards Patterson and Cj Boyenger scored the fastest female times in an average speed of 24.1 mph (38.8 km/h) to take the first two spots in the ladies' race. Shane Ellis (F45-49) took overall third in the same sprint finish.
Unfortunately the time trial which was scheduled had been cancelled because of COVID-19.
The UCI will contact individual riders in the top 25% to attend the 2021 UCI Gran Fondo World Championships in Istocno Sarajevo, Bosnia and Herzegovina October 6-10 2021.
For more information, please visit: http://www.ucigranfondoworldseries.com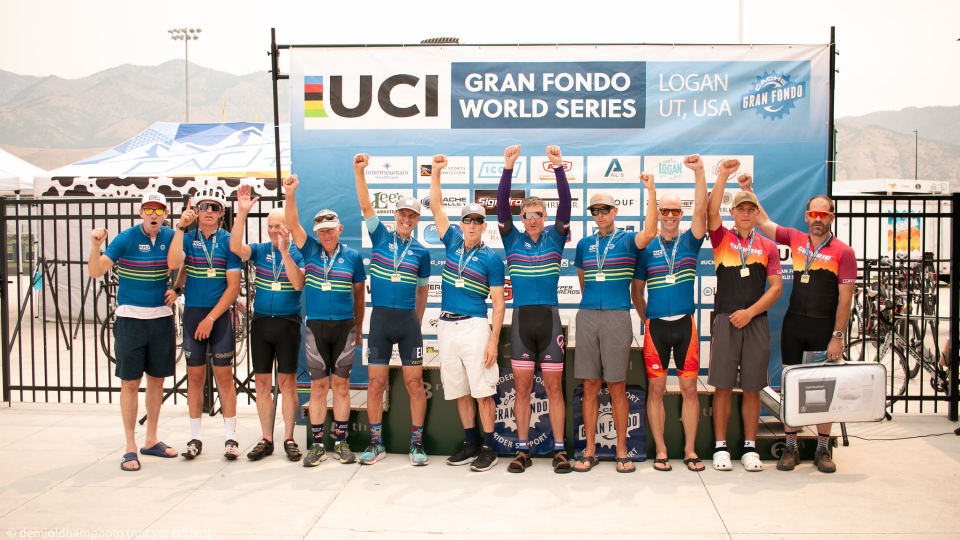 VIDEO: UCI - Cache Gran Fondo - Utah's best cycling race!
Video Courtesy of Tyler & Haley V. from Our Live Elevated who enjoyed riding the tenth anniversary edition.
The Man Behind the Success
Cache Valley native and lead organizer Troy Oldham has had quite the career path. His adventures have taken him from Arizona to Seattle to Australia and all over the world . . . and back again. He now resides in North Logan with his wife, Anita, and their children. Troy is the force behind the Cache Gran Fondo bike race and the founder of Headspin Events. When the opportunity came up to create an event that would encourage healthy lifestyles, bring the community together, and raise money for a great cause, he never imagined he would end up with the overwhelming support, participation, and enthusiasm that has made the Cache Gran Fondo the ultimate northern Utah race experience.
Photo: Lead organizer Troy Oldham with his wife, Anita, and their children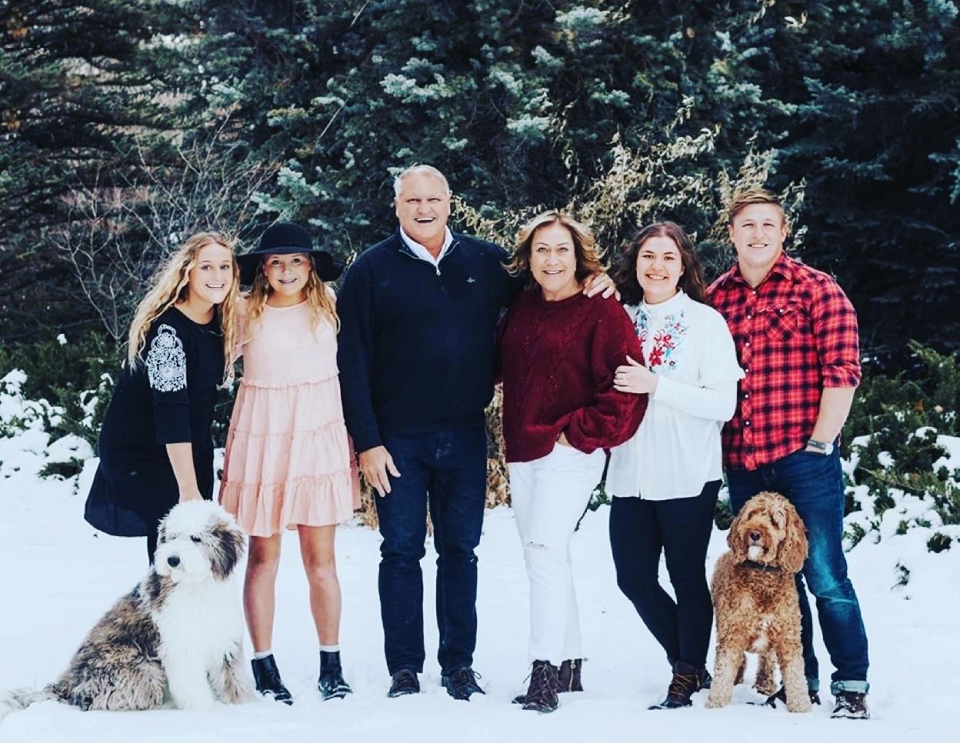 Still basking in the afterglow lead organizer Troy Oldham (he's finally caught up on sleep!) said, "Thank you to everyone who was involved, it was so inspirational to see riders from the age of 7 to 82 years old compete and ride the roads of our beautiful valley!"
"I'm a bit overwhelmed to be honest, we had cyclists from 28 states represented and over 100 competitive athletes qualified to represent their country and state at World and National Gran Fondo Championships!"
"So proud to be connected with so many great, positive, and motivational people in our community and those who helped celebrate our tenth year anniversary in style!"
2021 Cache Gran Fondo Photos
For hundreds of more photos, please visit:
Gallery 1: Start/Finish Line & Podium: https://cachegranfondo.smugmug.com/2021-Cache-Gran-Fondo
Gallery 2: On-Course 100-mile (Weston Canyon) and 75-mile KOM/QOM and Valley Shots: https://www.gbirdphoto.com/Cycling/2021-07-10-Cache-Gran-Fondo-2021
2021 Cache Gran Fondo Results
For the full results, please visit: https://my.raceresult.com/174068