Register Now for the 12th Utah-Cache Gran Fondo
Gran Fondo Guide fans and followers SAVE $20 with our special discount!
The 12th edition of the Cache Gran Fondo takes places place on Saturday July 8th 2023, and is one Utah's Premier bike rides.
You'll get to ride through the beautiful Cache Valley countryside on virtually traffic free roads with distances of 35, 50, 76 and 104 miles to suit all abilities.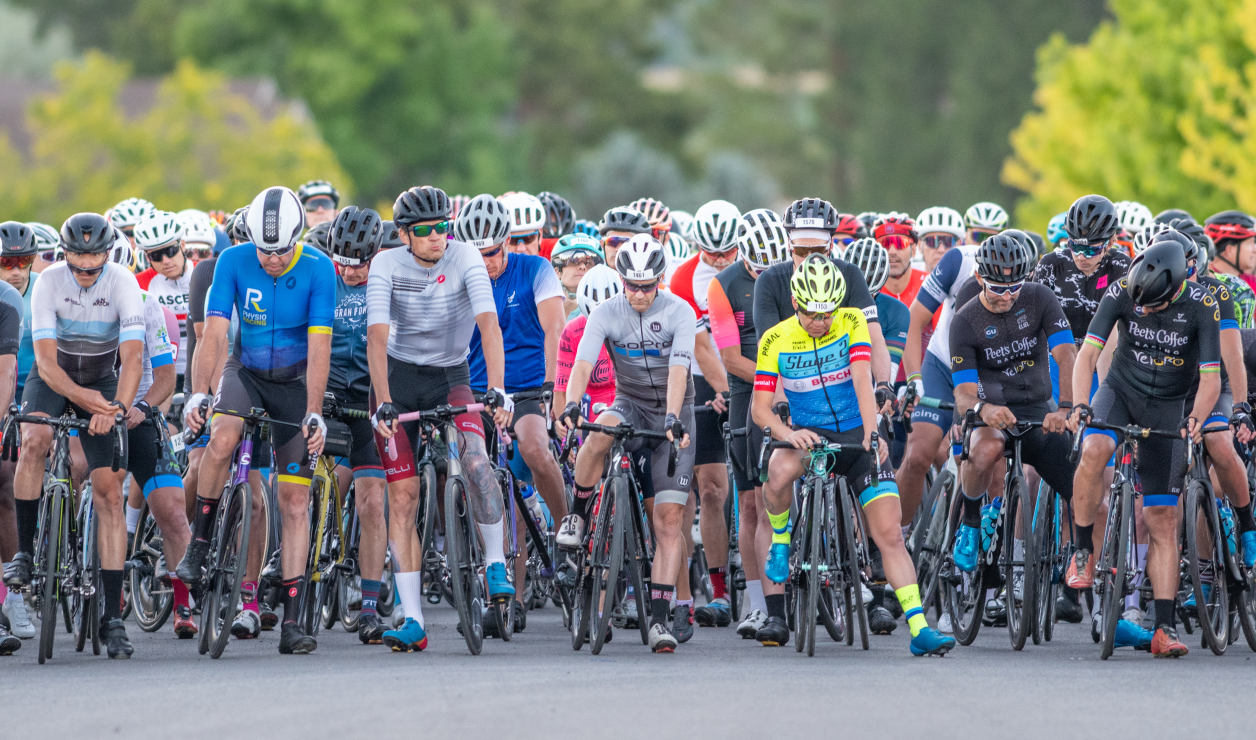 Photo: Nervous excitement abound as rider's line up at the start of the 2022 Medio-Fondo, the Gran Fondo National Series Qualifier
You'll experience challenging climbs, long rolling flat stretches, great group riding with new friends in the clean fresh air of the Cache Valley in stunning Utah! The Utah-Cache Gran Fondo has something for everyone with a focus on an amazing experience and celebration afterwards – a Bucket list ride for sure!
The 104 mile Gran Fondo sends everyone counter-clockwise in 2023, with riders saying they prefer the 100-mile course by hitting the Weston Canyon limb early on. The first support station will be in Weston, so make sure to fill-up your bottles and treat pockets so you have enough energy at mile 23 before the big climb. The Gran Fondo is recommended to riders who can maintain a high 18-20 mph average, working together in a pack out on the course. There usually is a building thermal-wind out of the south that makes getting back from Malad tough with a headwind. The Gran Fondo contains 3,500 feet of climbing, it's no walk in the park!
The 76-mile Medio Fondo course is a fantastic alternative to the Gran Fondo, with plenty of flats and hills, and a beautiful course with a lot of open roads and also the 2023 SUAREZ Gran Fondo National Series Qualifier, which will lead riders through the Cache Valley towards Idaho to finish back in Logan. It will be timed just like the competitive race. The Gran Fondo contains 1,720 feet of climbing.
The 50 mile Classic Gran Fondo is unique opportunity to ride a similar route as used in the 2019 Tour of Utah covering about 90% of the same roads as Stage 1. The Classic Gran Fondo contains 1,105 feet of climbing.
The 35 mile Piccolo Fondo is a GREAT first ride, training ride, and rehab distance. e-Bikes are welcome, because the event wants people to get out on the open roads and experience Utah's greatest Fondo. The Piccolo Fondo contains just 444 feet of climbing. Ideal for less experienced cyclists.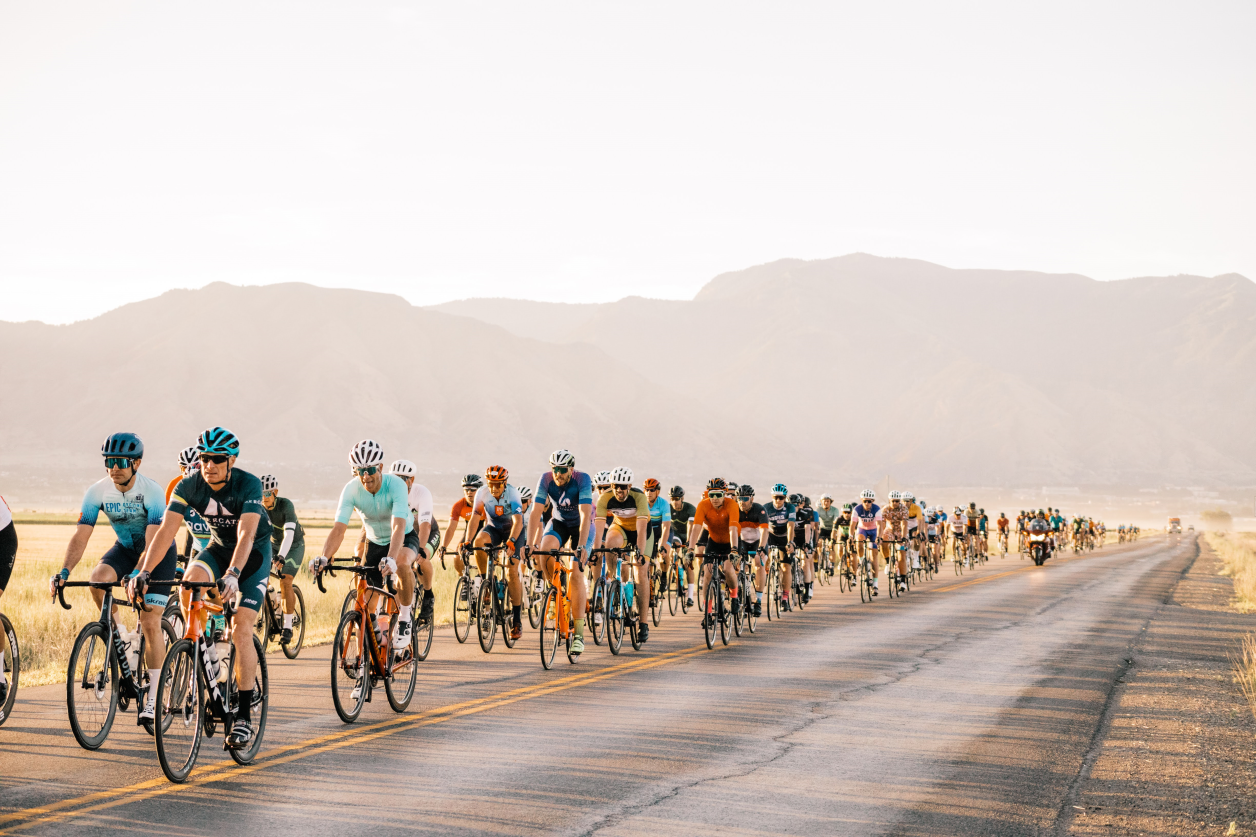 Photo: The open roads in Utah's Cache Valley provide breath-taking views and the opportunity to enjoy some great group riding and rider support and virtually traffic free roads
All distances offer well-stocked support stations with real food from Lee's Marketplace, Newton Market, and Thomas markets (Malad). We are proud to offer Hammer Nutrition items throughout the course, and all the water and Pepsi products you can drink, (including RockStar in some locations). All riders are offered a light breakfast at the start-line, and a unique rider lunch from local restaurants and vendors where you chose your preferred meal. Also the local Cache Valley Mountain Bike team offer a free Bike Valet as well so you can eat and let your bike rest afterwards, (note: They do take donations for bike valet as well)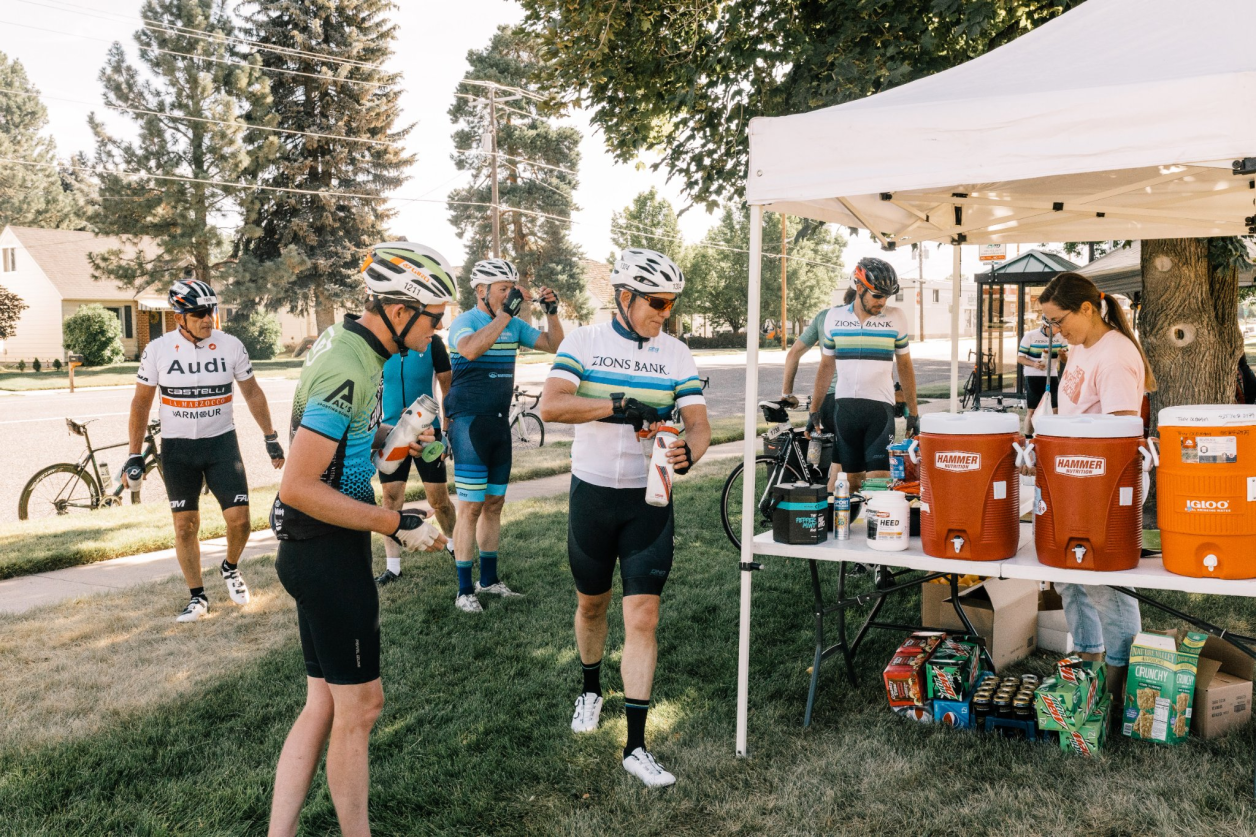 Photo: Utah-Cache Gran Fondo has several fully stocked aid stations to keep you fuelled up!
The finish line will be a huge celebration with local fresh food for the rider's lunch, great prizes and a chance to win gift items, bike stuff, gifts cards, and other awesome prizes!
Over 40 local and state-wide sponsors also provide over $8,000 dollars' worth of rider prizes and rider gifts, including different cooking/camping items from CampChef, gift cards and great rider gifts from Al's Sporting Goods, a cycling items from Joyride Bikes and The Sportsman, and Malouf Sleep products (a fan favorite in 2018-2022).
So beware, even those not racing can benefit from prizes awarded randomly across the event. Although much of the route is relatively flat, the routes also offer challenge climbs, but in short distances, just to keep it interesting.
Registration includes a light breakfast and rider lunch, rider gift (t-shirt), finisher's medal, fully stocked support stations and a limited-edition cycling jersey offered at low cost with registration.
Celebrate with 12th Edition Cycling Apparel!
To celebrate the 12h Anniversary, the Utah-Cache Gran Fondo are offering riders an event t-shirt as part of their entry for FREE which will be ready for collection at packet pick-up/registration.
Jerseys and bibshorts are available for purchase and will be ready for collection at registration/packet pick-up, but you must pre-order before May 15th, 2023, in order to be guaranteed a jersey. Ordering close to the event will mean sizes will be limited, so act quickly, (sold out last 5 years in a row).
All kit can be chosen during registration and at the online store too. Click here for sizing.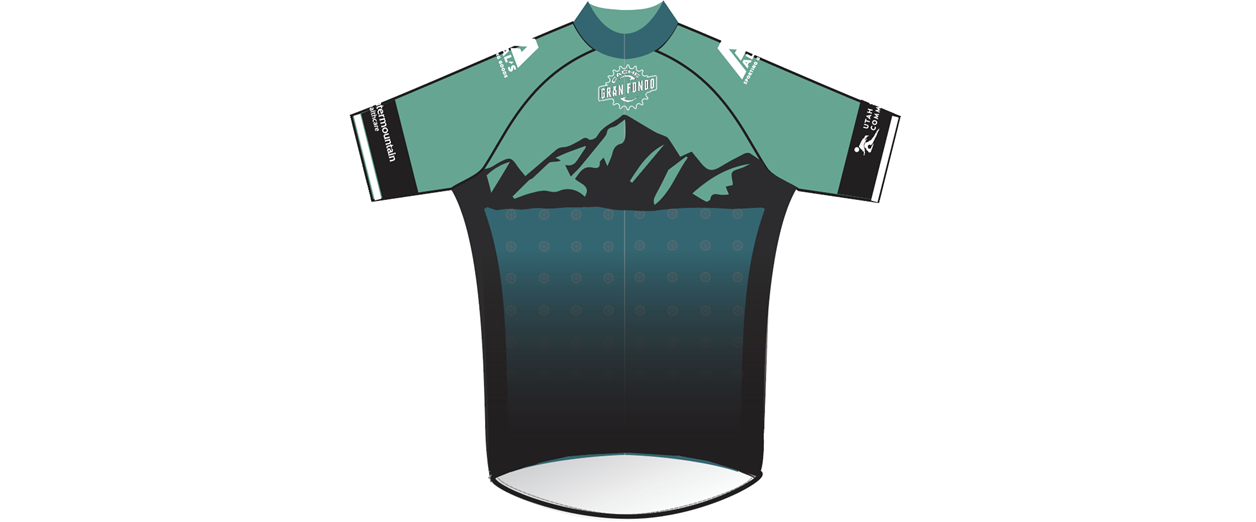 2023 USA Cycling Gran Fondo National Championships
The Utah-Cache Gran Fondo is an official 2023 SUAREZ Gran Fondo National Series event. This includes an opportunity for riders who participate in Cache Gran Fondo to earn Series Points and also qualify for the USA Cycling Gran Fondo National Championships, which will be held on September 17, 2023 in Frederick, Maryland at the season series finale the Gran Fondo Maryland..
Scoring for Series points at Cache Gran Fondo will be determined by adding each riders' overall Start-to-Finish time with their segment-times. Age-groups for scoring will be matched to Series age-groups and may not follow the same primary age-groupings used at the Cache Gran Fondo. Specificity calculation for Series points will be calculated in the following way:
- Classic Fondo Route has designed their 76 mile course as the qualifier and will count the 1) Start-to-Finish time + 2) KOM/QOM Climb segment times + 3) Sprint segment = the competitive time for Series Gran Route placement and points. Prizes will also be awarded for segment wins as well as overall.

- The Century, Medio and Piccolo Routes will not be competitively timed for Series points. All riders will be eligible for prizes based on random drawing throughout the day.
Riders who qualify will receive an invite to the 2023 USA Cycling Gran Fondo National Championship on September 17, 2023 in Frederick, Maryland.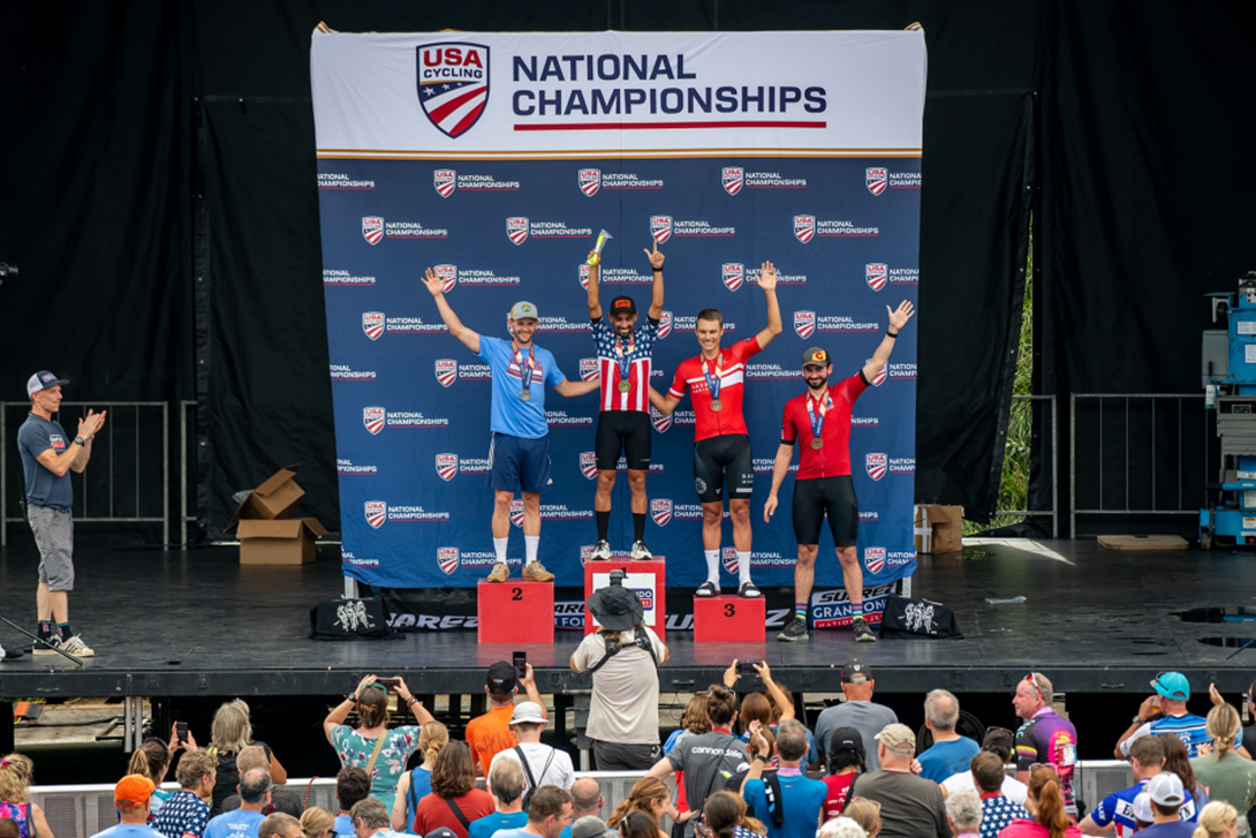 Save $20 on Registration!
All Gran Fondo Guide fans and followers can save $20 using our special discount code!
Use 'GFG23' on checkout when your register online at https://www.bikereg.com/utah-cache-gran-fondo
For more information, please visit: https://www.cachegranfondo.com

Benefitting Local Charities
The Cache Gran Fondo has been a way to generate donations and raise awareness for charities and local causes.
The Cache Gran Fondo will make matching donations to its chosen community charities:

Logan Regional Hospital Cancer Center
The Family Place
Huntsman Cancer Institute
Cache Valley High School Mountain Bike Team
Common Ground
Over the last 11 years, the Utah-Cache Gran Fondo has raised thousands of dollars for charitable causes.
We invite you and your team to get involved with the fundraising opportunities during registration. Thank you everyone for your generosity and support throughout the years!