GFNY Global Endurance Sports Series announces 28 races in 2022
World's largest cycling marathon brand, GFNY, announces its biggest event calendar ever for 2022
GFNY, the Global Endurance Sports Series, announces 28 races for 2022, more than the number of events held in 2019, pre-pandemic. A further five races are still in the works for 2022.
Races include the 10th edition of the GFNY World Championship in NYC on May 15, two new additions to the US calendar with Waco-Texas and Ann Arbor-Michigan, six races in France, four in Mexico, a return to Colombia, GFNY's first race in Sweden, and many more.
What is GFNY?
GFNY is a personal endurance challenge where athletes compete against others, the clock and themselves. Some athletes will compete for the podium, others will do their best to beat the cut-off. GFNY is about doing one's best.
GFNY events provide athletes this personal challenge in locations around the world. Additionally, athletes get the chance to earn a spot in the Qualifier Corral at every GFNY.
All GFNY events provide athletes the opportunity to BE A PRO FOR A DAY® :
- Mass start.
- Individual chip timing from start to finish with awards for all categories.
- Closed roads or police moderated traffic that ensures athletes don't have to stop during the race.
Post pandemic success built on executing races safely during the pandemic
GFNY has held races throughout the pandemic wherever allowed by observing government safety regulations. In France, GFNY Alpes Vaujany was the first mass participation event held during the pandemic in August 2020.
"It was so early in the pandemic that the French government agencies we worked with turned to GFNY to assist with establishing guidelines for how to make mass participation events covid-safe." says GFNY CEO and co-founder Uli Fluhme. "Being crowd control experts, we drew plans and established protocols for our event for their approval. We received the permits and our procedures were applied to the next events following GFNY."
The expertise gained from GFNY's first event during the pandemic, and the event's success in being covid-safe, was extremely valuable for the following GFNYs because governments knew that they can trust GFNY to hold events in a covid-safe method.
"Not holding as many races as usual in the last two years gave us some extra time to focus on expanding the series to more destinations," says GFNY President and co-founder Lidia Fluhme. "Obviously there was a huge amount of hesitation by governments globally towards committing to hold events. But host cities felt comfortable to plan for a future after the pandemic together with GFNY."
About GFNY Global Endurance Sports Series
GFNY Global Endurance Sports Series is a sports event company with four decades of experience in racing, planning and organizing events. The global endurance sports brand hosts multiple events throughout the year on five continents.
Working with partners around the world to deliver a first-class experience, GFNY Global Endurance Sports Series puts their athletes first.
Riders get to BE A PRO FOR A DAY ® by competing against others, themselves and the clock in a personal endurance challenge.
Top 10% (20% at regional championships) of finishers in each age group qualify for the Racer Corral at every GFNY World event.
The 10th annual GFNY World Championship New York will be held on May 15, 2022.
The race features the world's most international peloton with riders from over 90 countries. Athletes take on a challenging 100-mile route from NYC to Bear Mountain to Fort Lee to compete against each other, the clock and themselves in a personal endurance challenge.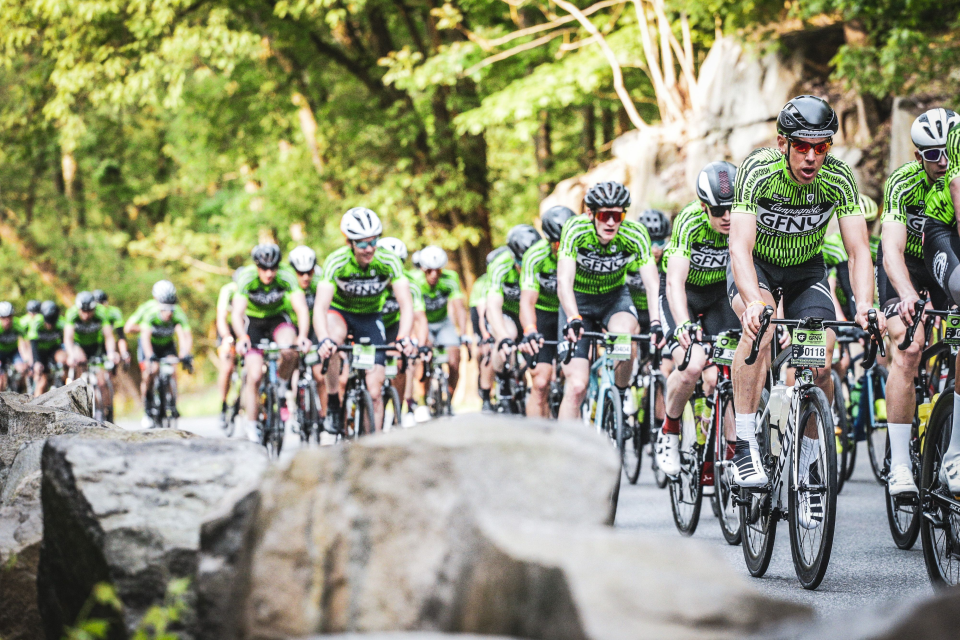 The 2022 GFNY World Calendar
GFNY New York City
World Championship
May 15, 2022
5000 riders from 90+ countries tackle 161 km with 2800m of climbing from NYC to Bear Mountain and back to compete for the crown.
GFNY Bali
Asia Championship
March 6, 2022
Race on paradise island along the ocean and the ridges of the holy volcano Gunung Agung.
GFNY Punta del Este
South America Championship
March 20, 2022
South America's most glamorous beach resort offers phenomenal bike racing in the hinterland past cattle ranches and olive farms.
GFNY República Dominicana
March 20, 2022
Race from the sea-and-sun Disneyland of Punta Cana into the hills & back while your friends enjoy the turquoise caribbean beaches.
GFNY Cannes
March 27, 2022
The glam city at the French Riviera offers a dream race & camp. The red carpet of the famous film festival will be rolled out for you.
GFNY Peru
April 10, 2022
Cusco is the archaeological capital of the Americas: gateway to Machu Picchu & breathtaking GFNY high altitude racing in the Andes.
GFNY Jerusalem
May 13, 2022
Race past the walls of the Jerusalem Old Town for an intense, multisensory experience before tackling the Jerusalem hills.
GFNY Villard-de-Lans
European Championship
May 29, 2022
Have your breath taken away by roads cut out of the cliffside, deep gorges and mountain pastures of Vercors Natural Park.
GFNY Monterrey
June 5, 2022
Race in Mexico's 3rd largest city, boasting world-class museums and a jagged mountain backdrop that offers terrific racing.
GFNY Lourdes Tourmalet
June 12, 2022
Start your Pyrenean experience in holy Lourdes to conquer two sacrosanct climbs: Col du Tourmalet and Col d'Aspin.
GFNY Ann Arbor -Michigan
June 12, 2022
The football capital of Ann Arbor in Michigan turns into a GFNY cycling capital with its country roads as the playground.
GFNY Panama
June 19, 2022
Race from the pacific ocean and the closed to cars Transamericana Highway into the Panamanian jungle with short and steep climbs.
GFNY La Vaujany – L'Alpe d'Huez
June 19, 2022
Tackle the infamous L'Alpe d'Huez in this race tailored to climbers and anyone looking to get challenged.
GFNY Waco Texas
June 26, 2022
Be ready for good old-fashioned Texan fun when racing in Waco, the place for sport, shopping and restaurants galore.
GFNY Costa Rica
July 3, 2022
The jungle at the bottom of Arenal Volcano and along Arenal Lake is your playground at GFNY Costa Rica.
GFNY Sweden Uppsala
July 3, 2022
Just outside Stockholm, Uppsala is the historical heart of the country and one of Sweden's oldest cities: your ideal race host.
GFNY Grand Ballon
July 10, 2022
Race the famous Vosges mountains including its highest peak Grand Ballon in the heart of the charming Alsace region.
GFNY Bogota
July 10, 2022
Huge passion for cycling, great riders and amazing high altitude landscapes make this classic GFNY race a must-do in everyone's calendar.
GFNY Oaxaca
August 14, 2022
Race from Oaxaca City, a cultural colossus fit to rival anywhere for history and gastronomy, into the hills and back.
GFNY Alpes Vaujany
August 28, 2022
Col de la Croix de Fer and Col du Glandon are the legendary giants of the French Alps to be tamed in this dream destination.
GFNY Portugal
September 4, 2022
GFNY Portugal offers a cycling experience through charming towns and along rural farmland.
GFNY Manta Ecuador
September 25, 2022
Strong ocean winds and inland climbs make Manta, the "Gateway of the Pacific", a perfect bike racing destination.
GFNY Zapopan
October 2, 2022
Guadalajara's fashionable suburb Zapopan is your host for this flat and fast race.
GFNY Marathon Florida Sebring
October 22, 2022
Your USATF measured Half- and Full Marathon on a lightning fast course. Ideal qualifier.
GFNY Florida Sebring
October 23, 2022
The gentle rolling hills, low-volume traffic roads and charming small towns make GFNY Florida Sebring an ideal cycling vacation destination.
GFNY Colonia
November 6, 2022
This is your fast GFNY in the Uruguayan spring, held in Colonia de Sacramento, a vintage jewel of a town.
GFNY Cozumel
November 13, 2022
Race hard and part hard on paradise island with 3000 of your best friends.
GFNY Chile
TBD
Just outside the capital Santiago, you race to the Pacific and back which includes the Muro de Tunquen with gradients of 30%.