Mureson and Helminen take the Gran Fondo World Tour® lead at Epic Gran Canaria as the 2022 Season Kickstarts
Six former Professionals participated at the Epic Gran Canaria last weekend and celebrated in San Bartolome de Trijana at the start-finish line at Riu Palace Hotel Maspalomas. World Champions Abraham Olano, Mario Cipollini, Maurizio Fondriest and ex-professionals Claudio Chiappucci, Andrea Tonti, Joseba Beloki and Haimar Zubeldia, completed a peloton of 400 cyclists from around the world
Mureson Manuela from Romania took the overall win after dominating two stages with authority to become first women's leader of 2022 GFWT® season,. For the men, Helminen Matti from Finland won 3 years in a row (2020-2022) with a powerful battle against Davide Rebellin, Zubeldia and Bartels, the only riders who could follow his pace. Mureson shared the female podium with Maclean in second and Keller Kurach in third.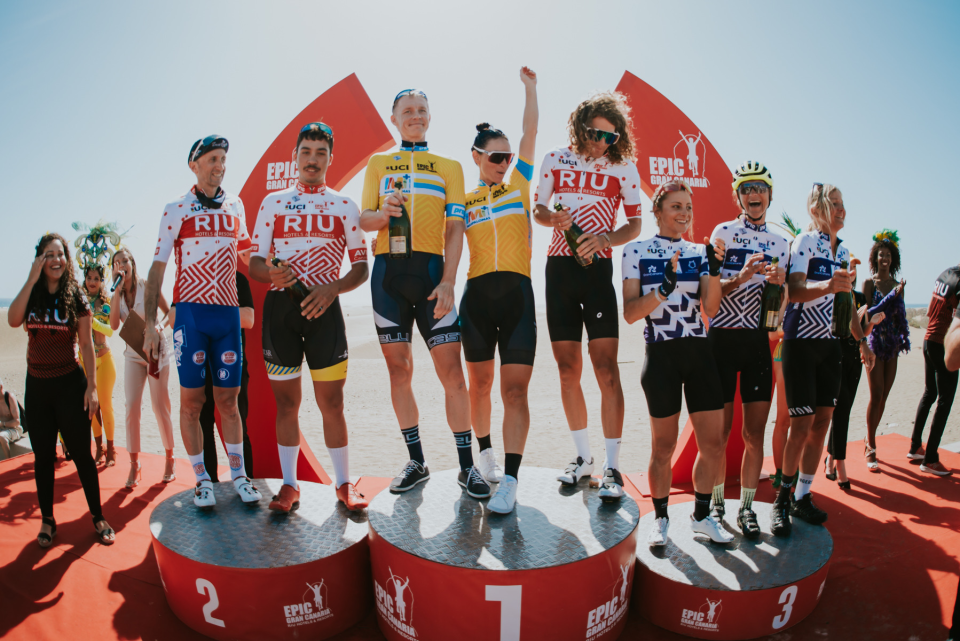 It was 2 days and 2 stages of cycling celebration which included 3 uphill timed sections to complete for the the overall win in the hilly region on the south side of super cycling friendly island of Gran Canaria, a popular training destination for Pro's preparing for the 2022 season in races including Andalucia and Algarve o Provence.
Cyclists from 15 nationalities were represented with a special participation of Italians lead by Andrea Tonti and his travel company Bike Division who numbered 30 Italian Gran Fondo Enthusiasts at the start line.
"We are happy to be abble to set a new edition of the event after a complicated 2021, but Gran Canaria Cycling are back with Epic on the road.", said Yohan Reyes, Epic Gran Canaria Race Director.
"Gran Canaria, Maspalomas and Epic Gran Canaria is the best venue to open the 2022 Gran Fondo World Tour ® series with such beautiful warm weather, 20 degrees and sun to enable the 2 day Gran Fondo challenge and celebration. The event is now a candidate for the 2024 Gran Fondo World Championships®, and more news will be revealed soon. ", said Dani Buyo , CEO and founder of the Gran Fondo World Tour®.
For full results, please visit: https://www.toptime.es/results/epic-gran-canaria-2022
For more photos, please visit: https://www.flickr.com/photos/wwwmas-eventoscom/albums/72177720296607729
VIDEO: 2022 Epic Gran Canaria Riu Hotels
The next event in the Gran Fondo World Tour® series is the Ang Khang KOM Challenge in Chiang Mai, Thailand on February 23rd, 2022.