Join the Mid-Valley Bicycle Club (MVBC) for its 44th annual Covered Bridge Bicycle Tour starting from the Linn County Fairgrounds just off of I-5 in Albany, Oregon. Explore the rural roads and depending on the route, cross up to five historic covered bridges in the Mid-Willamette Valley. You'll experience scenic views, open fields, rolling hills and only a few traffic lights. You will be glad to know a large portion of your entry fee goes to support Albany and Corvallis Bicycle Education programs.
The Covered Bridge Bicycle Tour has a route for everyone; flatlanders wanting to relax with friends, mountain goats needing to hammer out every mile possible, and everybody in between:
The 23 mile easiest tour includes three covered bridges, is flat running through open farmlands on mostly quiet roads with snacks provided. (https://www.mvbc.com/tours/cbbt-routes)
The 44 mile Tour includes three covered bridges, is mostly flat and breezy, and snacks provided. 
The 68 mile Metric Century+ includes four covered bridges with one steep hill and plenty of rollers that add up to 1900 feet of climbing. 
The 85 mile Almost a Century includes five covered bridges with 2600 feet of climbing on steep hills and rollers. 
The 101 mile Full Century includes five covered bridges with 3500 feet of climbing over steep and sustained hills. 
The MVBC will spoil you with our hospitality, well stocked rest stops, and top shelf SAG support. Linn County Amateur Radio Emergency Services will provide continuous, on course communications. On the longer routes you will also get a real lunch to keep you fueled. And a root beer float at the finish until 5PM! Bring your friends and enjoy a fine August day on your bike in the Willamette Valley with the MVBC as your host.
Bring a CPSC, ANSI or Snell approved helmet, spare inner tube(s), patch kit, frame pump, and tools for minor repairs, two water bottles, rain clothes for showers, and sunscreen. But leave the music players and ear buds at home. Riders using these will be asked to remove them.
Per State of Oregon Vehicle Code cyclists must ride single file when motorists approach. This rule will be enforced. Riders refusing to comply will be asked to leave the event. Please obey all applicable laws, and ride in a safe and courteous manner. Watch for slower riders and warn others when passing. Do NOT pass on the right. A parent or guardian must accompany riders under the age of 18. Tour staff have the authority to disqualify any unsafe rider from the tour.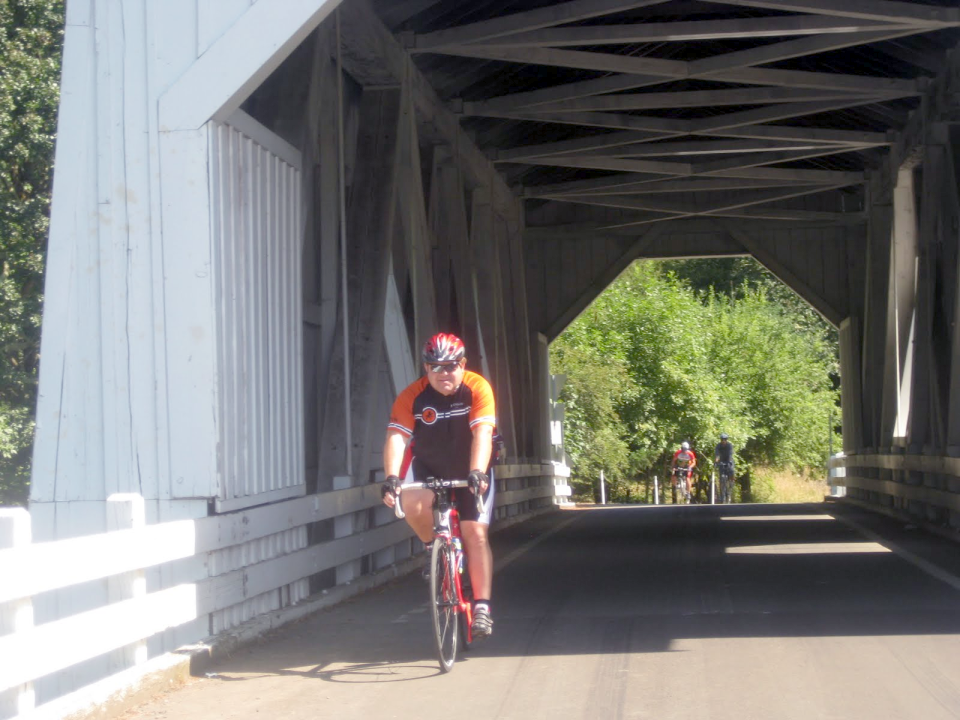 Root beer float complementary at the finish.